Carts Loaded with IT Gear Can Boost Warehouse and Office Productivity
Time-saving mobile computer carts make the move from medical environments to offices and factories.
Multipurpose mobile carts, with integrated videoconferencing and other applications, have become a fixture in the medical field. Now, other businesses are catching on, particularly companies with manufacturing and warehousing operations.
Today's carts are smarter and better equipped than earlier models, says Jay Politzer, co-founder and chief administrative officer of Satchel Health. The Nashville, Tenn., company has developed mobile systems for skilled nursing facilities, built on Humanscale carts that come loaded with PCs, medical devices and videoconferencing.
Using the videoconferencing tool on Satchel Health's carts, doctors can see patients more frequently because they don't have to physically go to the facility, Politzer says. For nurses, the carts' automated system ensures consistency and accuracy of pertinent patient information, such as proper dosage for medications, even when shifts change.
"What we found was that the nurses are used to workstations on wheels, so we adapted our videoconferencing technology to something they were accustomed to using," Politzer says. "We basically took an accepted piece of equipment and supercharged it by adding telemedicine and real-time diagnostics."
SIGN UP: Get more news from the BizTech newsletter in your inbox every two weeks!
Mobile Carts Gain Greater Tech Capabilities 
Mobile carts for PCs have long been used in healthcare, but only in the past few years have medical instruments been integrated with videoconferencing, says Mark Bowker, a senior analyst who covers enterprise mobility at the Enterprise Strategy Group.
"The mobile cart on wheels certainly has grown as a niche application," Bowker says. "Medical has led the way, but we see them more and more in manufacturing operations — where carts also come with tools and sensors — as well as in warehouses."
The move to carts has been a time-saver for staff in the shipping and receiving operations of Global Stainless Supply, a Houston-based distributor of pipes, valves and fittings.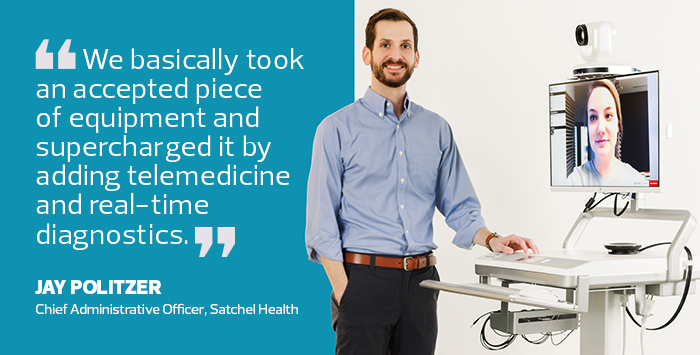 "Our business is very time-sensitive," says Operations Director Benjamin Davis. "We carry a lot of inventory and often have to deliver material on a 24-hour turnaround or even the same day it's ordered, so having a tool like the mobile carts saves time and helps us improve our service levels."
The company distributes its products across the United States from warehouses in Atlanta, Houston and Los Angeles. Each location uses carts equipped with Lenovo computers, battery packs and printers.
In the past, when order pickers were loading material into a consolidated shipping area, they used to do a lot of walking back and forth to computer workstations located elsewhere in the warehouse. Now, they enter all the shipping information into the PCs on the mobile carts.
Shipping team members never have to leave the shipping area, Davis says. In the receiving area, the clerks use the mobile carts to call up original purchase orders to ensure the items coming in are accurate.
Carts Demonstrate Communications Versatility 
At ScanSource Communications, a distributor of communications technologies based in Greenville, S.C., the staff uses mobile carts from AVTEQ to ferry videoconferencing equipment from one conference room to another.
But the carts are more than just a communications tool for ScanSource employees; they're also a sales tool. Over Cisco Systems WebEx video­conferencing calls to customers and business partners, staff are able to showcase the versatility of the AVTEQ carts, which operate with most standard PC and monitor combinations and are useful in a variety of spaces, from large conference rooms to smaller "huddle" rooms for just two or three people.
"We use the carts in tandem with videoconferencing to show our customers how they can be used in most any office or warehousing operation," says former Product Manager Matthew Sekuras. "AVTEQ carts are an ideal choice for interactive displays, such as the Cisco Spark Board. The display easily glides up and down, which enhances the collaborative experience for users.
A Rolling, Interactive Medical Assistant
Satchel Health builds each of its carts with a Dell OptiPlex PC, a medical-grade monitor and an array of medical devices, all connected to a built-in power supply.
There is also a videoconferencing tool that integrates with each care facility's medical records applications, Davis says. The videoconferencing kit includes a pan/tilt/zoom camera, a Jabra 410 conference microphone and a speaker. To prevent theft, Satchel Health locks all devices into the Humanscale carts.
At the start of the week, nurses at facilities using the carts establish a time frame for virtual clinical appointments and identify patients who need to be placed on a watch list for more frequent calls. Doctors don't use videoconferences to treat critical illnesses, Davis says. Instead, they might check on a patient's shortness of breath, recovery from a fall, wound care, gastrointestinal problems or behavioral concerns.
"The nurses go through the intake process and record a patient's vitals, and if something is not right, the doctors can log in and see what's going on," Politzer explains. "With the medical devices on the cart integrated into the videoconferencing app, the doctors can hear the heart and lungs just like they would if they were at the facility."
Tamara Reynolds