The 4 Ways Businesses Can Boost Productivity by Focusing on Users
Digital transformation helps organizations promote teamwork and remote work, says Microsoft CTO Scott Emigh.
Users are at the heart of digital transformation, said Microsoft CTO Scott Emigh. Focusing on users can help organizations achieve the productivity gains that are a primary goal of most transformation efforts.
Fostering teamwork and enabling remote work are key objectives as IT leaders aim to deliver the modern workplace, Emigh said during a presentation at the CDW Executive Summit in Chicago.
Microsoft 365 is the key piece in Microsoft's efforts to deliver the modern workspace. With this platform, the company is consolidating Office 365 and Windows 10 along with its Enterprise Mobility + Security tools.
The company has identified four elements of the modern workplace that Microsoft 365 is intended to enable:
Creativity
Teamwork
Simplicity
Security
1. Unlock Creativity in Content Creation 
New capabilities within Windows 10 and features of Office 365 aim to help users create content simply and seamlessly. They enable workers to visualize information in new ways and create compelling content with intelligent applications, Emigh said. Windows 365 delivers new tools to connect the experience across multiple devices and work naturally with voice, touch and ink.
"The mouse and keyboard have served us well," Emigh said. "But now we have touch and other methods."
The hardware advancements the company is bringing to the market also include the HoloLens, an augmented reality tool that enables users to engage with digital content and interact with holograms. Microsoft sees this tool serving a variety of roles, in development, fieldwork, education, telepresence, entertainment and gaming.
2. Foster Teamwork with Digital Collaboration 
With Microsoft 365, the company wants users to share responsibility and outcomes, Emigh said. To achieve this goal, the platform pulls together a diverse set of applications into a single toolkit. Microsoft Teams collects these tools, bringing together email, the Yammer messaging client, and Skype for video chat and voice calls.
"This portal becomes a digital hub that consolidates the people, the documents and the information that we're sharing," Emigh said.
3. Drive Simplicity in Devices and Tools 
A simple experience is a powerful one for users in the modern workplace. A key goal for Microsoft's collaboration efforts is to minimize the total cost of ownership for the tools that enable it, Emigh said. Further, the company wants to provide for comprehensive management of the workforce and to support a variety of operating systems, including PC, Apple's Macs, iOS and Android.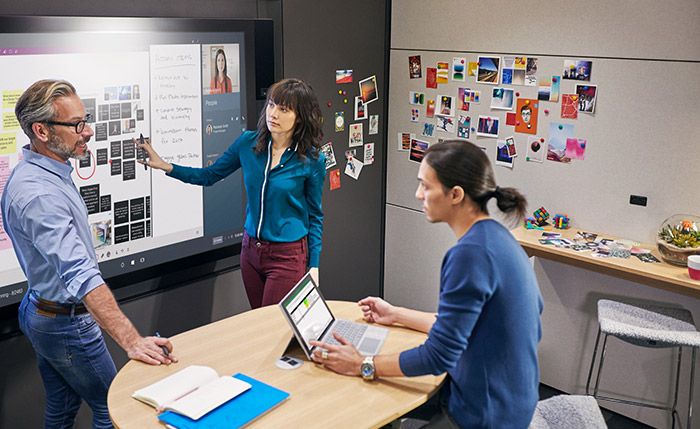 Photo credit: Microsoft 
Microsoft offers several solutions to simplify collaboration. These include Windows AutoPilot, a service to set up and preconfigure new devices so users can get up to speed quickly and easily. The service offers organizations the ability to send devices to users with essential applications already loaded and security settings already established. It also enables IT teams to easily reset, repurpose and recover devices.
The MyAnalytics dashboard gives users information about how they are utilizing Microsoft tools to help them use the solutions (as well as their time) more effectively. For example, a user can see not only how much time they spend in meetings each week, but also how much of that time is spent multitasking. If you're spending most of your meeting time checking email, Emigh said, you may want to rethink your meeting schedule.
4. Ensure Security with Numerous Layers of Defense 
"No matter how great the technology is, if people can't trust it, they can't use it," Emigh said.
He illustrated Microsoft's devotion to improving security by noting that the company spends $1 billion on this pursuit each year and patches more than 1 billion devices each month.
Microsoft 365 includes several powerful features aimed at securing devices and data:
Identity and access management
Information protection
Threat protection
Security management
Emigh identified IAM as the starting point for data security, noting that 80 percent of network penetrations come in through the front door by exploiting weak passwords.
He added that Microsoft has spent considerable time making sure that Microsoft 365 will be fully compliant with the General Data Protection Regulation, the security standard set by the European Union that will go into effect in May 2018.
BraunS/Getty Images