A Move to the Cloud Can Help Small Businesses Manage Growth
Wind River Environmental has added new employees and locations, and has used a transition to Office 365 to help it effectively manage its expansion.
Joey Fernandes is about to migrate a local Exchange server to the cloud — again. He's been doing that frequently because his company, Wind River Environmental, has been on an acquisition spree the past few years. But that task became much easier recently, thanks to a CDW-branded Microsoft Office 365 product that includes migration and support through CDW. 
Based in Marlborough, Mass., Wind River Environmental is the Northeast's largest full-service liquid waste management company, providing commercial and residential customers with services such as septic and grease pumping. Since Fernandes joined Wind River Environmental as IT manager in November 2013, the company has grown from 200 employees to 575, and has expanded its geographic reach to 27 locations. 
There are no signs of that growth subsiding soon. For years, the company's territory was limited to Connecticut, Massachusetts, New Hampshire, New Jersey, New York and Rhode Island. This year, it's expanded up to Vermont and down to Florida. 
During Fernandes's tenure, the number of employees has doubled, creating challenges with both software license management and email migration. Those prompted Wind River to switch to CDW's Office 365 solution, which enables faster rollout of licenses to newly acquired companies and seamless migration of their email systems to Wind River.
Get Easier Access to Software Licenses
Previously, Fernandes had to do domain federation and other under-the-hood tinkering to migrate acquired companies' email accounts. Now he simply tells his CDW account representative how many additional licenses he needs, and they're available within a day.
"We don't have any issues migrating email anymore," Fernandes says. "It's so easy."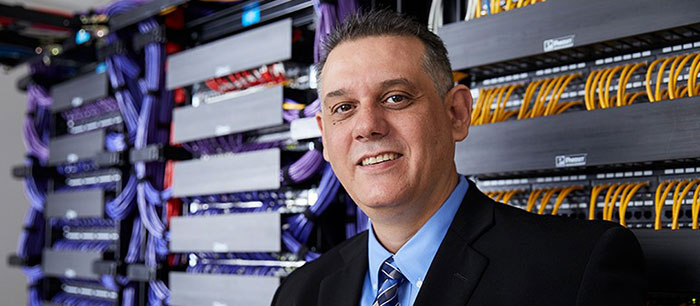 Joey Fernandes, Wind River Environmental's IT manager, says moving to the cloud boosted productivity. Photo: Ken Richardson
For fast-growth companies such as Wind River Environmental, the ability to scale up quickly is valuable, says John Sims, a CDW corporate account manager who has worked with Wind River Environmental for three years. 
"One of Wind River's main challenges is that they have a lot of mobile users, because the majority of their employees are technicians out in the field working off of tablets," says Sims. "Another is that they're constantly acquiring smaller companies." 
CDW's support, he says, gives Wind River Environmental the agility to deploy new licenses at any time, which ensures that technicians have the tools they need to do their jobs. 
Count on Fast and Easy IT Support
More users mean more reasons for Fernandes's team to contact support staff, but now they turn to CDW. 
"One of the main benefits of doing Office 365 through CDW is the support piece," Sims says. "We provide migration support. It's also U.S.-based tech support, which was important to Joey and the folks at Wind River. When you call, you get somebody right away who can address your concerns, and you don't have to fight through the typical help line of several tiers of people, or open a ticket and wait for someone to call you back. That's the biggest benefit for all of my customers who have chosen to go this route." 
Fernandes agrees: "If I or one of my guys has a question, we call CDW. The service has been great, so we have that peace of mind." Yet CDW's support doesn't come at a hefty premium, Sims says.
Email Migration Boosts Office Productivity
For Wind River Environmental, there's a direct link between seamless email migration and a better bottom line. For starters, employees from acquired companies don't have to learn a new system, which means productivity doesn't suffer. Being free to focus on their work also means they can be more responsive, which makes for happier customers and stronger brand loyalty. 
"Users are the biggest beneficiary because they don't have to do anything," Fernandes says. "No changes to what they do; they don't have to change their email, they don't have to understand anything." 
The IT staff also is more productive, because easy migrations and white-glove service free them to focus on tasks that support revenue generation. In fact, although Wind River Environmental's organic growth and acquisitions have pushed head count to almost 700 employees, its IT department remains relatively small: six full-time staff, two temps and one contractor. "The reason why is the work we outsourced to CDW, especially email," Fernandes says. 
Move More Servers to the Cloud
Wind River Environmental's positive experiences with CDW's Office 365 solution prompted it to enlist CDW's help with other transformative projects. In the works: migrating to an Azure SQL as a Service offering.
"We would move some of our internal servers that run behind the firewall to the cloud, where we can have instantaneous disaster recovery," Fernandes says.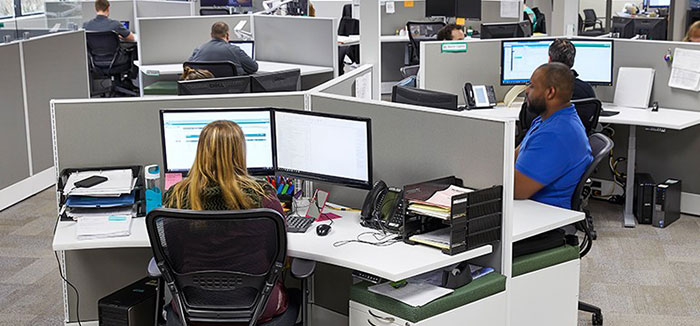 Wind River's Office 365 migration streamlined productivity, letting staff focus on core business activities. Photo: Ken Richardson
Wind River's new Marlborough headquarters includes a data center capable of handling five times more traffic than the company currently sees. CDW played a key role in that too, by helping Fernandes choose, deploy and troubleshoot the new infrastructure, which includes Cisco Meraki firewalls and Aruba switches.  
"I don't need to worry about my service because of the job that was done by CDW," he says. "As IT manager, I can assure the operations people that they'll have 24/7 network availability. The reason it's available is because of the infrastructure we put together with CDW."
Wind River now has the hardware, software and support necessary to maintain its aggressive growth. 
"Office 365 was part of a bigger picture to transform Wind River and move us forward," Fernandes says. "From day one, I had John Sims and the CDW crew available, understanding where we're going and providing me a service I couldn't find anywhere else. When I go to CDW, I know I get the full service that I can call on and I can trust." 
Wind River Environmental