CES 2012 Preview: Tablets Grow Up, Qi Wireless Charging Matures
Wondering what's around the corner for CES 2012? Here's a sneak peek.
Is there a technology show that gets the blood of a technology enthusiast pumping more than the annual Consumer Electronics Show (CES)? The yearly technology bonanza is the Big Kahuna of technology events, as hardware and software makers scramble to put their newest products on display for buyers and the tech press.
This year at CES 2012, there are a few key trends afoot.
Mobile devices will continue to shine because mobile technology is still very much in a growth stage. Expect to see plenty of tablets and smartphones and a good amount of noise surrounding ultrabooks, a subcategory of notebooks that are lighter and thinner than the standard spinning-disk-drive-based notebook. Wireless technology will continue to evolve as 4G LTE networks reach more users. TVs will razzle and dazzle the masses with Internet connectivity and 3D technology.
Tablets: The Sophomore Class
Tablet computers were the big talk of CES 2011, with countless manufacturers doling out devices in the form factor that gained market traction after Apple's iPad. Android's open-source mobile OS has helped spawn the tablet feeding frenzy, making it easy for manufacturers to build a reasonably usable tablet device.
Marin Perez, managing editor of mobile technology blog IntoMobile, thinks tablets still have plenty of room for growth this year.
"I expect tablets to be a part of the show, but the promotions will move from 'Look, we have a tablet!' to 'This is our second-generation tablet, and it's actually good!' While the newness of tablets is gone, this CES should be the year that companies other than Apple bring well-thought-out devices to this space," says Perez.
There is already discussion of new tablets from Motorola, Samsung, Acer and Toshiba making their debut at the trade show. And Microsoft's CEO Steve Ballmer will be on hand to deliver the company's last CES keynote address. Ballmer will no doubt take the opportunity to tout the company's tablet-friendly Windows 8 operating system.
Qi: Change the Way You Battery Up
One of the biggest headaches of mobile devices is the constant need for electric juice. With 4G-enabled smartphones rolling out in 2012, this problem will increase as 4G usage drains batteries faster than 3G.
Enter Qi (pronounced "CHEE"). Developed by the Wireless Power Consortium, a group of 100-plus international technology companies, Qi is a wireless charging standard along the lines of other industry standards such as Wi-Fi and Bluetooth. Using near-field magnetic induction, Qi-enabled chargers can be used to charge multiple mobile devices at the same time without having to plug them directly in to a power source.
The WPC plans to lay a big spread at CES 2012 as it prepares to show over 80 prototypes and devices at the trade show.
Camille Tang, president of ConvenientPower (a member company of the WPC), spoke at length about the quiet revolution Qi can offer.
"The vision of Qi is that it's a whole ecosystem. Running around and not having to find the right socket or plug for your mobile device is what universal wireless charging is about. We predict wireless charging will be an $18 billion ecosystem across many industries," says Tang.
Many may be familiar with the charging pads for smartphone devices that some manufacturers have made. The key difference with Qi is that as an industry standard, it can enforce interoperability across a diverse range of mobile devices, unlike some of the existing charging pads on the market, which are device-specific.
A key part of establishing this kind of cross-platform compatibility is getting the buy-in of numerous technology manufacturers. To that end, the WPC has been very successful and has grown from a 60-member consortium to an alliance of more than 100 companies. It boasts membership from heavy-hitters such as Samsung, LG, Nokia and Texas Instruments, to name just a few.
While the organization is initially targeting the smartphone market with its low-power standard, there are plans to have Qi built into furniture, medical devices, cars and household appliances, Tang says. Qi chargers have already been put in place in an airport in Canada and in cafes in Japan, she adds.
The WPC also has a group working on developing the medium-power standard that will enable manufacturers to integrate Qi with tablets, notebooks and more.
"People used to say, why on earth would I want to carry a phone with me everywhere? I can just use a pay phone. Then, people used to say, I can get on the Internet at the office or at home, why on earth would I want to get on the Internet everywhere?" Tang says. "The last mile in wireless is wireless power."
4G Is for Real
Last year saw 4G technology make its debut, but expect 4G LTE to really make a dent in 2012. There should be a host of 4G-ready smartphones from Motorola, Samsung, HTC and more at this year's CES, and with AT&T and Sprint ramping up their 4G LTE networks, there'll be more LTE network bandwidth for everyone to chew on. That big boost in mobile broadband has the potential to change the way we work and play.
"I've been able to do my job while riding in a cab, thanks to these blazing-fast speeds," says IntoMobile's Perez. "I've had a chance to use AT&T's 4G LTE, and users will definitely notice the difference. Even if you're not streaming HD videos on the go, web pages load faster, and it's quicker and easier to attach high-resolution pictures. Once you go 4G LTE, you don't want to go back."
While 4G promises blazing speeds and increased performance, it drains the battery on smartphones faster and can chew through data plans if users aren't careful.
"The downside is that these [4G] speeds and ease of use make it much easier to blow through your data caps. I expect most consumers will have to diligently switch to Wi-Fi and monitor their data usage," adds Perez.
With Displays, Bigger Is Always Better
They say that in Texas, everything is bigger. In 2012, the same might be said of displays — at least when it comes to screen size.
"Where just a few years ago, seeing a 32-inch or larger display screen in a commercial setting was an anomaly, today they are in quick-service restaurants, airports or train stations, shopping malls or individual retail stores, hotels or casino lobbies, healthcare facilities, the reception areas of businesses or nearly anywhere else people gather or pass by in numbers," says Ashley Flaska, vice president of marketing for NEC Display Solutions, in a Digital Signage Today story.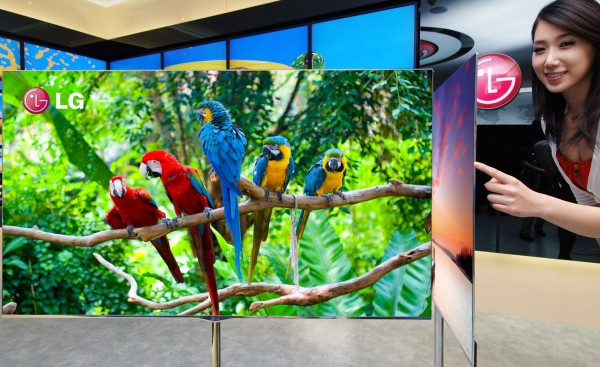 Photo via LG UK blog
LG has already made waves with the announcement that it will debut a 55-inch OLED TV at the show. On top of providing improved picture quality, OLED technology allows the display to be incredibly thin. The LG OLED TV is said to be a mere 4 millimeters thick. That's thinner than the iPhone 4, which is 9.3mm thick.
In addition to LG's OLED show pony, there'll be 3D TVs and smart TVs, which are TVs connected to the Internet. A host of companies will debut Google TVs, which use Google's TV-specific operating system for displaying and using web content on your television set.
Get Ready to Tech Your Heart Out
That's just a taste of what's to come at CES 2012. There'll be plenty of surprises and more news once the show kicks on Tuesday, January 10. Leave us your comments on what technologies you're most looking forward to seeing.
textfield