The strategy worked, but not without a lot of planning. "We are very particular in terms of performance," Martin explains. "We want people to not see any difference between working in the VDI environment and working locally."
To do that, the IT team at American Structurepoint deployed VMware vSphere for AutoCAD applications. The company's VDI environment also relies on tightly integrated computing, storage and networking resources within its hyperconverged appliances.
"People in our remote offices are getting the same experience they would if they were sitting at our main company headquarters," he says.
Would American Structurepoint ever be a candidate for DaaS? Not for now.
"We have a very regimented infrastructure in terms of where we store our project data," Martin explains. "Our model is to store it close to the actual workloads. With DaaS, we'd be running workloads in the cloud, which means we would have to send all of our project data there too. That's a challenge because of the way that our design products work. To achieve the performance we need, we prefer to not run them over wide area networks."
MORE FROM BIZTECH: Why small businesses should make the switch to Windows 10 S.
DaaS Supports Business Growth
Mead & Hunt, also an architectural and engineering firm, took a different approach to desktops as it managed its own rapid growth. Nearly doubling in size and revenue over the past five years, the Middleton, Wis.-based firm deployed DaaS early in 2018 to enable fast onboarding of new employees and offices. The resulting business benefits are now spurring wider adoption of the technology.
"DaaS continues to grow at our ­company. Two or three years from now, it might be used for 75 percent of our desktops," says Andy Knauf, CIO.
Knauf says DaaS provides the performance his company needs for large engineering drawings and modeling files, which he attributes to running the application and associated engineering data together in the same public cloud, Microsoft Azure. "Our network pipes in the cloud are 2 to 4.5 gigabits per second, while my fastest office has a 1-gigabyte-per-second connection," he explains. "Once you move your data to the cloud, you remove the chokepoints that can arise when servers and data are local."
Businesses Should Consider All VDI Costs
Knauf acknowledges that the upfront cost of a DaaS contract is a ­little higher than rolling out on-premises VDI. But he believes the expenses even out over time.
"People need to consider not only the large ­initial capital expenditure investment associated with buying hardware and software, but also the ­personnel time required for implementing and managing the servers," he explains.
The value of DaaS hit home last fall when hurricanes threatened company offices in the Carolinas and Florida Panhandle. Although the facilities luckily weren't damaged, engineers were prepared for the worst. "We rapidly deployed virtual workstations with DaaS so people could work from home, from a coffee shop or a hotel 200 miles away," Knauf says.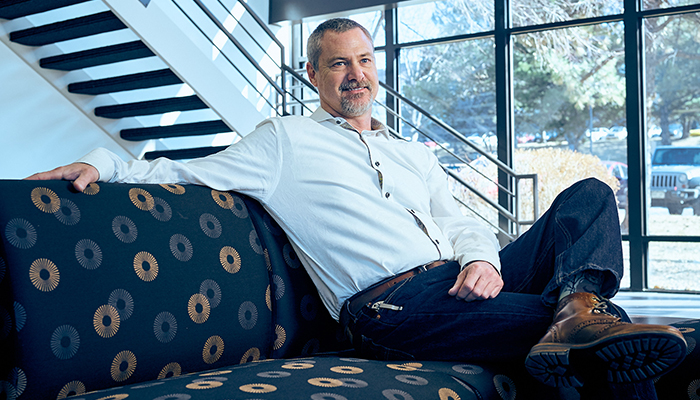 Thanks to VDI, just five IT professionals manage up to 13,000 Camping World ­endpoints, says Steve Moran. Photography by Willie Petersen.
Thanks to VDI, RV and outdoor supplies vendor Camping World keeps thousands of desktops under control. The combined footprint of the main company, affiliated Gander Outdoors stores, dealerships and distribution centers can swell to 13,000 endpoints during the busy ­summer ­season. Yet they're all managed with a five-person IT department. "I can't imagine how we'd do that if we ran traditional desktops," says Steve Moran, director of IT systems and security.
VDI Sets Up Companies for Growth
VDI also shines when the company brings in a large number of new employees or opens another facility. "We just send out thin clients to everyone and, boom, they each have a desktop that's just like everybody else's," Moran says.
The infrastructure also makes it easier to address reliability and security problems: "If somebody has an issue with a desktop — any kind of corruption or virus, for example — they just log off and we delete the virtual machine. When that person logs in again, they have a brand-new VM."
Included in Moran's implementation plan was a dual data center architecture designed for redundancy. Each runs converged appliances from Cisco and storage arrays from Pure Storage. "We operate each data center at about 50 percent of capacity to have room for growth and for automatic failovers if problems occur," he says.
He also dedicates resource pools for various business units, such as call centers, corporate offices and distribution centers. Segmentation alleviates "login storms," performance slowdowns that would occur if everyone simultaneously competed for the same resources each morning. "If you keep everything small and manageable, it's easier to architect business continuity," he says.
Based on a previous DaaS experience, Moran believes on-premises VDI is more cost-effective for Camping World's standard desktops, which include 5 gigabytes of memory. "The DaaS versus VDI decision comes down to whether you prefer operating expenditures or capital expenditures," he adds.