All-Cloud vs. On-Premises vs. Hybrid: How 3 Businesses Chose the Right Infrastructure
Carvana, the BARBRI Group and the Detroit Symphony Orchestra tapped solutions that were right for their companies.
Carvana is not a run-of-the-mill ­ used-car dealership: Its unique method of selling and distributing vehicles nationwide is disrupting the industry. So it should come as no surprise that the company deploys cutting-edge technology and IT infrastructure.
Shoppers can peruse cars online, see a 360-degree view of vehicles through special camera technology, arrange financing and finalize the sale — all within a few minutes and without a salesperson's help. Buyers can receive their cars at home or visit one of Carvana's signature, fully automated car vending machines, where they plop in giant coins and watch the machine dispense their new ride.
To provide the best customer service possible and ensure 24/7 uptime, Imran Kazi, Carvana's senior director of technology services, has taken a hybrid approach. He's deployed a small footprint of Nutanix hyperconverged infrastructure at the company's headquarters in Tempe, Ariz., for testing and ­development and at car inspection ­centers for local compute and storage needs. But the company's website, ­applications and data are all hosted in the public cloud.
"We don't want to reinvent the wheel by building a big data center infrastructure, then worrying about depreciating and failing hardware," Kazi says. "We can focus on implementing and supporting the right software solutions and tools for our employees, which helps create better experiences for our customers."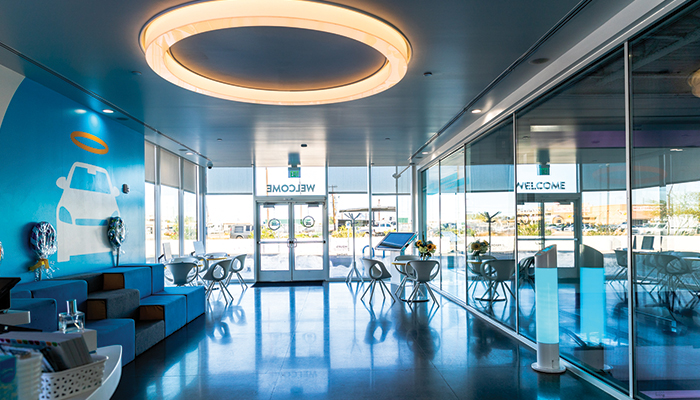 Carvana's waiting room at their Tempe, Ariz., facility. Photo: Jim David.
More businesses and nonprofits are moving their infrastructure to the cloud, now that it's proven to be secure, reliable and cost-effective. But while cloud service providers can improve efficiencies and provide benefits such as redundancy and the ability to scale up and down quickly, the cloud is not always the best choice or necessarily the least expensive.
In some cases, it's less costly to retain applications and data in-house, particularly if organizations have legacy or custom applications that are not easily migrated to the cloud. And companies concerned about latency or that have to comply with data regulations may need to keep workloads on-premises.
Some organizations have gone all-in on the public cloud. Some are sticking with traditional on-premises infrastructure or a private cloud, while others are using a mix. Analysts say companies and nonprofits have to decide what's right for their unique requirements.
"Some see hybrid as a step on the way to the cloud," says Frank Della Rosa, IDC's research director for SaaS and Cloud. "Workloads sitting on-premises can eventually be moved, but some ­businesses still deal with latency and bandwidth concerns or data sovereignty and privacy issues. Those factors ­determine whether a workload is suitable for the public cloud, on-premises or private cloud."
SEE MORE: Get help sorting through the dizzying array of cloud and on-premises computing options.
1. Hybrid Infrastructure Delivers Flexibility for Carvana
When Kazi joined Carvana in 2016, he had the opportunity to build the company's IT infrastructure from scratch. At the time, the online auto retailer had spun off from its former parent company, but its applications and data still resided in the former parent's data centers.
Kazi migrated customer-facing and business applications, such as customer relationship management and enterprise resource planning software, across several cloud providers, including Microsoft Azure. He also adopted Software as a Service offerings: RingCentral for unified communications and Google G Suite for email and collaboration.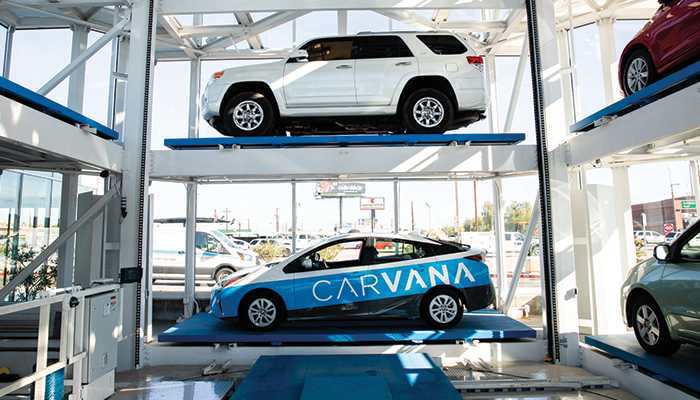 Cars stacked in Carvana's vending machine at the Tempe, Ariz., facility. Photo: Jim David.
He chose the commercial cloud for three primary benefits: It saves money. It provides the company the agility it needs for growth. And instead of having to manage infrastructure in the production environment, the cloud frees up IT staff for more strategic needs.
Kazi also built a private cloud across two data centers using Nutanix's HCI appliances, which combine servers, storage, networking and virtualization into a small-footprint appliance.
These unified systems, which run on Nutanix's license-free AHV hypervisor, are more energy efficient, easier to ­manage and easier to scale than traditional hardware. If the environment reaches capacity, Kazi can purchase new appliances and quickly configure them with Nutanix's management software.
"We can easily expand as we grow and have more projects," he says.
Since Kazi's arrival, Carvana has grown rapidly nationwide, expanding from 11 cities to 96. It runs about 350 virtual machines across 25 clusters of Nutanix appliances. Data scientists, ­analysts and developers use them as a test and staging area for new applications and algorithms. The company uses analytics to understand customer preferences, discover new markets to enter and drive logistical efficiencies.
Through the private cloud, employees can fully test out applications and algorithms before deploying them in production in the public cloud. Having full control of in-house infrastructure aids that effort.
"We can understand every nuance of the software and what resources it takes, and then we figure out the best cloud platform to put it into production," Kazi says.
The company also installs a Nutanix appliance in each of its car inspection centers, where 360-degree photo ­technology takes data-intensive pictures of the cars. "We need the infrastructure locally to upload the photos to the cloud," Kazi says.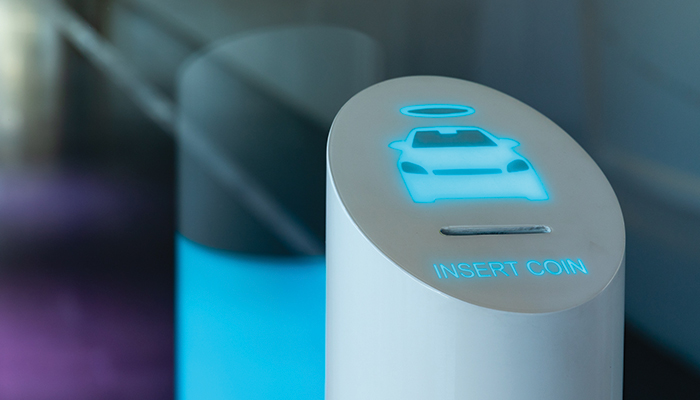 At Carvana's unique vending machines, buyers deposit special coins to retrieve the cars they purchase. Photo: Jim David.
2. The Cloud Saves BARBRI Time and Money
The BARBRI Group, a Dallas-based legal education company that provides online prep courses for bar exams, has saved hundreds of thousands of ­dollars annually by shutting down its data centers and moving fully to Microsoft Azure.
About three years ago, the company had two redundant data centers in colocation facilities, but the IT infrastructure was reaching its end of life. Faced with a massive IT investment, the company went with the cloud because it was more cost-effective and efficient, says IT Director Mark Kaplan.
One reason is the scalability that the cloud offers to a seasonal business like BARBRI, which has its busy seasons in summer and winter. Instead of internal data centers running full-throttle year-round, Azure allows the company to spin up more resources during the demanding months and scale down during slow periods, Kaplan says.
"It's a huge financial savings," he says. "We didn't have to do a huge capital outlay, and then we ended up finding out that it's just easier to manage."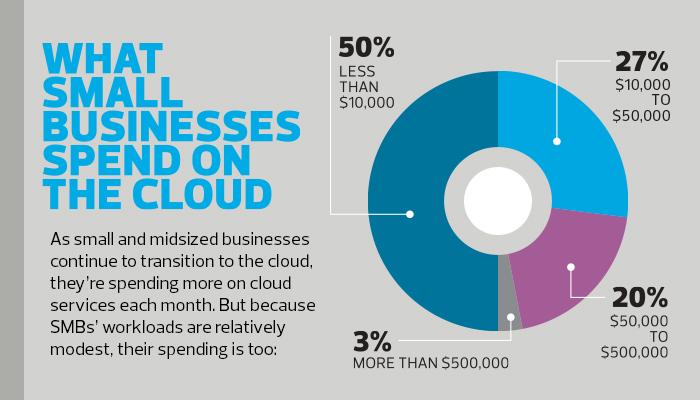 Source: RightScale, "2018 State of the Cloud Report," February 2018
BARBRI migrated to the cloud gradually. In 2016, Kaplan shut down one data center and operated half on-prem and half in the cloud. The company migrated to Azure's Database as a Service offering, then it moved 250 applications.
"It allowed us to get used to working in the cloud, and if it failed, we could cut back to on-premises," he explains.
The cloud effort was a success, however. So, in January 2017, Kaplan shut down the remaining data center and went all-cloud. The company uses Azure Backup for its virtual machines and changed from an expensive multiprotocol label-switching network to a ­software-defined WAN using Cisco Meraki switches. Microsoft manages the infrastructure and databases, while the BARBRI IT staff manages its own ­software and handles OS upgrades. The freed-up time allows the IT staff to pursue new projects, such as using machine learning to build online courses that adapt to students' needs in real time.

3. Detroit Symphony Orchestra Sees the Advantages of HCI
At the Detroit Symphony Orchestra, Jody Harper knew the organization's three aging servers were near the end of life, but as a nonprofit with a tight budget, it hoped to prolong their life span as much as possible. In late 2017, however, the servers crashed, knocking out the symphony's website and preventing its 75 full-time employees from working for a full day.
Harper got the 8-year-old servers running again, but it was just a temporary fix. He needed a long-term solution — and fast.
"If no one can buy tickets from our website, that's money lost," says Harper, senior director of technology and infrastructure.
Fortunately, he had done his homework and researched his options. Moving to the cloud was not realistic because it would require too much time and money to redesign the custom integration that exists between the symphony's two most critical applications — its website and CRM software — for the cloud.
Instead, Harper wanted hyperconverged equipment. In the ensuing four weeks, he purchased and deployed three Scale Computing hyperconverged appliances because of their affordability and ease of use.
"For a nonprofit, cost is, hands-down, a major factor," he says. "It's also simple and easy. I can spin up a new server in 10 clicks."
Today, 25 virtual servers run on the Scale equipment, including financial and event management software, databases and file and print servers.
A hybrid cloud approach is still a future option, however. To improve disaster recovery, Harper is considering using the public cloud as a backup site. In the meantime, he recently purchased a fourth Scale appliance to replicate data in a separate location.
"It's a reliable product. It's made our lives easier, and now we have a fourth one for disaster purposes," he says.
Photography by Jim David
More On