3 Tips to Manage Cloud Sprawl in Your Small Business
Too many web-based business applications? Try these ideas for getting back some control.
Small businesses were among the earliest adopters of cloud-based services. While ­enterprise companies were still eyeing with caution applications that support ­collaboration, simplify accounting, drive productivity and more, small businesses were diving in.
Today, cloud services are being adopted at a growing rate by organizations of all sizes. That's a great trend for businesses, because the best of these applications help make workers more mobile and effective, cut costs and drive efficiency. One thing I love about them is their low barrier to entry: Companies can try a cloud service for a period of time, at low or no cost and with little at stake, and decide later whether to commit to a more robust subscription or just cut bait.
SIGN UP: Get more news from the BizTech newsletter in your inbox every two weeks!
Does Your Business Have Cloud Sprawl?
Yet that same low-risk model is also at the heart of a problem I'm seeing more frequently inside small businesses: cloud sprawl. When companies subscribe to so many services that they can barely keep track of them, much less effectively manage them, that's cloud sprawl.
It's not uncommon for SMB leaders to be stunned to discover the number of cloud services they've been paying for — many of them redundant, some of them little used.
Several companies I know of use multiple collaboration platforms because some employees prefer one or the other. They have an internal server for some files while using a cloud ­storage service for others. I also know customers who use one app to book travel and another to record travel expenses. The list could go on.
Sometimes this array of services is justified. But often, it's just a confusing mess. Businesses suffering from cloud sprawl often don't even know it because particular services are being used by disparate groups of employees, or even individuals, with no central monitoring or control.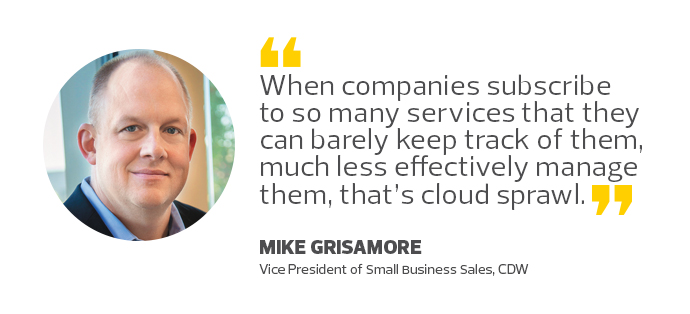 Sensitive ­business data could be anywhere. Talk about a security nightmare.
Cloud sprawl also makes reporting nearly impossible, because crucial information is maintained in separate silos. And it causes headaches with upgrades and with ­negotiating service-level agreements.
What can you do if you have (or think you may have) cloud sprawl?
1. Audit and Inventory Every Cloud Service 
You can't solve a problem you don't know about, so make it your mission to discover every cloud service you're using. Which ­services are redundant, which are out of date or misaligned with your current business, and which are lightly if ever used? Eliminate them.
2. Establish Policies for Deploying New Cloud Services
Too often, a company will start using a cloud service at the request of a single employee, without really vetting what it does and how it would interact with other services they're already using.
Sometimes, the employee who requested the service ends up being the only one who uses it. Make sure your authorization procedures are thorough, and that you follow up after a few months to determine who's using the new tool and how well it's working.
3. Consider Adopting a Cloud Hub for Access and Security 
Sometimes referred to as a unified cloud manager, a cloud hub is a kind of virtual window that serves as a single point of entry for all users to access cloud ­services. Because all your ­services are on the hub, users get single sign-on access and it's easy to keep track of what's in your environment.
Cloud hubs also allow IT managers to apply security protocols across your entire suite of services.
Nobody loves the cloud more than I do. But when your volume of cloud ­services is overwhelming the IT team's ability to manage and secure them, it's time to apply some controls. Fortunately, it's easy to do so.
horizon2531/Getty Image