Companies Can Wed Tech and Design to Create Great Workspaces
Radically redesigning your offices can spur collaboration and boost productivity — if you've got the right tech to support it.
When Archbright decided to consolidate its three Seattle offices into a new space, it approached the process with collaboration and communication in mind.
Construction began in January 2017; by mid-June, the legal advice and HR serv­ices organization had moved into its new digs in the ultramodern Georgetown Squared office complex. The difference was dramatic.
Archbright went from classic 1950s-style cubicles and closed-door offices to an open plan built around the concept of neighborhoods, with long, shared tables and glass-enclosed conference rooms.
Providing a seamless work experience everywhere, using technology, was a key component of the new design, says Colin Lyons, Archbright's director of IT and business intelligence. Employees can plug their laptops into docking stations attached to two big-screen monitors and work wherever it's convenient.
"I don't have an assigned seat, so the type of work I'm doing that day determines where I sit," Lyons says. "If I'm open for distraction, I'll pick a spot on the main floor and make myself available for walk-ups. If I need more focused time, I'll pick one of the quieter neighborhoods. If I need to have private meetings, I'll reserve an office for the day."
SIGN UP: Get more news from the BizTech newsletter in your inbox every two weeks!
Redesign Tech Infrastructure to Improve the Workplace 
A goal of the design — created by nbbj of Seattle and JPC Architects of Bellevue, Wash. — was to increase what Lyons calls "collision points," places where employees encounter each other and interact.
Before moving into its new offices, Archbright had three departments in one building and three departments in the other two. It was like each ­building housed a separate ­company, he says.
"There wasn't a lot of interaction between those six departments because they weren't running into each other on a regular basis," he says. "Bringing them all together was a way of saying, 'We are a team. How can we come together to solve our members' issues?'''
Rethinking the infrastructure was essential to making this setup work. To let people plug in anywhere, Archbright standardized its end-user hardware platform — Lenovo ThinkPad T460s and T560s connected to LG monitors — with consistent drivers and display settings.
To minimize interruptions, the IT team attached Kuando Busylights to the top of the LG displays and integrated them with Skype for Business. If employees are on calls, or simply need to concentrate, the lights will glow a bright "do not disturb" red.
In addition to accommodating 100 or so employees at any time, Archbright also routinely hosts training sessions and other events for its members. The company needed a robust wireless network, carefully mapped to ensure complete coverage everywhere.
Lyons' team and CDW services installed 13 Aruba Power over Ethernet access points across the 29,000-square-foot space, along with 10 Aruba switches and two intermediate-distribution frames connected via fiber.
Archbright also installed a sophisticated room scheduling system. Steelcase RoomWizard integrates with Microsoft Office 365, letting employees reserve rooms from their calendars; each room also has an external display that shows when it's available so people can book it on the fly.
Once inside a meeting room, employees can plug their laptops into a Steelcase media:scape or connect wirelessly through a Virtual PUCK interface and share screens on a wall-mounted display that doubles as a videoconferencing system.
"The space is really cool, and our employees find it's quite nice to be able to pick where they want to work," Lyons says. "The increased collision points have really benefited our culture and improved communication across departments."
Technology Brings an Old Space to Life 
Giving people choices is one of the keys to a creative work environment, says Jean Anderson, design experience leader for Gensler, a global architecture, planning and design firm.
"People love having the ability to choose how, where and when they're going to work," she says. "You want to create different kinds of opportunities in a space for them to feel like they're part of a community and have a sense of belonging."
That's one reason why Groove, a full-service digital communications agency in Baltimore, moved from a traditional corporate office into a historical building three years ago.
For more than half a century, the building served as a garage for the city's streetcars. Now, the space — refurbished by Baltimore design firm Stephanie Bradshaw — houses the Groove team of about 40 designers, developers and marketers.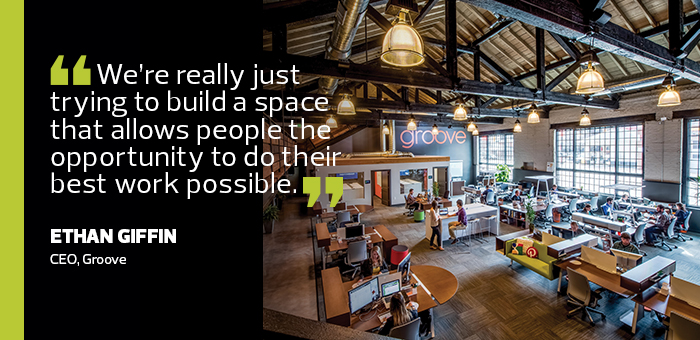 The office features a large, open work area; brick walls; tall ceilings with exposed conduit and industrial lighting; two lofts with couches and a fireplace; a "work cafe" with a bar and tables made from reclaimed wood; and a photo booth (also made from reclaimed wood). It is nothing if not groovy.
"We wanted a thoughtful space where people could be creative, where we could give our staff the room to really think and do innovative things," CEO Ethan Giffin says. "So we created a lot of open space for people to spread out based on mood. We have spaces that are comfortable and cozy, spaces that are bright, and spaces where there are a lot of people moving around."
As in Archbright's offices, technology is key: Every Groove employee has a MacBook hooked to one or two 24-inch Dell displays, connecting to a half dozen strategically placed Aerohive Networks wireless APs. A 180-inch HD projector in the cafe lets the staff give presentations or host Facebook live events.
"We invested in a lot of technology under the hood: great Wi-Fi, electronic room scheduling, audiovisual equipment," he says. "It's a great blend of old and new. We're really just trying to build a space that allows people the opportunity to do their best work possible."
Design Office Spaces to Encourage Interaction 
Smart office design is ultimately about helping people make ­connections.
For example, when Gensler redesigned the New York City offices of Boston Consulting Group, it put a cafe in the heart of the firm's six floors at Hudson Yards. That way, BCG consultants who spend four days a week at clients' sites could get to know each other, Anderson says.
"No matter what floor you work on, everyone comes to the cafe first thing in the morning," she says. "It is a way to bring people together and create a sense of community."

Equally important, though, is technology that lets people work anywhere, at any time, she adds. When BCG employees arrive at the office, they sign in to the computers they want to use that day, using Apple iPad devices that pull up their Outlook calendars, photos and other personal data.
"It's also the simple things," Anderson adds, "like making sure there are places people can plug in to charge their laptops and that technology doesn't take people 15 minutes to set up."
Include Employees in the Planning Process 
But changing office design is really about changing office culture, which can be unsettling for some employees and is an element to address, Archbright's Lyons acknowledges.
That's why, after figuring out a redesign strategy, it's important to bring employees into the planning process from the earliest stages, he suggests. Archbright held multiple forums for employees to voice concerns directly with company leadership, Lyons says.
"It gave them the sense they were being heard and that their concerns were part of our planning process," he says. "From my conversations with employees here, the new office design has only enhanced how they work. It's really been a win-win for everyone."
Rick Dahms