Dell Venue 11 Pro Review: Better Battery Life, HD Display, and Much More
The Dell Venue 11 Pro's near-field communication capabilities let users easily transfer content and wirelessly stream high-definition video to a second monitor.
Finding the right equipment to balance office work with the demands of telecommuting has never been an easy task. The Dell Venue 11 Pro is designed to bridge that gap.
The Venue 11's ability to switch from a tablet to a desktop (with an optional keyboard) or a notebook in just a few seconds offers users versatility and work-friendly options.
Our test unit came with the 64-bit version of Windows 10 and the optional keyboard. One of the best features of this device is its 10.8-inch, 1920x1080 native resolution touch screen, which renders high-resolution, full HD content at 1080p. We watched amazing PowerPoint presentations and videos displayed in widescreen format, without adverse effects on battery life.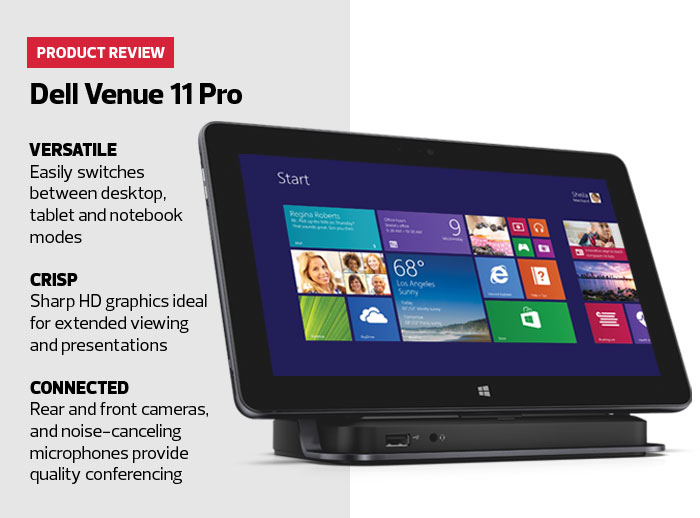 SPECIFICATIONS: Processor Intel Core i5 1.5GHz i5-4210Y, Display 10.8-inch IPS, Hard Drive 128GB, Memory 4GB DDR3 SDRAM, Dimensions 11x7x0.6 inches, Weight 1.74 pounds
Dell Venue 11 Pro's Battery Life
When running disconnected from power in notebook or tablet mode with a movie steadily streaming, the Venue 11 lasted for 7 hours and 14 minutes before the low-battery alarms chimed. Under normal use, with power-saving features enabled, our runtime was extended to almost 10 hours. Charging the Venue back up to full power took about 40 minutes.
The 128-gigabyte solid-state hard drive is quick to read and write, and has more than enough space to support the operating system and a suite of office programs. If storage becomes an issue, the Venue 11 comes with PocketCloud 2.0, which can serve up content and provide a quick way to offload and share excess data.
An integrated card reader supports microSD, microSDHC and microSDXC cards, and allows for quick data sharing locally. A micro-HDMI slot can connect to a second monitor, and a USB 3.0 port is available for other peripherals, such as hard drives, which can take advantage of the speed that the 3.0 format supports.
Dell
More On