Small Businesses Embrace Managed Services for Various IT Needs
Outside IT firms often help small businesses with repairs, troubleshooting and more complex tasks such as installations and integrations.
For small businesses, using managed IT services lets technology leaders outsource some tasks to trusted partners so they can focus on core business operations. Outsourcing IT services can boost operational performance, cut down on operational risk, help companies avoid unnecessary costs and adopt innovative technologies more quickly.
Another key trend for small businesses is cloud adoption. Embracing cloud services affords businesses greater flexibility, offers assurances for disaster recovery and business continuity, boosts security and can help cut costs.
1. How do small businesses work with outside IT firms?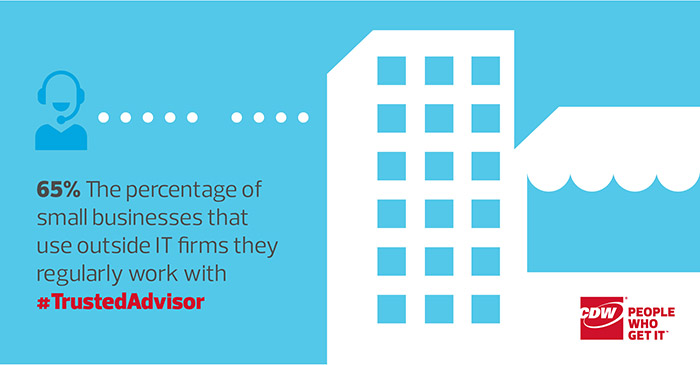 SOURCE: CompTIA, "SMBs and Technology," March 2015
Most small businesses that engage in managed IT services tend to work with trusted partners rather than with an assortment of outside firms, according to a study by CompTIA, a nonprofit IT trade association. This makes sense on several levels. A trusted technology adviser can help businesses develop a long-term technology roadmap, giving them a competitive edge and adaptability as the market changes. Additionally, familiarity with an outside IT partner helps outsourced operations run more smoothly.
2. What kind of managed IT services are small businesses seeking?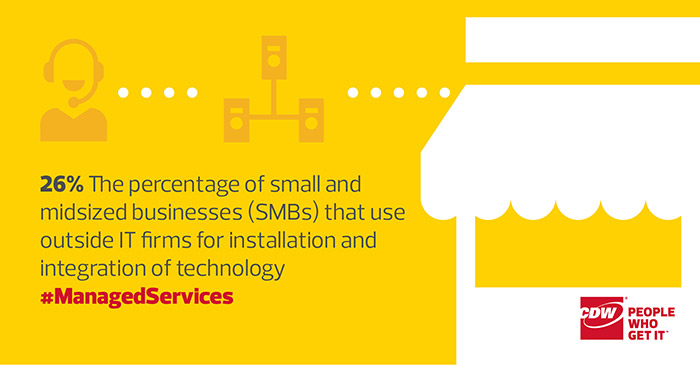 SOURCE: CompTIA, "SMBs and Technology," March 2015
Small businesses work with outside IT firms for a variety of reasons, CompTIA reports. The most popular is for IT repairs or troubleshooting. However, more complex tasks are also popular, as installations and integrations were the second-most-cited reason for using an outside IT firm. Other uses include cloud computing, consulting and cybersecurity.
Investment in public cloud services appears set to soar in the years ahead. According to research firm IDC, worldwide spending on public cloud services will grow from nearly $70 billion in 2015 to more than $141 billion in 2019. IDC predicts that companies with 500 or fewer employees will make up 40 percent of that spending in 2019.
4. Why do SMBs embrace cloud software?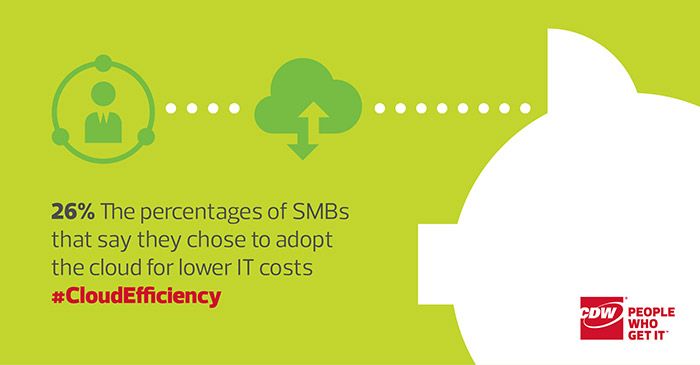 SOURCE: Exact and Pb7 Research, "Small Business Cloud Barometer 2015," August 2015
Small businesses using the cloud experience numerous benefits. According to a survey conducted by research firm Pb7 Research, businesses choose the cloud for a variety of benefits, including greater security and lower costs. Twenty-three percent cited easy mobile access as a reason to embrace the cloud, and 21 percent pointed to increased productivity and efficiency for end-users.
For more on how small businesses can use technology to grow effectively, check out, "Small Business Growth Requires Strategic IT Planning."
woolzian/Thinkstock
More On