Triad Retail Media Conquers IT Challenges with Adobe Creative Cloud
Businesses discover the many benefits of taking out subscriptions to their favorite applications.
Triad Retail Media resides on the front lines of digital innovation, creating and delivering online media programs for some of the world's most highly trafficked retail websites. Among its clients are giants such as Wal-Mart, Sam's Club, Toys R Us and eBay. But until recently, the firm's back-end processes conflicted sharply with its hip reputation.
Relying on the old-fashioned "sneaker net," IT staff at the St. Petersburg, Fla., firm would walk from machine to machine to install, manage, maintain and track various disk-based Adobe applications, such as Photoshop, Dreamweaver and Premiere, used by company designers, artists and marketing specialists.
"It was one thing when we had 20 designers, but as the company grew quickly and we were taking care of nearly 70 designers and their applications, it became a huge undertaking that took up way too much of our time," says John Kuemmel, chief technology officer for Triad, which has 450 employees working in nine offices worldwide.
In a fortuitous turn, many of Triad's IT challenges disappeared when, in summer 2012, Adobe introduced its Creative Cloud, an application delivery model that swaps out traditional client-based software licenses and manual installation in favor of cloud subscriptions and virtual downloads.
"It was a no-brainer for us," admits Triad's Vice President of Creative Chris Shindelbower.
Thanks to the cloud, the subscription-based application model is here to stay, says IDC system software analyst Al Gillen.
"It's a one-ticket deal, essentially," he adds. "You subscribe to the app, and suddenly you don't have to worry about hardware, you don't have to worry about configuration, you don't have to worry about managing it. Basically, you just use it."
Besides Creative Cloud, other popular software products are now being offered through the subscription model. For example, Office 365 ProPlus allows users to subscribe to the latest versions of Microsoft's productivity, collaboration and communication tools, either to run in the cloud or, for most, as downloads to a local machine.
Understanding the Creative Cloud Model
Firms that subscribe to Creative Cloud pay annually or in monthly installments for immediate and continuous access to the latest versions and updates of about 20 Adobe Creative Suite applications.
Users don't run Adobe's graphics-heavy and processor-intensive products on a hosted cloud server. They instead go to the Creative Cloud site, choose what programs they need, and download them. Files can later be uploaded to a hosted server for storage, sharing, review and collaboration.
There are a number of benefits that come with subscribing, Shindelbower says. The IT team doesn't have to leave their desks to set up a user's machine or permit an update, for instance. And designers and other creative personnel are much more productive because they can get any application or update whenever it's needed.
What's more, Kuemmel notes, "if a designer reads an industry article about an innovative feature in the latest version of, say, Photoshop, he or she can go in and check it out immediately."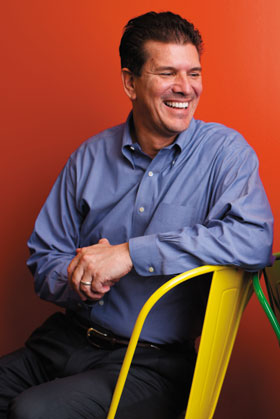 Photo: Jensen Larson
"If a designer reads an industry article about an innovative feature in the latest version of, say, Photoshop, he or she can go in and check it out immediately," Kuemmel says.
Subscription-Based Software Simplifies Collaboration and Licensing
For Mom Corps, a talent acquisition and career development firm based in Marietta, Ga., the decision to purchase a companywide subscription to Office 365 ProPlus has enabled its virtual workforce of 40 internal employees to better collaborate, share documents and streamline training. A key application, SharePoint, allows users to post, share and access files and documentation in the cloud.
"It just makes it a lot easier when you're small like us and don't have an IT department that can go around and set up everybody's individual computer," says Allison O'Kelly, founder and CEO of Mom Corps.
"It's a tool that's just there to be used, and we don't have to think about it too much."
That simplicity of purchase and use is one of many reasons why Bloomington, Minn.-based Quality Bicycle Products, a supplier of bicycles and wholesale parts, opted to subscribe to Creative Cloud.
"It takes a substantial amount of work out of the process for us," says Jon Ostroushko, Quality Bicycle's Mac and IT solutions administrator.
"All we do now is set a person up on the portal, provide an administrative password that allows them to install a new application and send them an email with a link to the Adobe site."
License management is a snap, he notes, and both the IT team and designers are happier, more efficient and better able to focus on mission-critical tasks. In addition, Creative Cloud adds a disaster recovery benefit, because the subscription license allows users to download applications to both work and personal devices.
"That's really important here in Minnesota, because we don't know what the weather is going to be like from day to day," says Ostroushko.
His company is planning to migrate to other subscription-based applications, including Office 365 ProPlus. As for Triad, it is now sold on the idea of subscription-based applications.
"Nowadays, we are never behind the curve," says Kuemmel.
Jensen Larson