A Technology Precedent: How One Law Firm Uses IT to Get Ahead
An infrastructure upgrade coupled with the latest mobile and productivity technologies give law firm Golden & Walters a competitive advantage.
For lawyers at Golden & Walters, mobile technology combined with legal applications let them practice law when and where they need to — whether in court or on the road.
"We're a small-to-midsized firm, and the only way we'll stay competitive with the larger firms is to be smart in the way we use technology," says Golden & Walters Systems Analyst William Washington.
The Lexington, Ky., firm has about 50 employees, 22 of them lawyers, all of whom are mobile users. A few lawyers use their own Apple iPad devices, while others use their own notebooks. Plus, all have Samsung Galaxy S4 smartphones too. The firm's future plans call for all lawyers to have Lenovo ThinkPad Twists.
At a Glance
COMPANY: Golden & Walters
HEADQUARTERS: Lexington, Ky.
EMPLOYEES: 50
HISTORY: This 15-year-old firm's nearly two-dozen lawyers practice both civil and criminal litigation. The practice areas include insurance defense, insurance coverage, bad faith litigation, construction law, trucking, products liability, class actions, employment law and general criminal defense.
Whether using notebooks or tablets, all the lawyers access the firm's systems and data through VMware View virtual desktops.
Always a willing technology adopter, Golden & Walters has spent the past few years streamlining its infrastructure and standardizing on a mobile-friendly end-user platform. Its technology retooling efforts have included not only a revamp of the backbone network, but also a move to end-to-end virtualization, a document management system rollout and implementation of a legal business intelligence system.
"Everything we do with technology is with an eye toward maintaining a competitive advantage," Washington says. Given the firm's small IT department, Washington turned to its technology partner, CDW, to devise a network and mobile strategy for the firm.
"The team at CDW were our go-to people for advice on new products we were considering," he says. "They carry such a broad range of products that I was able to get good information on which networking, security and data backup products to choose from."
CDW has a legal solutions team, specifically trained to understand the unique needs and technology environments common within law firms, says Shail Shah, a legal solutions specialist at CDW. This team works directly with customers, he says.
"Our legal solutions specialists work closely with the CDW legal sales team to assist customers who have practice management, case management and e-discovery needs," Shah says.
Although Washington did most of the network configuration and deployment at Golden & Walters, he says that he depended on CDW to help him sort out which products to use as he plotted a virtualization initiative to reduce the firm's hardware footprint and boost data security as users moved to mobile platforms.
"A specialist gets on calls with each customer to help them develop a vendor-agnostic approach to meet their firm's needs," Shah says. There's no one-size-fits-all approach; CDW designs a solution strategy for each firm — based on that firm's particular business workflow demands and vision, he says.
Making the Case for Mobile
Golden & Walters embraced mobility because it lets lawyers be more productive than they would be in an all-desktop environment, says Senior Associate Drew Meadows.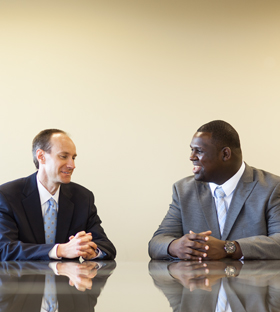 Photo: Jonathan Robert Willis 
"Now, we can pull documents up on a tablet right there in the courtroom," Golden & Walters Managing Partner John Walters says. "While opposing attorneys are fumbling around with paper documents, our lawyers are prepared."
By example, Meadows recounts how in the past couple of months, as he rode the train from Lexington to New York City and back, he worked on his Twist tapping the train's Wi-Fi access. Plus, a dictation feature on his Galaxy S4 let him record correspondence that he then was able to transmit to legal assistants back at the firm.
"Five years ago, I would have wasted time on two travel days," he says. "But because of our technology, I was able to stay productive."
Embracing technology has been a way of life at Golden & Walters since it opened for business in 1999, says Managing Partner John Walters.
The firm pioneered the use of the LexisNexis Sanction application, litigation presentation software that lets Golden & Walters lawyers in the courtroom show videos of depositions and display relevant case documents and evidence — particularly handy during closing arguments.
The firm has used LexisNexis research tools for several years, especially for research-intensive insurance and environmental cases.
"All of these tools are incredibly useful," Walters says.
Plea for a Revamp
When Washington began his job at Golden & Walters in 2008, the back-end infrastructure was a hodgepodge of products — many of them not well integrated. Washington's immediate task was to upgrade the network to support the latest mobile technologies, both hardware and software.
The first step was a network overhaul. Golden & Walters deployed three switches: two Cisco Systems SGE2010 48-port Gigabit switches, and a Cisco Catalyst 3550 48-port 2-Gigagit switch that supports Power over Ethernet.
A Cisco ASA 5510 firewall integrated with an intrusion protection system, along with Trend Micro OfficeScan for antivirus and an email filter, provide network security.
"My job was to completely rebuild the whole network," Washington says. "Server virtualization was also really big for us. Now I can move a virtual server to a host without having to take down the network. It all gets done behind the scenes, and nobody's work is affected."
To recoup much-needed office space, Washington deployed two HP ProLiant DL180 G6 servers to host 10 virtual machines. Each server has about 72 gigabytes of RAM and two Intel Xeon E5620 processors that have four cores per CPU at 2.4 gigahertz per core.
Running VMware vSphere 5, the G6 servers connect to an EMC VNXe3150 storage area network with 4 terabytes of storage capacity. VMware vMotion lets Washington easily migrate and provision VMs.
Washington has another HP ProLiant server, an ML110 pedestal with a single Intel Xeon X3330 Dual-Core CPU and 8GB of RAM, set up to provide limited onsite backup and redundancy. A custom-built server, with two Intel Xeon E5335 Dual Core CPUs and 20GB of RAM, hosts two virtual machines that Washington uses as test environments.
The Technology Difference
A chief benefit of the infrastructure upgrade is performance. "I'd say we have 1 percent of the reliability issues we used to have," Meadows says. "Our firm grew very rapidly over the past few years, and it was really important to get all the technology integrated."
700
Types of reports supported by Juris, the LexisNexis productivity tool law firms can use to build budgeting and forecasting dashboards and generate event-driven alerts
The firm is rolling out a paperless workflow process using HP iManage.
"The legal world is a very paper-based culture," Walters says. "In the past, we used to bring 300 pounds of paper files into the courtroom for a trial or deposition. A class-action case requires tens of thousands of documents."
The long-term goal is to migrate all Golden & Walters documents to a private cloud that users can access anywhere from their mobile devices. Currently, the firm barcodes and scans all documents so that it can effectively track specific case files and reduce data entry and filing errors.
"Now, we can pull documents up on a tablet right there in the courtroom," Walters says. "While opposing attorneys are fumbling around with paper documents, our lawyers are prepared. It's really improved our effectiveness."
Golden & Walters has also recently rolled out LexisNexis Juris, a legal business intelligence system that lets lawyers more easily account for billable hours.
Dashboards let lawyers view actual litigation costs against original projected costs, identify which clients are profitable and monitor hours spent on specific tasks.
"It lets us be more proactive versus reactive," Walters says. "The dashboards let me see who's working on which cases, and it gives me a good overview of what's going on at the firm."
Thomas Stevens, an associate who's been with Golden & Walters for about a year, says the emphasis on technology has made his transition into the workplace easier.
"During law school, we are all educated on the latest tools, so it was great to come into the firm and have a ton of resources right at my fingertips," he says. "The Juris app is also very valuable, especially for budgeting my time and travel expenses."
Stevens says having a mobile capability increases his effectiveness.
"It's great to be at a hearing or a deposition and be able to bring up the document you need," he says. "I can also access email on my smartphone and send over a pleading. The federal courts have gone to e-filing, and now many of the state courts are adopting it as well."
Ultimately, Walters says, technology makes the firm's lawyers not only more productive and efficient but also helps them compete effectively against lawyers from firms twice or three times the size of Golden & Walters.
"We've tried to be in front of technology since we started," Walters says. "And we plan to continue down this path with our goal of going completely paperless."
Jonathan Robert Willis