Windows 8 Testing Is Up Among SMBs
Spiceworks survey finds that more businesses are testing Windows 8. Is this a sign of a future shift in the adoption of the new OS?
When Microsoft revealed that it had sold more than 60 million Windows 8 licenses as of January 2013, many analysts, bloggers and speculators tried to parse exactly what that figure meant. Licenses sold don't translate to individual unites sold since a good chunk of those licenses doled out to OEMs.
But Spiceworks has released data from its February Voice of IT survey of small and medium-sized businesses that shows interest in the OS is on the rise as 69 percent of the SMB IT pros surveyed said they were currently testing Windows 8.
This figure is up from 48 percent of SMB IT pros who said they were testing the operating system pre-launch.
The number of PCs actually using the Windows 8 OS in production also saw a significant uptick, going from 6 percent to 22 percent since the OS's official release.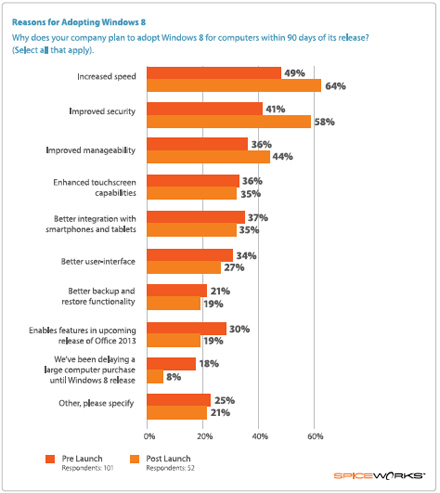 Among the companies that did decide to upgrade to Windows 8, the top reasons cited for making the switch were: increased speed (64 percent), improved security (58 percent) and ease of management (44 percent).
The bulk of attention and discussion around Windows 8 has been around the operating system's new user interface, which supports both desktop and mobile use in on OS, but it looks like the biggest selling point for Windows 8 among businesses lies in its improvements around performance, security and management. In other words, businesses are interested in how Windows 8 can help them get work done better, faster and more safely.
PC Magazine ran some speed tests on PCs using Windows 8 versus Windows 7 and found that Windows 8 reduced startup time to less than half that of Windows 7. On the security front, Microsoft introduced Secure Boot, which helps block unauthorized malware and users from tampering with the OS' integrity and functionality.
For more on Spiceworks' survey results on Windows 8 adoption among SMBs, download the full report.
Microsoft
More On