EmailSanta.com: How Santa Claus Went Digital
Alan Kerr has been delighting children around the world with his small but reliable EmailSanta.com website for more than 15 years.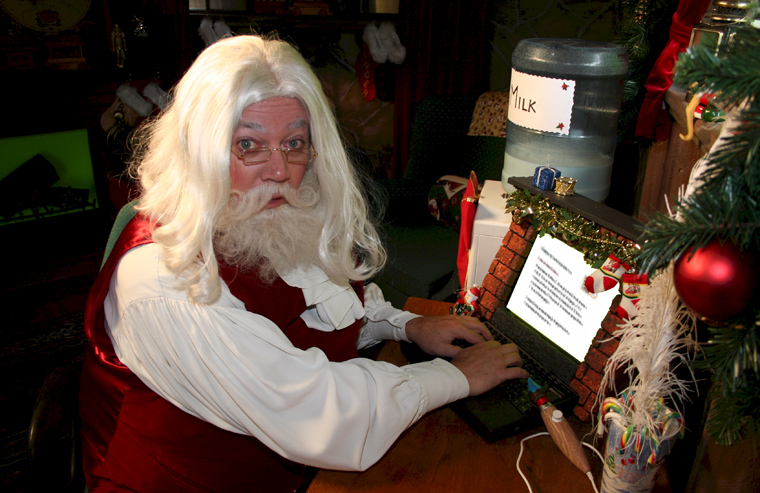 Santa (pictured here by the actor who plays Kris Kringle for EmailSanta.com) definitely gets IT.
Credit: Alan Kerr
Tradition can sometimes buck the innovation that technology spurs. Why in 2012, for example, do so many children send handwritten notes to Santa Claus each Christmas, when we've had e-mail for more than 20 years?
Alan Kerr, a self-taught programmer and a former consultant for Amoco and the Canadian natural gas industry, didn't initially set out to disrupt the holiday letter-writing tradition. But when the Canadian postal system went on strike 15 years ago, preventing his niece and nephews from mailing their letters to Santa, he took action.
Kerr, who lives in Calgary, Canada, decided to build a website where his niece and nephews could go online and electronically mail their wish lists to Santa. From there, a star was born. The site eventually turned into EmailSanta.com, and Kerr now receives up to 10 e-mails per second on Christmas Eve.
But much has changed for Kerr since he first set up his site. It now offers kids and parents personalized messages from Santa, which run from an ASP script that Kerr built himself. The site, which was once a hobby, is now turning into a full-time job, and he's racing to support social media channels and roll out the first EmailSanta mobile app.
We caught up with Kerr and asked him what it's like to run a digital Santa workshop.
BIZTECH: You've been doing EmailSanta.com for more than 15 years. How'd you get started?
KERR: There was a strike by Canada Post, and my niece and nephews couldn't send their letters to Santa Claus by regular mail, but the Internet had just started up, and I just started noodling around on it and I thought, 'Oh, that should be fun to do.' So I hung up the phone after talking with my sister and didn't tell her anything, and then I called her back a few days later and said, 'Here's this URL to go to.' Back then, you'd never find things by Googling it, it was just strictly sending e-mails around.
BIZTECH: Did you have experience in programming at all? What did you use — GeoCities or some other WSYWIG tool?
KERR: Nope. Notepad. (laughs) I just taught myself. But HTML's not that hard.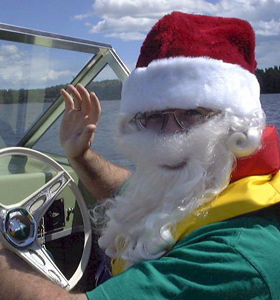 Photo: Alan Kerr
"Santa's in the cloud. Well, when you're riding in the sleigh you get to check it all out, right?" says Alan Kerr (pictured above), founder of EmailSanta.com.
BIZTECH: Has the site ever undergone a redesign? Is there a CMS behind it, or are you still updating it manually with HTML?
KERR: That was one of the reasons I added ads to it recently, in order to get it professionally redone. It's looking its age. One of the tag lines should be "Since 1996 and we look it!"
BIZTECH: How long does it take you to prepare for Christmas Day? The site's probably not busy during the rest of the year, right?
KERR: Well, Santa gets e-mails every day of the year. On a quiet day there'll be maybe 200. Right now, it's probably about 1 every 10 seconds. And then Christmas Eve it'll probably be about 10 per second.
BIZTECH: How has social media changed the way you produce EmailSanta.com?
KERR: I'm amazed every year, when I really start to focus again on the site, just how much has changed each year. Santa has a Facebook account, he has a Twitter account, and actually, right now, I've got an app, 'cause that's another hole too, right? There's a Santa webcam app coming out, and I'm trying to figure out what screenshots to use for it. So I've got this thing where I show them a couple screenshots [on the Facebook page] and they all say what they like the best. Right now, it's between a shot of Santa Wii bowling and Santa as a candy-cane dancer.
BIZTECH: Tell us about the technology that you're using to power the site.
KERR: The site's kind of split up between different providers. I use a host out of Boston as the primary host. There's another one out of my hometown in Calgary that I use as a backup, just 'cause there's nothing worse than downtime. But the actual content delivery network is [hosted on] Amazon Web Services.
BIZTECH: Oh! So Santa's in the cloud?
Kerr: Santa's in the cloud. Well, when you're riding in the sleigh you get to check it all out, right?
BIZTECH: So even though the front end of the site hasn't changed much, the back end has definitely been upgraded?
BIZTECH: So how else do you ensure that the site stays up? How do you handle traffic spikes?
KERR: Oh, yes, the back end is nowhere near what it used to be.
KERR: It's usually been very reliable. The only time the site ever went down is when I had an individual show up at my door. The guy drove for 12 hours and he claimed that he had the rights to the phrase "Baby Reindeer," specifically "Twinkles the Baby Reindeer." I just kind of dismissed the guy, but he managed to get ahold of my hosting provider and unfortunately got ahold of some rookie there, and the rookie was just following procedures. The problem is, the rookie didn't read the attachment I sent explaining my side, and he pulled the site down for about a week. This was about two or three years ago.
BIZTECH: Was it around Christmas time?
KERR: Yep, it was around this time.
BIZTECH: Wow. That's bad timing.
KERR: Yep, but that's why Santa has a backup site. I was able to at least convince the kid to do a redirect so that people would go to the site that was hosted by somebody else. Santa has to be quick on his feet.
BIZTECH: Is that you dressed as Santa in the videos, or an actor you hired?
KERR: Yes, he's an actor. It's not myself. I could definitely pass for Santa now after doing it for 15 years, you know: old, fat and gray. (laughs) I didn't realize that was a curse of doing the job.
BIZTECH: How did you hire him? Did you have a casting call?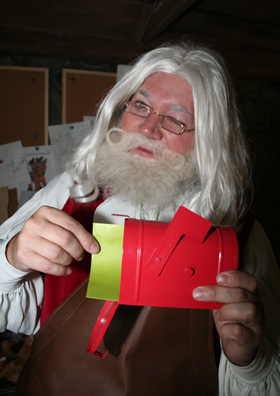 Photo: Alan Kerr
"I laugh because I'm the head of a multinational corporation, but I just never thought it'd involve elves," Kerr says.
KERR: He was a very famous Santa here locally, so I was able to track him down. They're all paid, all the people [who work for the site]. They all want to do it for free, but it's not fair. That's why I put the ads on the site, so that I would be able to pay people.
BIZTECH: Who came up with all of these different scenarios in the videos?
KERR: Those were written by me, with input from the Santa and, actually, the director. The director [of these videos] was actually a casting director in the Twilight series of movies. Just a small part in the whole Twilight series, but he was a casting director. He did do that. But he was just a friend of the Santa. He loves doing fantasy kind of stuff, so he really plays up on that aspect.
BIZTECH: So that's on the show business side. What kind of help are you getting on the IT side?
KERR: I probably could've figured it out myself, but I decided to just ask somebody for help. There was a guy from Belgium who helped me to get the video to play in the actual HTML page. It's similar to a JW player, but not quite the same. [He also helped with] some of the back end coding to that, because there are different videos each time.
For the mobile app, this was out of my league, and I wanted to do it right, so I ended up hiring some Russian programmers from Elance, and they've been able to pull it all together for me. Plus, I was able to hire 15 translators, so it's available in a bunch of different languages.
BIZTECH: How many different videos for kids do you serve?
KERR: Probably about eight different videos. The middle section of the video is a function of the child's age. Depending on the child's age, the issues are different. With the ones who are a little bit older, they're more like, 'I still like this and stuff, but I've heard things.' So we don't go over the top, but it's still enough that it kind of hits their market. Another example is that if someone types in an age of zero, it's more for the parents, and Santa says something like, 'I hope you're getting sleep.'
There are certain trigger words (cancer, death, bullying) that if a kid enters them, then Santa sends them information to get help. I send them a list of children's helplines from around the world and give them an e-mail [address] as well, so they can use it to correspond with me in case they're not comfortable talking with other people.
BIZTECH: So with all of these e-mails and a growing site to manage, are you doing this full time yet?
KERR: My wife calls it the worst paying hobby ever. Before, it used to take up two months before Christmas, but this year we were making plans in April or March for the webcam app. So it's taking more time now.
BIZTECH: Long term, what are the goals? Do you plan on fundraising? Would you ever quit?
KERR: I would never stop doing it. It's a calling, if you will. A lot of my Santa friends say that once you've been bitten by the bug, there's really something special about being Santa.
It's kind of breathtaking, the first time it happens to you. The first time you put on the red suit and you have a bunch of kids, even your own kids, sit on your lap and they don't see you as dad, they see you as Santa — it's magical! So, no, I'd never stop doing it. Santa never sleeps.
I laugh because I'm the head of a multinational corporation, but I just never thought it'd involve elves.
Alan Kerr
More On