Microsoft Office 365 vs. Microsoft BPOS
Get up to speed with changes and new features in Microsoft's comprehensive revamp of its online productivity suite.
Microsoft Office 365 is the successor to Business Productivity Online Services (BPOS), a suite of hosted server applications including Exchange and SharePoint, and similarly replaces Office Live Small Business. Office 365 is a cloud-based software as a service (SaaS) solution that has been engineered to scale from the get-go and is based on the company's 2010 line of server products.
Microsoft Office as SaaS
The biggest news in Office 365 is that for the first time Microsoft is offering its Office 2010 desktop applications as SaaS. The ability to utilize the full power of Office on the desktop will be a bonus for many, and the apps are licensed per user for installation on up to 5 devices. Desktop software and licensing will be maintained and updated using Windows Server Update Services (WSUS) and the Office 365 Desktop Service Connector.
Microsoft recognizes that one size doesn't fit all and has subscriptions tailored for different needs. At the most basic level, a sole proprietor can subscribe to e-mail only or, if desired, have their own hosted SharePoint site.
Table 1 — Overview of Office 365 Pricing Plans
| Plan | Target audience | Features | Monthly cost |
| --- | --- | --- | --- |
| E1-4 | Information workers | Starting with Exchange, Team Sites, IM and Presence through to full-suite capabilities | $10 to $27 |
| P | SMBs and sole proprietors | 25GB Exchange mailbox, Team Sites, Office Web Apps, a public-facing website and some Lync functionality | $6 |
| K1 | Kiosk workers | SharePoint and Exchange | $4 |
| K2 | Kiosk workers | SharePoint, Exchange and Office Web Apps | $6 |
| Office 365 for Education | Students and teachers | Starting with Exchange, Team Sites, Lync and Office Web Apps | $0 to $14 for complete solutions |
Management 365
Office 365 sports a streamlined web interface, and administrators can now manage everything from one site. Some management tasks can even be performed remotely from the command line using PowerShell. The Service Health Portal has been integrated into the admin site with RSS and other alerting options. Further improvements include the addition of role-based access with five different administrator categories, as shown in Table 2.
Table 2 — Office 365 Role-Based Access
| Administrator Role | Function |
| --- | --- |
| Billing (Office 365 for Enterprises only) | Purchases, subscription management, support tickets and service health monitoring |
| Global | Full access; the first Office 365 user is assigned this role |
| Password | Password management |
| Service | Health monitoring and service requests |
| User management | Password management, health monitoring, user and group management, service requests |
If you have onsite Active Directory, Office 365 supports single sign-on via Active Directory Federation Services (ADFS) so that users can log in to Office 365 with their AD account. Furthermore, ADFS supports two-factor authentication. ADFS 2.0 provides a direct link to AD, unlike BPOS, which relied on the DirSync tool to create a copy of AD accounts in the cloud (taking across a limited set of parameters and no passwords, requiring users to manage BPOS credentials separately).
New in Outlook Web Access
Outlook Web Access (OWA) benefits from a cleaner layout that some users will no doubt prefer to the full Outlook desktop application. POP3 and IMAP support has been added, and e-mail can be imported from a Windows Live Mail account. It's also possible to access another user's mailbox, if the necessary permissions have been given. Some self-management features, such as group management and the ability to wipe mobile devices, are available to users under Options with shortcuts to wizards that expedite common tasks.
Figure 1 — Outlook Web Options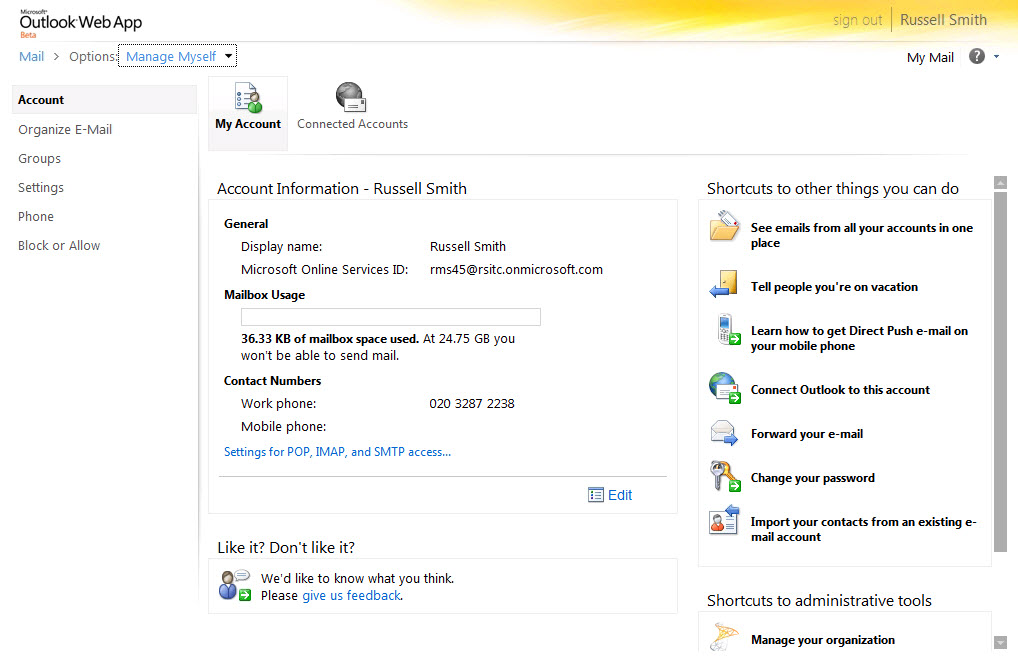 Team Site in Office 365
Probably the most important change from BPOS is that users are now able to edit documents directly from the Team Site web interface using Office Web Apps. This includes Word, OneNote, PowerPoint and Excel. The web apps allow users to work with documents on a variety of different devices thanks to multibrowser support (including Firefox and Safari). SharePoint documents can easily be shared with anyone who has a Windows Live ID account.
Figure 2 — Editing a Word Document in a Web Browser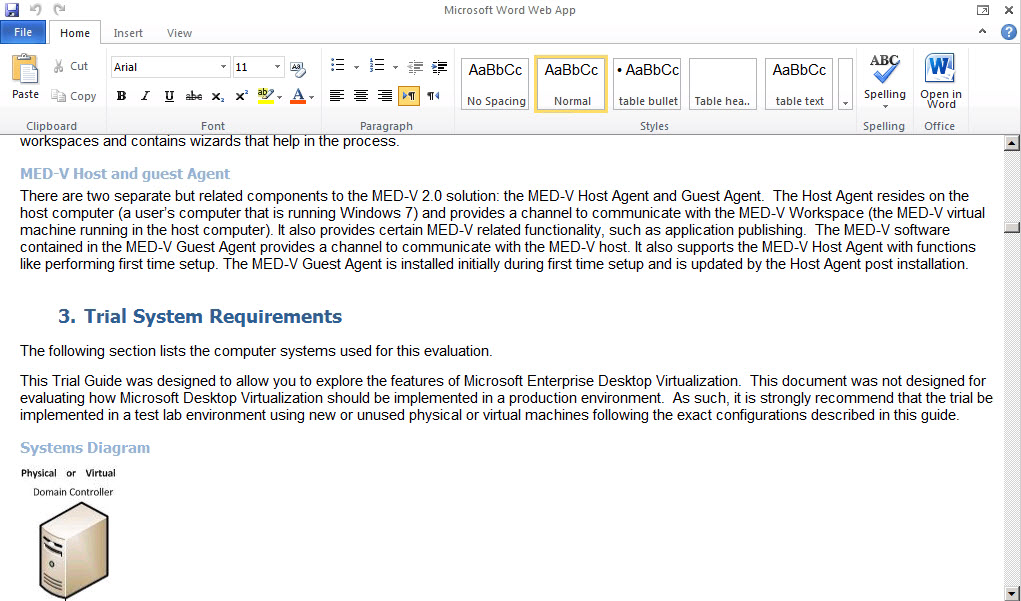 Workspaces can be synced to the desktop for offline access using SharePoint Workspace, a new stand-alone application that debuted in Office 2010. Sync is also available for Windows 7 Phone. As the place where users spend most of their time, bidirectional synchronization of SharePoint task lists, contacts and calendars to Outlook is also provided.
Behind the scenes, Office 365 allows custom web parts to be added using SharePoint Sandbox, and users can set up simple public-facing websites. Lots of templates, themes and styles are provided, with the ability to set custom backgrounds and borders so that anyone can quickly create a professional-looking site. Microsoft Access database applications can even be converted to SharePoint sites using Access Services, providing an easy way to enable a web front end for Access applications and making business data more accessible.
Figure 3 — Templates for SharePoint Sites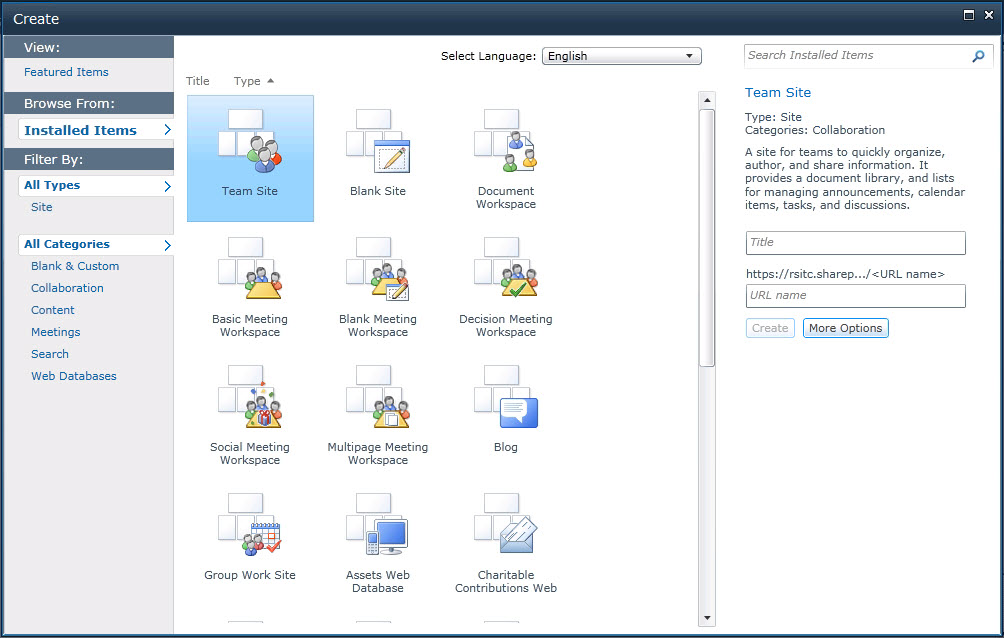 Online Meetings, Presence and Instant Messaging
Live Meeting and Office Communicator are combined in Office 365 in the form of Lync 2010 Online, providing PC-to-PC audio and video calls, and web conferencing with the ability to share a desktop. A Silverlight-based web app is available for free, so you can invite anyone to join your webinars. Meetings can also be recorded and stored in SharePoint.
Figure 4 — Sharing a Word Document using Lync 2010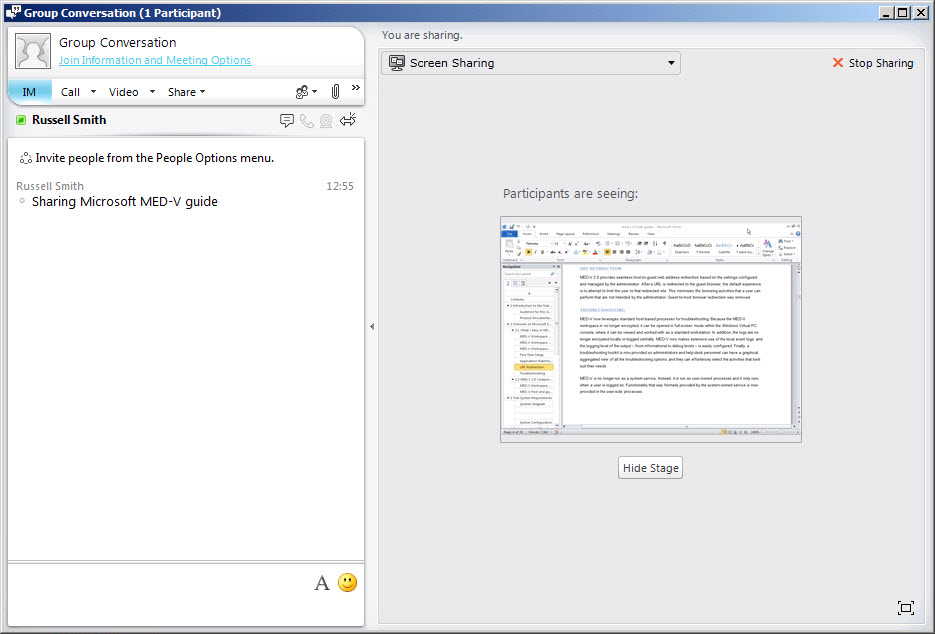 For now, Lync in Office 365 doesn't support calls to standard phones, but this feature has been promised in a future update. Office 365 for Enterprise includes the ability to connect two domains to enable communication between Lync users in different companies.
Looking to the Future of Office 365
While a lot of progress has been made compared with BPOS, there are still a few shortcomings. Setup could be integrated, rather than requiring three different installers on the desktop. The Office Web Apps don't currently work offline, so it's likely most organizations will need the more expensive plans that include Office Pro Plus.
There's no customer relationship management feature, but this also has been promised for the future. A lack of support for calls to standard phones is a serious gap, but hopefully Microsoft's recent acquisition of Skype will provide a solution for that.
textfield
More On