Smooth Migration from Windows XP to Windows 7
Simplify Windows 7 deployments using Physical-to-Virtual Migration for Software Assurance.
Have you faced this conundrum? While migrating PCs from Windows XP to Windows 7, you realize a few users' computers contain legacy apps that are important to business operations but aren't compatible with the new OS.
Until recently, there were three options to remedy this problem. First, those users could keep their existing XP PCs, and each could have an additional new PC running Windows 7. But that's a hassle and not cost-effective.
Second, migrate those computers to Windows 7 and install Windows Virtual PC with Windows XP Mode. The downside here is that you'd have to reinstall all the legacy apps on each XP Mode image, which could be a lot of work. Third, create and configure a single XP image and deploy it to the affected users using Microsoft Enterprise Desktop Virtualization (MED-V). That option is overkill in a scenario like this.
Wouldn't it be nice if there were a way to capture an image of each of these users' XP PCs, and then let them access this XP image as a virtual machine once they have Windows 7? That's now an option using Microsoft's Physical-to-Virtual Migration for Software Assurance, a set of scripts and tools developed by the same team at Microsoft that developed Microsoft Deployment Toolkit (MDT). P2V for SA integrates with MDT 2010 Update 1 and provides two ways of keeping users' existing XP environments when migrating to Windows 7.
In the "refresh" scenario, the user keeps his or her existing PC. The user's existing XP environment is captured as a virtual hard disk (.vhd), along with any user settings and data. The PC is then wiped and Windows 7 is installed. The user can then access their old XP environment using Windows Virtual PC. This scenario works if the user's current PC is powerful enough to run Windows 7.
In the "replace" scenario, the user receives a brand new, more powerful PC. A .vhd of the user's old PC is captured and stored on a network share, and the old PC is delivered to a recycling depot. Windows 7 is then installed on the new PC, and the .vhd is downloaded to the PC along with any user settings and data captured. Similar to the other scenario, the user can now access the XP environment using Windows Virtual PC.
In both cases, MDT 2010 Update 1 with P2V for SA installed does all the work. In both cases, the users can access their legacy XP apps in two ways: by opening their captured XP desktop in a Windows Virtual PC image or by launching these apps directly from the Windows Virtual PC programs group on their Windows 7 Start menu, just as if the legacy apps were installed directly under Windows 7.
Installing P2V for SA
Start by downloading P2V for SA from the Microsoft Download Center. Copy the downloaded .msi file to the MDT computer and double-click on it to begin the installation: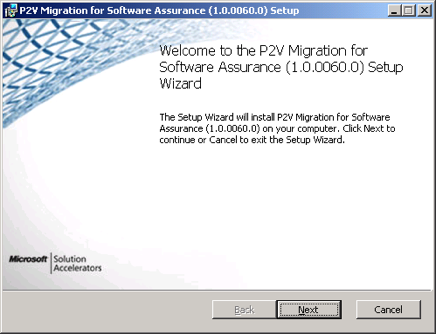 Figure 1: Installing P2V for SA
During installation, several files will be downloaded, including Windows Virtual PC, some RemoteApp hot fixes, and Disk2VHD, a Windows Sysinternals utility used for capturing .vhd images of users' current PCs. Once installation is finished, use the MDT Deployment Workbench to create new task sequences for the two P2V migration scenarios described earlier. Figure 2 shows the new task sequence templates available for doing this: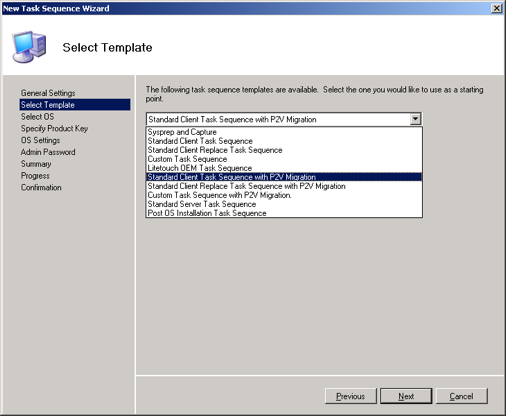 Figure 2: New task sequence templates are installed by P2V for SA
After creating a task sequence, you can view its properties to see how it works. Figure 3 shows the task steps used to capture the existing PC's environment as a .vhd and restore it once Windows 7 has been installed in the Replace scenario: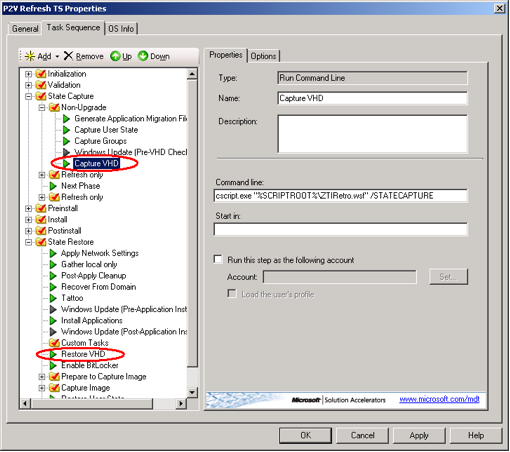 Figure 3: Task steps for capturing and restoring VHD during Replace scenario
Once the task sequence has been created, simply boot a user's existing PC using Lite Touch media and let the Windows Deployment Wizard work its magic.
Benefits and Limitations of P2V for SA
Jason Miller, a Microsoft MVP and a systems engineer at EPIC Information Solutions, says a couple of scenarios of P2V for SA hold a lot of value. These include missing installation media for applications or drivers, complex system configuration and setup processes for old apps, or smaller environments where there are only a couple of problem applications or desktops delaying or entirely preventing a Windows 7 deployment project.
"While P2V for SA isn't really scalable to larger deployment numbers, it can help IT pros target small numbers of problem systems effectively," Miller says. "And as a benefit to Software Assurance holders, it is also another justification for the investment in that licensing program on top of the other SA benefits that you and your customers can realize."
P2V for SA does have a couple of limitations. For example, pre-installed Windows XP PCs cannot be "P2V'd" because the original equipment manufacturer's end-user licensing agreement won't allow for transferring the OS to another PC.
And while PCs that have had retail copies of Windows installed on them can be P2V'd, it's necessary to reactivate XP on them after performing the migration (you won't have this problem with volume-licensed XP). Additionally, because Virtual PC supports a maximum virtual disk size of 127 gigabytes, a .vhd created from a larger disk will be inaccessible from Virtual PC.
"P2V for SA might not apply to all scenarios where there are problem applications or other conditions holding back a Windows 7 deployment," Miller says. "But when conditions are met, the P2V for SA tools add a lot of value to the MDT tools and processes with the reliable results it can deliver."
textfield
More On