How Businesses Can Seek Solutions to Overcome IT Complexity
When infrastructure, processes and people are too complex to manage, business suffers, according to a Nutanix expert.
IT complexity is hurting business, but tools such as hyperconvergence can help companies scale their operations quickly and smoothly, said Ajay Aggarwal, vice president of global systems engineering and services at Nutanix, during the CDW Preparing for the Future SummIT in Nashville, Tenn., on Monday.
Many organizations face challenges due to the time required to provision infrastructure, the difficulty to scale and upgrade processes, and the limited amount of time available for people to innovate, he said.
"Often, the larger the organization, the more specialized the IT roles are in that organization," Aggarwal said, noting that large companies may have dozens of architects dedicated solely to storage or virtualization. This can make flexibility difficult when IT must change rapidly, he said.
SIGN UP: Get more news from the BizTech newsletter in your inbox every two weeks!
Turn to the Cloud for Streamlined Operations, but Assert Control
Many IT leaders seek relief in the cloud, whether they move their work due to staffing constraints or to implement the latest tech trends. The appeal of services-oriented delivery remains the most popular reason to move to the cloud. "There's no wrong reason; there's just very different reasons," Aggarwal said.
But it's a common misconception that cloud is inexpensive. Costs depend on what you're doing on the cloud, he added.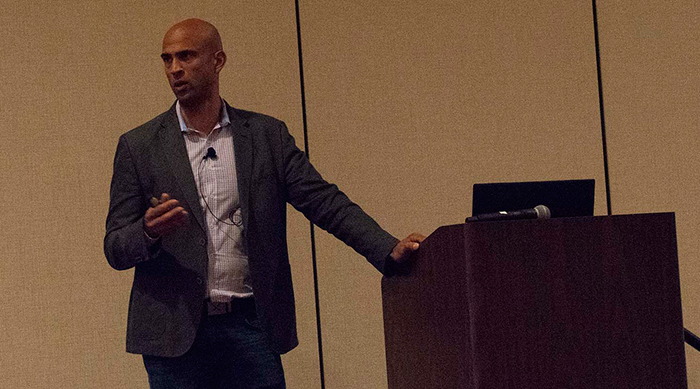 Ajay Aggarwal, vice president of global systems engineering and services at Nutanix, speaks during the CDW Preparing for the Future SummIT.
With various cloud options available, IT leaders must regain control in a "multicloud world" by implementing steps, such as:
Lower total cost of ownership
Get IT to be faster and more agile
Bring full visibility to cloud costs
Be a strategic partner to the business
Maintain control and security
To that end, IT leaders can leverage standard IT building blocks to refresh their data centers. They should choose the right platform, start with one or two nodes and then scale to thousands. They also should centralize IT with a consumer-grade user interface and build a foundation for the Internet of Things.
"Take a completely hardware-agnostic approach. It shouldn't matter what the hardware is that is running your applications. You should have a software-driven approach, and that software-driven approach should run the entire stack," Aggarwal said. 
IT Should Look and Feel the Same Across Multiple Platforms
The enterprise IT experience should be identical across all platforms, encompassing a single management plane and data plane stack across all environments, he said.
Aggarwal prescribed a single software operating system for all deployments, recommending that IT departments:
Harmonize multicloud operations
Standardize IT operations across public and private clouds
Extend the data center with cloud services
Get real-time visibility of cloud costs and the compliance state
Provision applications into any cloud via a marketplace
Nutanix sought to simplify IT for business several years ago with its first hyperconverged platform, introducing the concept of converging storage, networking and servers running virtualization into a single platform, Aggarwal said. This technology reduced deployment for many large enterprises from a span of months to a period of hours.
Nutanix remains a leader in the field thanks to its ability to execute and its completeness of vision, according to research firm Gartner in its "Magic Quadrant for Hyperconverged Infrastructure" report published in February.
For more articles and videos from the Preparing for the Future SummIT, click here. 
>>Download CDW's Modern IT Infrastructure Insight Report to learn more about how organizations are utilizing and benefitting from a hybrid IT approach.
gremlin/Getty Images