ABA 2018: Banks and Fintechs Must Be True Partners to Drive Innovation
To achieve digital transformation, banks and financial technology companies need to align on their strategy and work harmoniously.
To spark innovation, community banks should not be afraid to partner with financial technology companies. However, to succeed, their work together must truly be a partnership.
That was a key takeaway from a panel on Feb. 27 on bank and fintech partnering at the American Bankers Association National Conference for Community Bankers in Honolulu. Banks and fintechs need to align strategically and understand each other's perspective, panelists said, emphasizing that the relationship cannot be the same as the way a bank manages its relationship with a vendor.
Fintechs are likely going to be ahead of their community bank counterparts in technology development and need to ensure that banks can get on the road to innovation at the right pace, panelists said. At the same time, banks should not be afraid to take risks and experiment with novel IT solutions that will enable them to deliver new services to customers.
SIGN UP: Get more news from the BizTech newsletter in your inbox every two weeks!
How Banks and Fintechs Can Get Aligned on Technology
Stephanie Lykins-Harvey, executive vice president and director of retail banking at Old Dominion National Bank, acknowledged that sometimes the bank can "put our cart before the horse" when working with fintechs.
Sometimes, the bank must recognize that something it may want to do in terms of a technology innovation is not something it can truly facilitate given its technology maturity, she said. "I would love to say that every initiative, opportunity and goal we have is something we can do," she said, but that is not the case.
John Epperson, principal and leader of regulatory and compliance solutions for Crowe Horwath LLP, a public accounting, consulting and technology firm, said that the key is to treat a fintech like a partner and not a vendor. Each should acknowledge that there will be different levels of technology maturity, but always be focused on their strategic goals as partners. They must work together "to define and execute a roadmap to achieve the objectives of both parties," he said.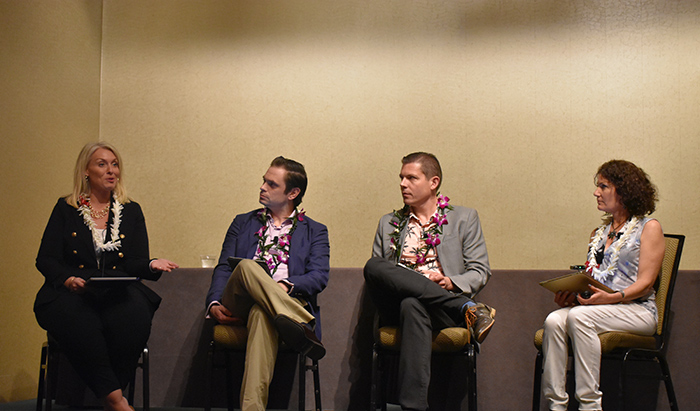 From left: Stephanie Lykins-Harvey, John Epperson, Jason Henrichs and Lisa Gold Schier speak about fintech-bank partnerships. 
Sometimes there is a technology that a fintech is offering that a bank might not have the infrastructure or staffing capabilities to fully implement, said Lisa Gold Schier, group senior vice president of ABA Endorsed Solutions & Innovation, which identifies and vets tech companies that meet banks' needs.
However, she said, often there is a piece of that technology that the bank is able to implement. "That gives them a starting point," she said. Fintechs that are nimble can work with banks on that one piece and help them become more capable from an IT standpoint to support the fintech's larger suite of technology offerings.
Bryan Luke, president and COO of Hawaii National Bank, said community banks often need to "find one champion" in the organization who is willing to take the risk and support a new piece of technology, "especially if it's scary and big and game-changing."
Banks need to explain to their fintech partners that it will take time for them to put in place new IT solutions, Luke said. "A lot of it is educating the rest of the team until they are all behind it," he said.
How Community Banks and Fintechs Can Partner
Many fintechs think all community banks are the same, which is obviously not true, said Lykins-Harvey. By the same token, fintechs are looking for banks that know what it means to truly partner, said Jason Henrichs, managing partner at FinTech Forge, a managed service provider that brings banks and fintech companies together.
"It can't be just the sexy rebranding of vendor management," he said. If banks treat a fintech partnership like a regular IT project, the partnership will likely get bogged down, Henrichs said. "You can't manage innovation like an IT project, unfortunately," he added.
Technology is just one aspect of a successful partnership, Henrichs said. Both sides need to want to solve new problems that are not well known. "So, you need that level of experimentation and innovation to be successful," he said.
Banks and fintechs also need to be willing to try things and have them fail. "If you know the answer to the experiment when you start, it's not actually an experiment," he said.
Epperson, who said he "sits, lives and breathes risk and compliance," noted that the No. 1 barrier to a successful bank-fintech partnership has been meeting risk management and compliance requirements. Both parties need tactics and techniques to overcome traditional ways of thinking about those issues, he said.
At the heart of that process is defining a strategy, which he said may seem overly simplistic. Simply signing an agreement to work together is not a strategy, Epperson said.
The strategy must answer these questions, he said: "What do you want to accomplish in the partnership? What are you willing to do to get there?"
Aligning the bank's culture with that of the fintech, and vice versa, is critical, Epperson said. Additionally, banks and fintechs should be transparent about their data.
Ultimately, Henrichs said, banks must be willing to take risks and experiment with fintechs that can offer them new and innovative solutions. "The surest way to avoid short-term risk is to do nothing new, and the surest way to avoid long-term risk is to do nothing," he said.
For all of BizTech's coverage of ABA's National Conference for Community Bankers, click here.
opolja/Getty Images