ABA 2018: What to Consider When Upgrading Core Banking Technology
Driven by disruptive fintech companies, banks are upgrading their core systems. Here's what they should focus on as they modernize.
In a world in which Amazon is partnering with banks such as Bank of America and could get into banking itself, banks of all sizes, and especially community banks, know that the industry is changing. Disruption is all around, as financial technology companies offer innovative applications that are forcing banks to play catch-up.
"The way you bank today is not the way it was when you banked in the 1980s, the 1990s or even the early 2000s," says Susan Griffin, strategic initiatives analyst at Jack Henry & Associates, which provides core banking services to more than 9,000 financial institutions. Griffin, speaking Feb. 26 on a panel about core banking modernization at the American Bankers Association National Conference for Community Bankers in Honolulu, noted that mobile banking, omnichannel banking and data sharing technologies have all reshaped the industry.
Those changes are forcing banks to upgrade their core banking technology systems. As they do, they should make sure that the systems are built on service-oriented architecture (SOA) that allows them to integrate application programming interfaces, Griffin said. Core upgrades must also allow banks to introduce real-time transaction processing, workflow management and responsive user interfaces for customers.
Banks must be innovative and ensure they are not being left behind as technologies and customer expectations rapidly shift, Griffin said. "You have to worry about providing access anytime, anywhere and that 24/7 remote reach to your customers," she said. If customers start banking on their smartphone, they now expect to be able to pick up that transaction right where they left off on their laptop when they come home, she said.
SIGN UP: Get more news from the BizTech newsletter in your inbox every two weeks!
The Key Aspects of a Core Banking Upgrade
Gartner defines a core banking system as "a back-end system that processes daily banking transactions and posts updates to accounts and other financial records. Core banking systems typically include deposit, loan and credit processing capabilities, with interfaces to general ledger systems and reporting tools." Essentially, core systems are the mission-critical banking systems that facilitate core transactions for banks.
Many core banking systems were originally architected in the 1980s and 1990s, Griffin noted, and can either be run in-house as a licensed application, or outsourced, either by a hosted application service provider or as a Software as a Service application via the cloud. Business requirements, technology changes and systems integration continue to place pressure on core banking systems, she said.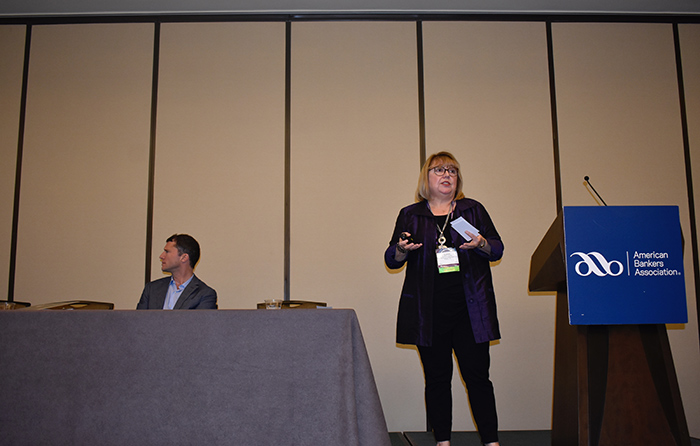 Susan Griffin, strategic initiatives analyst at Jack Henry & Associates, speaks at ABA's National Conference for Community Bankers. 
What factors should banks consider if they decide to upgrade their core systems? Griffin said an SOA is key, since banks will want to be able to integrate third-party APIs, eliminate risk exposure and deliver access to services anywhere and at any time for customers.
The ability to support real-time transactions is also key, as more customers, especially millennials, embrace peer-to-peer payment options such as Venmo, Griffin added. Core upgrades should also enable shared data environments that break down data siloes.
Learn More About the Three Organizing Principles for Digital Transformation
Any upgrade should also enable straight-through processing, which, as Investopedia notes, allows "information that has been electronically entered to be transferred from one party to another in the settlement process without manually re-entering the same pieces of information repeatedly over the entire sequence of events."
Griffin also said core upgrades should allow banks to use more agile processes, including via SaaS and the cloud. That will lower costs, be more scalable and allow banks to more quickly deploy new services, she added.
Christopher McClinton, senior vice president of payments and operations at ABA, said on the panel that ABA's "Core Provider Survey" found that banks are generally receptive to cloud-based core banking.
According to the survey, 29 percent said they would consider it, 50 percent said they were unsure and 21 percent said they would not consider it. While that obviously reveals a great deal of uncertainty, McClinton said one way to look at the results is that nearly 80 percent of bank respondents are at least open to the idea of cloud-based core banking.
Core updates should also integrate workflow or business process management tools, Griffin said. That essentially means taking responsibility off individual bank employees for knowing what comes next in a complex process.
Core updates should also ensure that, even if changes are made on the back end, customers do not see any major changes to their banking services on the front end when they use them on their smartphone, tablet or PC. The updates should all use responsive design, which renders well on a variety of screen sizes and devices.
Banks' Checklists for Upgrading Core Systems
If banks are considering a "legacy" core banking system from an established vendor, they should keep the following in mind, Griffin said:
Consider vendors that are reputable and well established in the market
Seek a system that will assist in meeting your business goals
The vendor should understand your business and provide customized solutions for it
Look for ease of use with simplified processes any user can decipher
Look for customer-facing processes that deliver a positive experience
Compliancy and vendor management requirements should be top of mind
If a bank is going with a "next-generation" core provider, Griffin advised the following:
Ensure the provider has lots of funding since the process will likely be expensive and take a long time
Be prepared for "massive" development and testing requirements
Ensure the vendor has experience in the basic fundamentals of core bank processing
Check that the vendor has the ability to incorporate expansive business requirements inherent to incumbent core providers
Make sure the vendor has a deep bench of implementation and support IT staffers and resources
For all of BizTech's coverage of ABA's National Conference for Community Bankers, click here.
Vasyl Dolmatov/Getty Images