Review: Microsoft Surface Studio Helps Businesses Unleash Creativity
Microsoft's all-in-one device takes the advantages of a Surface Pro tablet and adds a huge, 28-inch touch screen, giving users more room for creative endeavors.
A key to the popularity of the Microsoft Surface Pro tablets is their portability. However, some users may want a larger screen. It's just not easy to engineer the next great invention or create another Mona Lisa on a 12-inch screen.
For these pursuits, the Microsoft Surface Studio fits the bill. The device is unabashedly designed for creative endeavors. It's an all-in-one PC with the display attached to the CPU block via a metal stand that allows the screen to tilt in various ways. It can be configured vertically like a traditional monitor, almost all the way to horizontal, at a very slight angle like a drafting table.
Each of the included peripherals (a keyboard, mouse and stylus pen) are wireless, so setup simply involves attaching a power and network cable — and you don't even need the network cable if you use a wireless network. The device also has four USB 3.0 ports and a Mini DisplayPort for expansion.
The most interesting feature of the Surface Studio is the touch-screen LCD, a beautiful, 28-inch display capable of a maximum resolution of 4500x3000 pixels and supporting 10 points of contact. With its 3:2 aspect ratio (instead of the more popular 4:3), the screen offers a little more emphasis on height. Graphics are driven by an NVIDIA GeForce GTX 980M graphics card capable of practically unlimited color display and contrast combinations. The LCD was extremely accurate in video benchmarking tests despite its large size.
The Studio handled a bevy of high-end applications, from a computer-aided design program to Photoshop. It scored 4,669.2 on the PassMark Performance Test 9 benchmark, putting it in the 90th percentile of all tested systems for raw performance. No program experienced so much as a hiccup in our tests, even when doing intense tasks such as 3D rendering or animation creation. It also sounds great with a Dolby premium audio package, including stereo speakers and a subwoofer.
The CPU block is small, leaving an 8.7-by-9.8-inch footprint. Extra weight has obviously been added to provide stability, making the Studio heavy at just over 20 pounds, but sturdy in any configuration.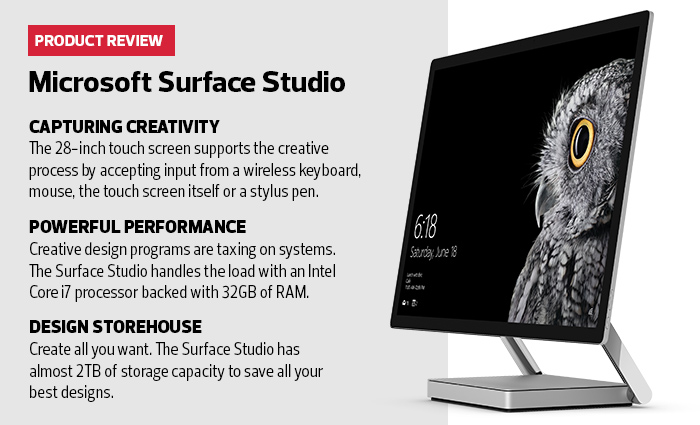 Whatever you need to fashion, and however you want to create it, the Microsoft Surface Studio can become the right tool for the job.
The Surface Studio Blends Artistic and Businesslike Sensibilities
Microsoft clearly designed its Surface Studio device for creative endeavors. Users who perform tasks such as photo editing, drafting, animation creation, film work, magazine layout, web design or other artistic pursuits will love it. However, I wanted to test how it works as a more traditional computer, to see if it could do other things to help earn its keep when not engaged in full creative mode.
Because the device has such a large and detailed screen, the first noncreative application that came to mind was video conferencing. Here, the Studio really shined. It comes with a 5-megapixel camera inside the LCD's bezel that is capable of recording in 1080p Full HD resolution.
I conducted several Skype video calls, including one with multiple participants. Everyone could see us clearly, and read sentences I wrote on a whiteboard behind me. Looking at the recorded call afterward, the image in my window appeared to be film quality, much better than the images of other participants.
The camera also enables the Studio to use Windows Hello for logins, scanning the faces of valid system users and employing facial recognition software to log them in. It can also be set to lock down the device if a logged-in user steps away.
Microsoft Excel can create complex spreadsheets. We loaded one using a template to calculate the return on technology investments based on different factors. We also loaded the 2016 federal budget as an example of a large file. In both cases, the Studio crunched the numbers quickly and opened the files in just a few seconds.
The Studio is optimized for 3D applications, but its 2D performance is also impressive, probably better than most desktops.
The Microsoft Surface Studio is designed to be a tool for creative users, but it's also capable of performing mundane tasks that still need to get done, such as email and word processing, while quickly displaying large files such as PowerPoint presentations and spreadsheets. That may seem a bit like driving a hot new Ferrari to the corner store to pick up groceries, but it's nice to know that the Studio can get the job done when needed.
Learn more about how the Surface Studio serves as an all-in-one device that can handle creative endeavors as well as your office chores.
Microsoft Surface Studio
Processor: Intel Core i7-6820HQ 2.7GHz
Hard-Drive Capacity: 1.8TB
Display: 28-inch touch-screen LCD
Graphics: NVIDIA GeForce GTX 980M with 4GB GDDR5 SDRAM
Memory: 32GB LPDDR4 SDRAM
Weight: 21 pounds
Microsoft
More On