Why You Shouldn't Delay or Skimp On Tech Upgrades
Infrastructure refreshes are expensive, but a business case can be made to show that waiting — or doing nothing — could cost even more.
Atlantic Packaging has always taken a frugal approach to solving problems.
"We look for the most effective way to solve our challenges, as inexpensively as possible, whether they're sales challenges, operational challenges or IT challenges," says Robbie Walker, IT manager for the North Carolina-based industrial packaging company.
For Atlantic Packaging's infrastructure, Walker says, that's typically meant approaching upgrades as transactions that solve an immediate problem for the lowest possible price, not as investments with the potential to create long-term business value.
But inexpensive, short-term fixes often have a way of turning into stubborn long-term investments.
For example, at its Dominican Republic facility, the company initially took a transactional approach in lieu of building a robust, supported IT infrastructure. The result? Walker spent an entire holiday season there, reconfiguring the technology while living out of a suitcase.
SIGN UP: Get more news from the BizTech newsletter in your inbox every two weeks!
Although the initial cost of the IT deployed was lower than other options, the ultimate cost included extensive travel, untold man-hours and the extended absence from headquarters of one of the company's top IT workers.
Partly as a result of that learning experience, Walker says, leaders at Atlantic Packaging have changed their thinking on the value of infrastructure investments. "Before, it's always been, 'What can we do today to solve this problem as cheaply as possible?'" Walker says. "We're growing out of that mindset. It's an evolutionary step for us."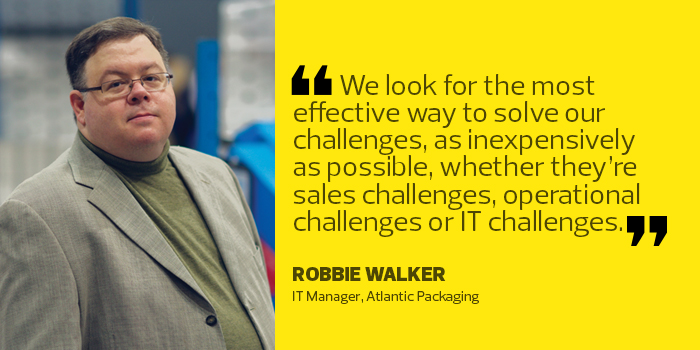 When it comes to infrastructure upgrades, organizations face two main questions: When should they upgrade, and what new solution should they adopt? Both decisions often come down to cost.
"Sometimes, an upgrade can be less expensive than maintaining older hardware," notes Kuba Stolarski, research director on IDC's worldwide computing platforms team. Whatever organizations decide, Stolarski says, any IT upgrade plan should be the result of a considered strategy. "Just waiting to react when something happens is not the best way to handle this
Although it's possible to save money in the short term by delaying upgrades or choosing inexpensive options, companies such as Atlantic Packaging, cloud host Custom Data Processing and carmaker Shelby American have learned from experience that those decisions can backfire. Along the way, their IT chiefs have developed tactics to make sure that total cost of ownership for an upgrade is always part of the conversation on infrastructure investments.
Invest in New Tech to Save Down the Line 
Just because an organization thinks long term doesn't mean that money isn't a factor in planning infrastructure upgrades. "We can't ever ignore the business case," Walker says.
Earlier this year, Atlantic Packaging began to explore options to replace the NetApp 7-Mode storage system at its data center. The company was happy with the array's performance, but the system was 6 years old and support was ending.
"We were way overdue for a replacement," Walker says. The company explored a number of options and ultimately chose the NetApp Clustered Data ONTAP all-flash array. There were less expensive choices available, but the business benefits of the NetApp solution justified the expense to Atlantic Packaging's decision-makers.

First of all, the new infrastructure dramatically lowered latency for the company's applications. "All of our applications are snappier," Walker says. "They perform without any noticeable delay." Even more important, he viewed the array as a set-it-and-forget-it solution that wouldn't burden the company's limited IT staff with excessive maintenance tasks.
"We haven't needed any hands-on management," he says. "We're looking for solutions that don't require someone to be constantly messing with them. Whenever we've done a transactional solution, it's always been more involved — from a management, manpower and time standpoint — than we can afford."
According to Stolarski, organizations too often rely on out-of-warranty hardware for mission-critical workloads. "While hanging on to older gear may seem like it saves money," he says, "it places a heavier burden on the staff, and puts the organization at risk of catastrophic system failure and downtime, which could ultimately lead to greater costs and financial losses."
When IT Upgrades Are Needed to Support the Mission
Competing priorities reign supreme when it comes to upgrading infrastructure at Custom Data Processing, a software development company in Romeoville, Ill. The company builds and hosts applications primarily for state and local agencies, requiring that it keep costs as low as possible. At the same time, service-level agreements require near-constant uptime.
"We're dealing with government contracts and state budgets, so we tend to stretch equipment lifecycles out as long as we can," says Steve Marston, senior vice president at CDP. "But we've also got a great reputation, and I don't want to tarnish that in any way, shape or form."
Recently, CDP weighed options for replacing an EMC VMAX storage area network. "We were running out of capacity, we had maintenance coming due, and we knew the equipment was aging," Marston recalls.
"We had to do something — it was a no-brainer," adds IT Director Kevin Moore.
Marston relies on IT managers like Moore and Director of IT Services Chris Davis to advise him about upgrade timing and options.
"I just keep my eyes and ears open and listen to my people here — about the age of the equipment, about the newer technologies — and try to keep things running as smoothly as possible," he says. "I don't want to wait until there are problems to make the move."
CDP initially looked beyond EMC, evaluating a less expensive option from another vendor. But the compression and replication features didn't meet the vendor's advertised specs in onsite testing, says Moore, so the company decided to spend more on its upgrade to avoid future problems.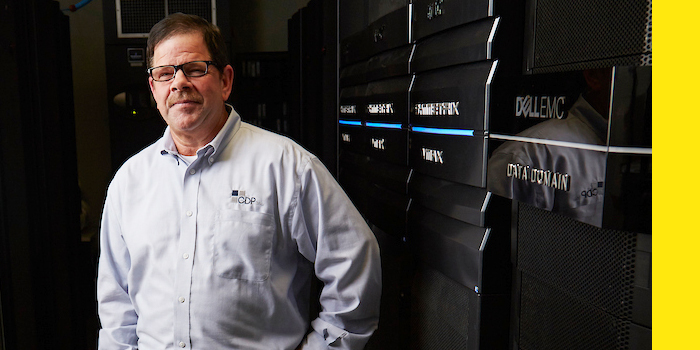 Custom Data Processing IT Director Kevin Moore helped the company upgrade its storage area network. Photo credit: Darren Hauck 
"Compression and replication are two really important things," Moore stresses. "If we'd gone with the other option, we could have spent twice as much down the road."
In the end, the company replaced its SAN with the EMC Unity platform. Sticking with the same vendor helped reduce the cost, as EMC waived maintenance charges during the migration.
Justify IT Refreshes to Management 
Shelby American, a manufacturer of performance vehicles and related products, replaced much of its IT when it moved to a new headquarters several years ago, purchasing additional Dell EMC PowerEdge R720xd servers to distribute workloads optimally, and deploying Dell EMC Networking N-Series switches in the data center network core and the X1018P switch to manage data traffic from camera surveillance systems.
IT Director Richard Sparkman is the sole tech staffer for the Las Vegas company, where he has worked for 20 years. Shelby American tends to upgrade its infrastructure sooner rather than later to avoid maintenance and management hassles, and the company leadership trusts his judgment, Sparkman says. Still, he has to justify upgrade costs and demonstrate their value to the company.
For example, "when I buy a security camera for $500, I have to get that approved, so I don't have free rein by any stretch of the imagination," he says. "If I'm buying new servers, then I need to demonstrate what we get out of that — the efficiencies, the stability. I have to talk about benefits versus the expense."
Peter Artemenko