Why Solid-State Drives Based on Persistent Memory Are the Wave of the Future
NVDIMM technology can help small and medium-sized businesses achieve the performance of memory with the persistence of storage.
Ares Sportswear knew it needed to change its storage system to handle its growing garment and T-shirt business.
The Hilliard, Ohio-based clothing-maker was using an antiquated storage area network that was designed mainly for branch offices, says Matt Fetherolf, the company's infrastructure administrator.
"We were getting terrible bottlenecks in our day-to-day workflows," Fetherolf says. "The response times were slow at both the disk and network levels."
Ares needed to find a network storage upgrade to support its legacy fulfillment application, company websites, virtual desktop infrastructure, file sharing and hosting, network utilities and shipping apps.
The solution? A flash-based, solid-state drive array with persistent memory in the form of a nonvolatile dual in-line memory module. NVDIMMs give companies the performance of memory with the persistence of storage.
Adoption of these persistent memory products will likely increase, says Scott Sinclair, a senior analyst with the Enterprise Strategy Group. For many, the initial appeal will be the advantages they bring to disaster recovery.
"On the surface, NVDIMM is simply delivering persistence in case of a power failure," Sinclair says. "But in reality, the potential is much greater than that. For higher performance workloads, databases can leverage memory for the highest possible performance."
Deploying More Efficient and Powerful IT 
Ares Sportswear chose the Tegile IntelliFlash T4100 array because the system is designed to run in environments that require frequent access by large, complex data sets and multiple apps, Fetherolf says. The company also automated failover to another array to reduce downtime.
"We had some application workloads fail over, and there was no change in the environment. The failover was seamless," he says.

As part of the Tegile upgrade, Ares also replaced other legacy equipment and deployed a new Cisco Systems Catalyst 3850 switch and three HPE ProLiant DL380 Gen9 servers.
The new setup has had a profound impact, Fetherolf reports: a 41 percent savings in power usage, a 72 percent savings in cooling costs and a 35 percent increase in VDI performance. The Tegile system can handle sustained throughput of 2 gigabytes per second, compared with 500 to 700 megabytes with the old storage area network, he says.
"Tegile also has an analytics package that helps us do predictive analysis of our storage growth and gives us insight into how to optimize network traffic," Fetherolf adds.
Ares Sportswear Owner Mike Campbell concurs that the Tegile system has had a positive impact on the business. "Our company has gone through a lot of growth over the past few years, so with the ability to handle the increased traffic for our order fulfillment system, plus the heavy graphics loads that we generate in making our apparel, ," he says.
Powerful Processing for Modern AI Applications 
For advertising analytics company Dstillery, the use of machine learning and artificial intelligence applications has driven the move to flash storage based on persistent memory, says Amit Gupta, vice president of infrastructure.
The company uses Micron SSDs to handle nearly 160 billion web transactions daily that let the company observe and understand the behavior of online consumers. By using Dstillery's data-driven analytics and artificial intelligence technology, Gupta says, digital advertising plans can be executed in real time with accuracy and efficiency.
"Processing these immense amounts of data must be completed in about 40 milliseconds," Gupta says. "The Micron technology gives us all the processing power to support this on-the-spot decision-making."
Monitor Every Aspect of the User Experience 
Cherry Health, a care provider located in Grand Rapids, Mich., uses two Tegile IntelliFlash T4700 SSDs to improve the performance of its electronic health records management system and other mission-critical databases.
It began using Tegile's conventional disk storage arrays about seven years ago and now runs a mix of SSD and disk arrays, says Ken Brower, the company's director of information systems.
Cherry Health uses the analytics capabilities Tegile provides to monitor just about every aspect of the end-user experience, Brower says. The healthcare provider is aware of everything — from the time it takes a user to log on to the system to any latency in database response times.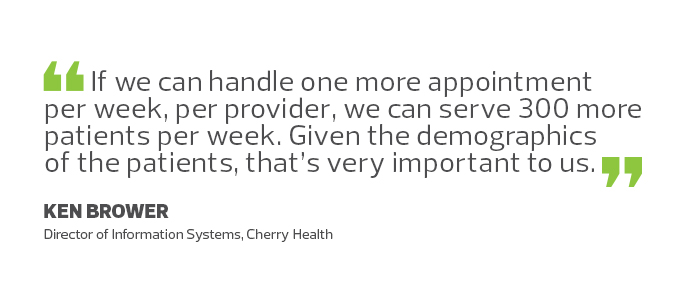 The Tegile system supports the health records of about 65,000 patients, the vast majority of whom are 200 percent below the poverty line. Roughly 300 providers handle about 300,000 visits annually, so reducing latency is important to the organization.
"If we can handle one more appointment per week, per provider, we can serve 300 more patients per week," Brower says. "Given the demographics of the patients we serve, that's very important to us."
The Tegile T4700 arrays have also failed over without a hitch in various situations when the primary system has gone down.
"I'd have to say, the way the storage market has matured, that most of the products have become commodities," Brower says. "Tegile really excels in its support. Between the way our staff and their team monitor the drives, there's never been a time when an issue went unresolved."
While most organizations will move to SSDs based on persistent memory for better performance and failover, ESG's Sinclair says he expects companies will derive other important benefits, such as lower costs and improved power and cooling efficiencies.
Dustin Sparks