Review: HPE OfficeConnect OC20 Wireless AP Keeps Networks Secure
The OC20, when used with the OfficeConnect system, is easy to set up and configure — even for nontechnical users.
As part of the OfficeConnect system, the HPE OfficeConnect OC20 802.11ac wireless access point offers an easy setup, even for nontechies, but comes loaded with a full suite of security and remote monitoring features for network administrators.
HPE designed the OfficeConnect system to be simple for nontechnical users to install. The OC20 can be combined with an eight-port, HPE 1920S-8G-PoE+ Ethernet switch and a mobile app that automatically links to the AP. Users simply connect the switch, plug the OC20 into one of the Ethernet ports, and run the app to configure the AP. The Ethernet switch is configured through a web browser.
The app will automatically configure both a private network for company users and a public guest network for outside users. Up to eight APs can be configured in a mesh network to ensure full coverage throughout a large building; HPE's OfficeConnect Smart Air technology automatically optimizes coverage so that users connect to the AP with the fastest possible connection.
While the device is straightforward for end users, OfficeConnect's robust feature set lets network administrators add users, configure systems, verify updates and fix problems — whether they are onsite or working remotely.
The OfficeConnect system also includes substantial security features: integrated social media logins for the guest network, built-in application filtering to protect the network from intrusions or malware, and remote monitoring from a smartphone or mobile device.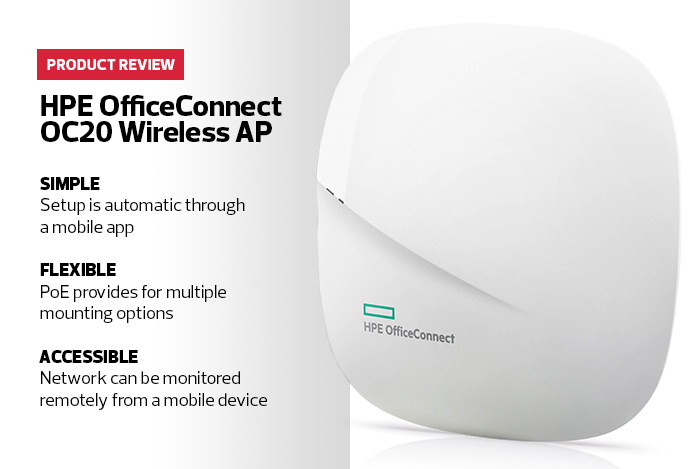 Support for Speedy Wireless Connections 
The OC20 has dual radios and dual antennas, and supports speeds of up to 1.3 gigabits per second, which means it can support up to 100 users connecting at 802.11ac speeds. The 5 gigahertz 802.11ac connection supports up to 847 megabits per second, per connection, while the 2.4GHz connection can run at up to 400Mbps.
The included Ethernet switch has a substantial external power supply, which is needed to support the 180-watt (22.5W per port) Power over Ethernet system. PoE offers substantial benefits for deploying ceiling-mounted access points (as well as Voice over IP phones, security cameras and other devices) because a power supply isn't needed for each device. With a standard power adapter (sold separately), the OC20 can be used as part of the OfficeConnect system, rather than as a stand-alone access point.
With the OC20 and OfficeConnect, HPE has created an approach to wireless that a small business can build on as it grows, and that can be managed easily by a small IT team.
Network Admins Achieve Security Without Complexity
The security of business networks is critical, and the OfficeConnect system provides layers of security in the form of network security protocols, guest network capability with social media logins and website filtering.
The Wi-Fi Protected Access II security prevents unauthorized users from connecting to the company network by securing each connection separately. The authorization system prompts for a username and password.
Anyone without a login, such as visitors or customers, can connect to the guest network via Facebook login. This means a business owner can track who has logged in and any security protocols they might violate. Website filtering provides a level of security by letting the administrator prevent users or guests from visiting websites that host objectionable content or malware.
Having a guest network to keep customers and other visitors off the company network is a big plus. Administrators can give everyone the internet access they expect without giving them access to the company network and private data.
HPE OfficeConnect OC20
Antenna: 2T2R MIMO, 6.6 dBi internal multidirectional
Connectivity: 802.11a, b, g, n and ac
Throughput: 867Mbps (5GHz), 400Mbps (2.4GHz)
Power Management: PoE, Energy-Efficient Ethernet (EEE) 
Dimensions: 5.9x5.9x1.6 inches
Weight: 13.4 ounces
HPE
More On