Businesses Big and Small Turn to Configuration Management
As the business tech landscape continues to shift, it heralds changes in CM use.
Managing a company's tech arsenal these days is kind of like performing a perpetual juggling act — only in this circus, there are dozens of differently shaped pins, and new ones are constantly being thrown into the mix.
Make no mistake about it: The evolution of business technology has forced IT managers to broaden their system management strategies like never before. In addition to overseeing servers and desktops, tech departments now manage an ever-expanding and diverse collection of laptops and mobile devices too.
It's a configuration management challenge Ryan Brubaker knows well. Brubaker, CIO of Seven Corners, an international travel insurance and benefit management company, recently oversaw a migration from VMware to Microsoft Hyper-V. The shift has given him the opportunity to rebuild his CM strategy from the ground up.
Brubaker started by swapping out the Carmel, Ind., company's vRealize Configuration Manager for Microsoft System Center Configuration Manager (SCCM) — and already, the new software is shining as Seven Corners' not-so-secret IT weapon.
"It's doing all of the things a person in a company with five PCs would do: updating each one, configuring it, making sure it has the right policies," Brubaker says. "That's not something we could do individually with 250 workstations and 100 virtual servers."
SIGN UP: Get more news from the BizTech newsletter in your inbox every two weeks!
The Evolution of Configuration Management Tools 
"The traditional configuration management solutions were concentrated on fixing a set of desktops," says Edwin Yuen, an analyst with Enterprise Strategy Group and former product manager on Microsoft's System Center team.
From there, CM evolved and turned largely to server management. Now, with smartphones and tablets, it's coming back full circle to the management of a large field of user-centric systems, Yuen says.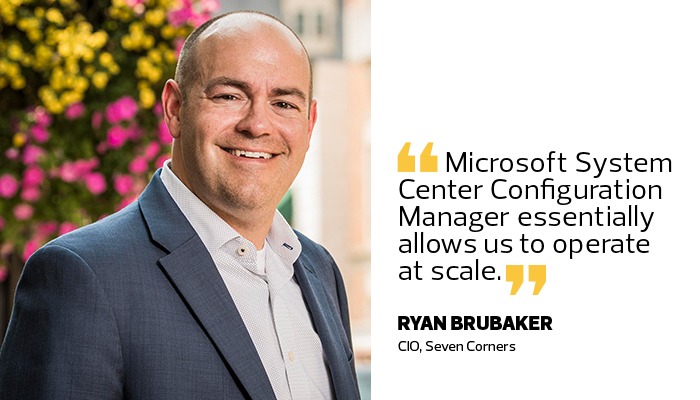 The growing significance of work-connected mobile devices is not only forcing companies like Seven Corners to reshape their CM philosophies, but also bringing a 360-degree shift to the field of configuration management itself.
What that means for IT teams is that they must decide what they want their CM setup to accomplish. If the business need revolves around source code management — as opposed to, say, server and device management — a development-centered CM tool such as IBM's Rational ClearCase would likely be a good choice.
For broader use on multiple device types across the enterprise, an all-purpose suite such as SCCM or VMware vRealize could be a better fit. And, if a business has a mainly mobile workforce, the IT team might start with enterprise mobility management tools, such as those from MobileIron or AirWatch, which all allow for centralized configuration management across devices.
Make Mobile Device Management a Breeze 
Mobility drove the CM approach at Rosendin Electric, an employee-owned electrical contractor in San Jose, Calif. It opted for MobileIron because it needed to centrally manage 1,000 mobile devices for executives, fieldworkers and salespeople in its 14 branches. CIO Sam Lamonica says the company runs a mix of iOS, Android and Windows devices.
Rosendin first began using MobileIron's basic mobile device management features to set profiles and remotely wipe lost or stolen devices. The IT team expanded to enterprise mobility management to push out apps.
"We have a mix of construction applications, some that we've bought off the shelf and others that we've built in-house that we want to manage using MobileIron," Lamonica says.
Now, Rosendin techs can manage configuration across devices and integrate them with back-end databases.
At Seven Corners, employees also carry a variety of mobile devices across multiple platforms and software versions. The paramount goal is to secure devices without making users feel shackled. Brubaker plans to add its fleet of 200 mobile devices into the CM later this year.

"People are used to being able to just install an app while they're standing in the grocery store," Brubaker says. "My job is not to limit people on what they can do, but to enable them to do those things safely and securely."
That means managing a range of ongoing updates, making sure only supported devices can access company data, requiring employees to use passcodes and encryption, and maintaining the ability to remotely wipe storage.
For Seven Corners, SCCM also helps Brubaker manage security and ensure regulatory compliance on all of its systems — no small feat for a company that has to contend with an alphabet soup of guidelines, ranging from HIPAA (Health Insurance Portability and Accountability Act) to FISMA (Federal Information Security Management Act) and PCI DSS (Payment Card Industry Data Security Standard).
"It essentially allows us to operate at scale," Brubaker says.
Perhaps not surprisingly, the rapid proliferation of employee-carried mobile devices lines up with meaningful growth in CM software adoption.
Configuration Management Use Grows 
According to a February 2017 IDC analysis, the global CM software market jumped nearly 10 percent from 2015 to 2016, with worldwide revenue of $6.5 billion, and is expected to continue comparable growth through 2021.
A company doesn't need a complex IT setup to realize the value in protecting corporate data, and with powerful computers in practically every employee's pocket, the importance of effective configuration management across all end-user systems is more pressing than ever.
CM has become less about locking things down and more about providing a safe framework for employees to use devices while keeping sensitive data secure, ESG's Yuen says. "As the device set has grown, the level of control needed has actually gone down."
Chris Bucher