What Can Hyperconvergence Do for Your Business?
Any industry can save money and gain compute and storage efficiencies by deploying hyperconverged infrastructure.
All across Louisiana, Oklahoma and Texas, employees from Francis Drilling Fluids roam to help the company's oil and gas drilling customers.
To serve its far-flung customer base efficiently, FDF has 23 offices and 450 employees. But there are just three people on Chief Technology Officer Steve Schaaf's IT team.
Schaaf and his team manage the typical computing support ­­— such as Microsoft Exchange, a time and attendance application, networking and more — for the Crowley, La., company's own employees. But they also provide many services to FDF clients, such as billing and paperwork management. Plus, the IT team maintains a portal so that clients can view critical details about their jobs, including inventory levels, scale tickets and waybills for individual deliveries.
Over the years, a lot of disparate systems had sprung up, Schaaf says. "It just got too cumbersome to manage all of those applications with the infrastructure we had."
When the time came for a new enterprise resource planning system, he knew that something had to change — and fast.
"We had separate systems for the blades, the storage area network, digital linear tape solutions and backup," Schaaf says. "As more of our environment became virtualized, it put a lot of pressure on the old infrastructure."
An early adopter of converged infrastructure technology, FDF about four years ago decided to collapse its computing infrastructure with the deployment of SimpliVity convergence technology. It has since expanded to hyperconvergence, upgrading to more recent tools from the company, which was recently acquired by Hewlett Packard Enterprise.
In energy and utilities, and many industries beyond, hyperconvergence has rapidly become the solution of choice for solving myriad management challenges, especially issues inherent to virtualization.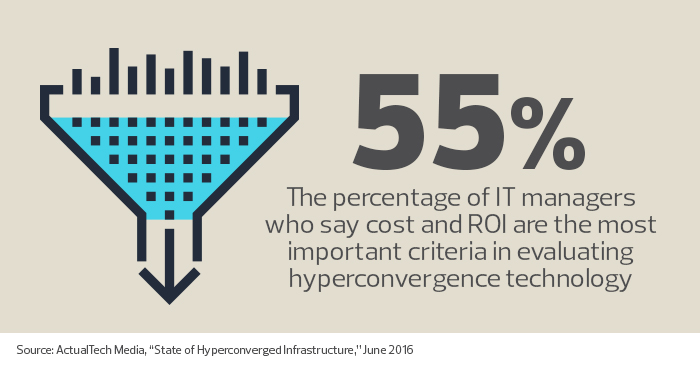 Companies deploy hyperconverged infrastructure for two reasons: cost savings and operational efficiencies, says Scott Lowe, partner and CEO at IT consultancy ActualTech Media.
"Companies are looking to rein in IT costs," he says. "Plus, the hyperconverged infrastructure is simpler to deploy and manage. It's just much easier than adding all those point solutions to your infrastructure."
Easily Manage Disparate IT Systems 
For CarePoint Health in Jersey City, N.J., it wasn't all that long ago that the organization relied on out-of-date technology for all of its infrastructure, with separate systems for servers, storage, backup and disaster recovery, says CTO Lev Goronshteyn.
Today, CarePoint manages three hospitals and 55 medical practices in Hudson County. Officials there first looked at hyperconvergence because they simply didn't have the staff to manage all of those systems as the organization grew.
"We had to look for a way to run our infrastructure smarter," Goronshteyn says. "I don't believe in just dumping costs into the operation when it's not necessary."
CarePoint Health opted for a Nutanix hyperconverged solution for its servers and storage. Goronshteyn's four-person team can effectively manage the entire operation as a result.
"We used to have five people and one person left; we really haven't had to replace him," he says. "Instead of managing the infrastructure in silos, we now have a single, unified team, and the system gives us compute, memory and storage as we need it."
Multiple Solutions for Computing and Storage Needs 
Nutanix also offered CarePoint Health a path to the cloud. Nutanix integrates with Microsoft Azure and other public cloud offerings, so as CarePoint's Nutanix system reaches capacity and the IT team looks to offload apps and data to the cloud, Nutanix handles that seamlessly.
"If we decide we want to keep certain sensitive data on-premises and offload storage data in the cloud, it lets us run a hybrid cloud," Goronshteyn says.
Similar drivers led FDF's Schaaf to deploy the SimpliVity OmniCube system in 2013 to handle compute and storage needs. That solution was the forerunner to HPE's SimpliVity OmniStack software, which FDF now runs on UCS servers from Cisco Systems.
At the time, Schaaf was looking to buy the original OmniCube to upgrade from a 30 terabyte SAN to a 90TB one. Replacing the SAN and related production equipment would have cost the company about $200,000, so instead of replacing the SAN, he purchased HPE's SimpliVity system, which offers both compute and storage for a fraction of the cost.
"SimpliVity offers compute and all the storage features, including backup, deduplication, compression and a management module," he says.
The dedupe and compression features made the solution attractive, Schaaf says. A peripheral component interconnect card resides on the server and offloads resources from the CPU when performing those tasks.
Keep IT Running with a Lean Staff 
In the end, FDF only bought 15TB of storage, but can provide more than 200TB of storage thanks to the efficient compression and deduplication.
For CarePoint Health and FDF, hyperconvergence just made more sense, especially given their hyper-lean computing staffs.
Many companies and organizations that can't afford to run silos for all disparate computing environments find that hyperconvergence offers an ease of use that's difficult to beat, while blazing a trail toward cloud migration that many are desperate to discover.
Daymon Gardner