Minnesota Wild Scores Tech Hat Trick with Wi-Fi, Core Network and Displays
A major infrastructure upgrade transforms Xcel Energy Center into a state-of-the-art venue for sports and events.
During a Minnesota Wild game last November, retailer Gander Mountain gave away 18,000 blaze orange hats to the hockey fans who filled Xcel Energy Center. The company also paid for a Gander Mountain/Minnesota Wild-branded Snapchat filter that was geofenced inside the arena.
"Think about the power of 18,000-plus people in a setting that's just now turned orange, and people are taking and sending these photos," says Bryan Bellows, director of corporate partnerships for the Wild. "Gander Mountain is getting millions of impressions because they're supplying those hats."
In the not-too-distant past, however, the Wild wouldn't have dared to run promotions such as Snapchat filters. "We never had the reliability of saying, 'Hey, fans, jump on the Wi-Fi network and do x, y and z,' " says Jim Ibister, vice president of facility administration for the Wild and general manager of the Saint Paul RiverCentre complex that's home to Xcel Energy. "All we would hear is, 'I can't get on the Wi-Fi!' Now, that's not an issue at all."
Of course, the Wild has long had wireless deployed in the arena, but the initial deployment was a cobbled-together system.
In spring 2014, the Wild began replacing its Wi-Fi with Cisco Connected Stadium, a scalable network created by Cisco Systems specifically for sports and entertainment venues. They also rolled out the Cisco StadiumVision content distribution system on all 530 displays throughout the arena and upgraded the back end that supported the infrastructure, installing new Cisco access points, switches, routers and cores. They finished just in time for Xcel Energy to host the 2015 NHL Stanley Cup playoffs.
With the new infrastructure in place, Xcel Energy became one of the most state-of-the-art event venues in the nation.
"We have extremely fast Wi-Fi connectivity in our building. We have this great new platform for advertising and to provide new experiences to our fan base. And we have this fast back-end system that provides all the connectivity to these technologies," says Mike Vevea, the Wild's senior IT manager.
Updating Legacy Wi-Fi Networks
Rather than a single driver, Ibister says it was more of an "exploding universe" that fueled the project. "One day, it all came together into a cohesive plan. But at first, it was pretty crazy."
The arena's multiple outdated generations of Wi-Fi were at the center of that chaos. "People's experiences were pretty miserable throughout the organization," Ibister recalls. "That was like a cloud hanging over our heads."
Meanwhile, the Wild had been looking into StadiumVision for years. They were excited by the possibilities it offered for corporate messaging and for digital menu boards throughout the concourse. At the time, however, they couldn't ensure that they would receive the necessary return on investment to make the upgrade feasible. "But we never gave up on it," Ibister says.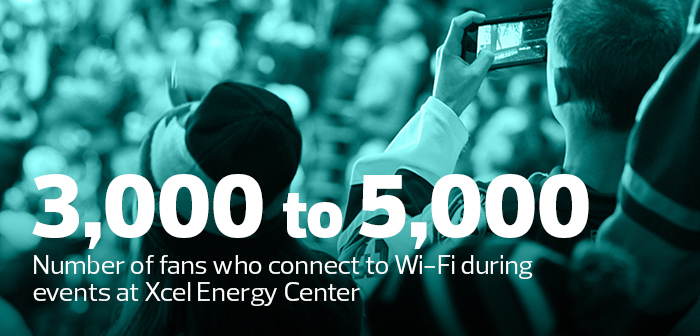 By 2014, when the arena's networking equipment was nearing end of life, the state of Minnesota and the city of St. Paul struck a deal: The state would forgive its loan to build the Xcel Energy Center on the condition that the team reinvest the money into the facility.
With that extra money, the Wild front office decided to undertake a series of incremental projects to keep the building relevant into the future. They wanted to start with projects that would most affect fans: upgrading the scoreboard and digital signage in the bowl, adding StadiumVision and replacing the Wi-Fi. But they soon realized that they couldn't do any of that until they upgraded the underpinning components and replaced the original network cores, running 10-Gigabit Ethernet fiber to Cisco Catalyst 3850 switches.
"That's how those three projects got bundled together into this major initiative," Ibister says.
Helping Out a Short-Handed IT Staff
With an IT staff of four, the Wild knew it would need to partner with a vendor to help it undertake such an extensive infrastructure overhaul, as well as to help it manage and evolve going forward.
The Wild selected CDW because of its "expertise working with buildings of our type, but also because of its networking experience," Ibister says.
The ability to provide hands-on support during the installation was also critical, Vevea adds. For each phase, CDW provided an onsite crew, he says.
The first priority was stripping out and replacing the network core. Once they finished the core and mapped out the access points, they were able to start layering in Wi-Fi and StadiumVision.
"It got to the point where the actual on-the-floor implementation of those two products was happening just as we were hitting the playoffs," Ibister recalls. "So we relied very heavily on our CDW Cisco team."
Building a More Resilient and Flexible Network
The Wild no longer worries about too many fans connecting to Wi-Fi during hockey games and other events.
The new network provides the flexibility to easily adjust the signal in certain areas while maintaining coverage in others.
"We're constantly making changes to our network," Ibister says. It's unavoidable in a facility that hosts events ranging from hockey games and rodeos to wrestling matches and concerts. "It's like having 20 adds, moves and changes every day with different events coming in," he says.
Not only is the network easier to manage, it's faster, stronger and (thanks to the addition of Sourcefire and other security features) more secure, Vevea says.
A strong network is no longer a luxury. "It's all about the fan experience now," says CDW Advanced Technology Account Executive Amer Harb. "When I go to a game and I have no signal, I can't check other scores, I can't see what's going on, I can't check my fantasy scores, I can't take a picture and share it with friends. You've got to be able to do all of that. That's the age we live in."
The team can also engage and interact with fans on social media. "Fans are passionate," Bellows says. "They're trying to get in as much as they can, and they don't want to miss something because they can't get a good signal."
Not only does this let the Wild build relationships with fans, he adds, but it strengthens opportunities for sponsors to get their messages out, because the Wild can wrap ads around the content.
"Our social media team is interacting with fans throughout the games," Bellows says. "It's such a different age. Just think about how often people are engaging with their phones, even at live sporting events."
To get a front-row seat for the tech action at the Xcel Energy Center, check out our video, "Minnesota Wild Retools Tech for the Ultimate Fan Experience."
Steve Craft
More On