NRF's BIG Show 2017: Buffalo Wild Wings Upgrades Network to Boost Customer Experience
Thanks to a partnership with CDW, the restaurant chain has enhanced the broadband networks at its locations to deliver entertainment to customers and keep its operations running smoothly.
Fantasy football drafts are a big deal for the restaurant chain Buffalo Wild Wings. According to Karen Bird, the company's vice president of information technology, the chain hosted 32,000 draft parties over a two-week period before this past NFL season, and its networks kept the parties running smoothly. "Managers are ecstatic," she said at a session at NRF Retail's BIG Show 2017 in New York City.
Three years ago, Buffalo Wild Wings was in a bind and needed to upgrade the networks at its restaurants ahead of the 2014 NFL season. The company partnered with CDW on the massive project, which was designed to enable entertainment for customers and make sure operations were more efficient and "always on."
Tom DeCoster, vice president of services solutions at CDW, said at the session that the partnership was all about "improving efficiency of store operations and transforming the customer experience. It was a great project."
A Need to Upgrade Network Technology
About five years ago, when Bird started working at Buffalo Wild Wings, the company had approximately 300 company-owned restaurants and slightly more franchises. Now, the company has 1,200 restaurants in the U.S. and worldwide.
Buffalo Wild Wings wanted to develop a unified technology platform for all its restaurants, Bird said, which would provide the "foundation for all of the guest experiences" at every location. The integrated suite of technology services would need to enable online ordering and mobile ordering, entertainment at tables, and mobile solutions for employees, including scheduling and training. Guests "expect high-class wireless services in restaurants," Bird said.
Customers come to the restaurant chain to play trivia, conduct fantasy footfall drafts, watch sports and be entertained. "We have to have a business-class network in our restaurants for guests and operations," Bird said, in order to run server handheld devices, tablets and other devices.
Employees can now use tablets to change TV channels so that out-of-town fans can watch their favorite teams. Kids can play games on tablets at the table.
In 2013, Buffalo Wild Wings started to develop plans to upgrade its network. Bird said that she worked with the company's vice president of innovation to formulate a business plan that was presented to the company's top management team. "Being able to go forward with all of these guest-based technologies, we had to have the network in the restaurant," she said. "It was an easy sell, actually."
The chain solicited requests for proposals, and management was directly involved. "There was ownership and buy-in to that entire process," Bird said.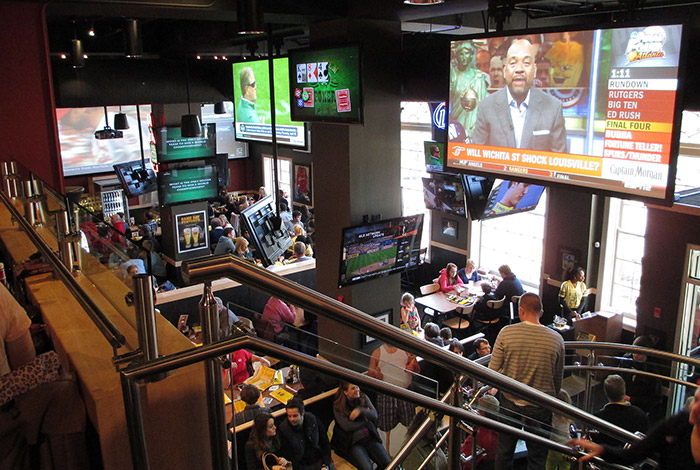 Photo credit: JonRidinger/Wikimedia Commons
The biggest technology challenge Buffalo Wild Wings faced was getting a high-speed broadband connection to its restaurants to deliver the necessary bandwidth. The company partnered with CDW in December 2013 to build out reliable networks for business-class services, including standardized Wide Area Networks and Local Area Networks in stores.
In addition to guest-facing services, the networks needed to support asset management and operations, such as connected grease traps that would be monitored wirelessly and notify vendors when they were full and needed to be picked up.
Most important, the company needed to make sure it was keeping customers happy. Prior to deploying the new networks, Buffalo Wild Wings offered free Wi-Fi to customers. One group would come in for a fantasy football draft, but a problem arose when when another group came in: The first group would get booted off the network, displeasing customers.
Partnering with CDW to Deploy a New Network
From December 2013 to June 2014, Buffalo Wild Wings worked with CDW to plan the deployment. CDW worked to get the necessary network equipment and also provided technical expertise, Bird said, based on the bandwidth requirements the chain laid out. "To stand up this kind of infrastructure, as well as the ongoing services, support and monitoring, I didn't have the resources," from a technical and personnel perspective, she added.
Working with CDW, Buffalo Wild Wings put together a plan to upgrade its restaurants. CDW procured the gear and prepared the locations for the network configurations. CDW also put together packages that were essentially "networks in a box" and then ship them to the restaurants. Overnight, a third vendor would install the equipment. Buffalo Wild Wings had backup plans if the installations went long, but Bird said retailers upgrading their networks should be cognizant of operating hours and avoid disruptions to operations as much as possible.
"Any large endeavor like this requires true level of partnership and trust, and I think that's what we were able to establish from the get-go," CDW's DeCoster said.
CDW was able to come up with a "well-engineered, standard configuration as much as we could" for the networks, DeCoster said. "With that as a basis, it came down to just execution," he added.
Buffalo Wild Wings had a tight timeline. The company started the deployments in June 2014 and wanted to get them finished before fantasy football drafts, which typically take place in late August.
Bird acknowledged that there were some struggles, and deployments "don't always go as smoothly as you want." However, CDW's team worked around the clock to meet the commitment to the rollout to 500 restaurants. "I think we were all amazed that we pulled it off," she said.
Delivering an Improved Customer Experience
Buffalo Wild Wings went with a dual-internet service provider strategy and has a cellular wireless backup in case its wired broadband network goes down. That has been "foundational," Bird said, because it means the company's point-of-sale system can stay up and running no matter what.
The upgrades have also improved the customer experience. On average each restaurant has three wireless access points, Bird said, though larger restaurants have more. Ensuring customers had good experiences with fantasy football draft parties was a major business driver for the upgrade, Bird said, noting that recent activity and customer experiences have proved that the upgrade has paid off. Additionally, being able to put tablets at tables so that kids can play video games has also driven increased traffic to restaurants, she said.
The bandwidth requirements at the restaurants are increasing, Bird said, and some restaurants have moved to two 24-port switches instead of one; others have deployed 48-port switches.
Bird said that Buffalo Wild Wings had struggled to get enough bandwidth to its restaurants before working with CDW, but that the partnership has helped significantly. "Find your good partners out there," she said.
Read articles and check out videos from BizTech's coverage of NRF Retail's BIG Show 2017 here.
Phil Goldstein