Retailers Tap Tech to Help Serve Customers Anywhere, Anytime
Retailers and restaurateurs find success (and profit) by focusing on ways to integrate their back-end systems with customer-facing mobile technologies.
Smart retailers are using tablets, pop-up networks and 4G mobile connections to get their back-end operations up to speed — sometimes literally.
Take KTM, the $800 million motor sports company. A dozen times a month, KTM's Ride Orange team loads up to 20 road and dirt bikes into 18-wheelers and hauls them to places like Maplesville, Ala., and Skiatook, Okla., so prospective buyers can take them for test rides.
Before riders can hop on the test-drive course, they need to sign a waiver indemnifying the company from liability.
"In the past, this was all done by paper. Riders would fill out a form and sign it, and the demo team would make copies of the forms using a scanner connected to a laptop," says Joe Truebe, IT manager for KTM North America, a subsidiary of the firm based in Munderfing, Austria. "Then, they'd transfer the scans to a USB stick and mail that to our headquarters in Murrieta, Calif. It was pretty archaic."
Last March, KTM decided it was time to go digital or go home. So it replaced the paper forms and scanner with Apple iPad devices, and purchased three Cradlepoint ARC MBR1400 routers, which combine a 1 gigabit wireless N/G router with a 3G/4G cellular modem. Each truck also contains a generator for powering the router and charging the iPads.
Riders fill out digital forms on the iPads, which are connected to the Cradlepoint Wi-Fi network; the router then uses a 4G wireless connection to forward the completed forms to a server hosted in the cloud.
Technology such as tablets and high-speed mobile internet are changing how retailers do business, says Michael Diamond, director of industry analysis for commercial technology at research firm NPD Group.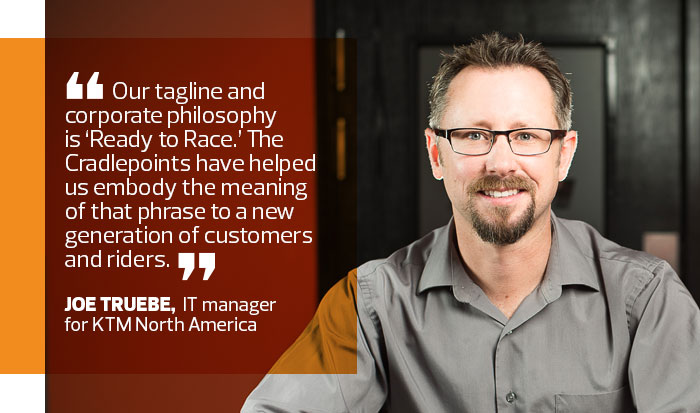 "It has allowed cash-and-carry businesses to process credit cards and capture customer information, and in-store employees to check out customers instead of having them wait in lines at the register," he says.
The trick, as KTM and other businesses have ­discovered, is to find the low-hanging fruit and then build upon small successes.
Diamond agrees, and points out that judicious tech use creates a launching-off point for broader efforts. "It's allowed smaller businesses to weave applications like analytics, customer relationship management, augmented reality and more into their operations," he says.
KTM has yet to make its next move, but the mobile pop-up networks will definitely let the company tackle more services on the fly, Truebe says.
KTM needed something more powerful than a standard mobile hotspot, because Ride Orange events are often held in remote locations where cell signals are weak. The routers' powerful antennas give them a much greater operating range than a cellphone, he says. "You might have one bar on your phone but the Cradlepoint can have three or four bars," he says. "You just stick a SIM card into the router, activate it with your carrier, and you're off and running."
The new system is faster and easier for everyone too, he adds. The legal team gets the documents they need almost instantly, and riders get out on the street or the track fast, making for a better customer experience.
"Our tagline and corporate philosophy is 'Ready to Race,' " Truebe says. "The Cradlepoints have helped us embody the meaning of that phrase to a new generation of customers and riders."
High Tech Meets High Fashion
In the showrooms at New York menswear designer Zachary Prell (ZP), iPads have become as common as cloth swatches and catwalks. Each tablet is loaded with a cloud-based platform that lets manufacturers and retailers manage purchase orders in real time.
In the past, buyers would come into a showroom and fill out a form indicating the styles they wanted to urchase, how many, and in what sizes and colors, says ZP Account Executive Laura Gusta. The buyers would keep a copy of the form, and ZP would manually enter the information.
"Before, we did everything on paper. We used paper forms, we used Excel — a lot. It was all very manual," Gusta says.
Now buyers enter the PO themselves, and ZP's customer service center in Dallas instantly receives the orders. Right now, the order data still must be manually entered into the PO system, she says, but the designer is updating it so that the data will flow in seamlessly.
Likewise, information entered by buyers is transmitted directly to ZP's purchasing departments. Even better, retailers can view a brand's entire catalog within the app and create orders without entering the showroom.
By easing the order process, the company has increased sales. "It's enabled us to write larger orders and write more re-orders," she says. "Now, it's much easier to see what inventory we have available, what people have on order, what we're currently shipping in season and what we have coming in for next season."
Cooking Up "Technology In a Box"
At Dickey's Barbecue Pit, they're cooking up more than just mouth-watering brisket, pulled pork and smoked ribs. Big Data is also on the menu.
The 75-year-old Dickey's, which started as a single store in Dallas and is now in 43 states, needed to bring its tech up to speed with its competition, says Laura Rea Dickey, CIO and granddaughter- in-law of founder Travis Dickey.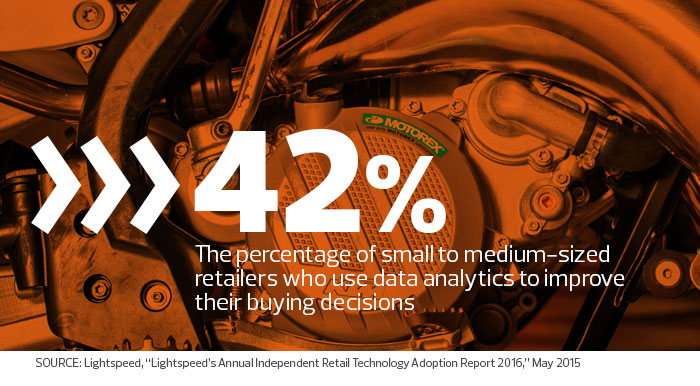 Last February, the restaurant chain began shipping "technology in a box" to its more than 500 franchises in the lower 48. Included inside was an Apple iPad Air 2, a dock, a Cisco Systems Wi-Fi router and switch, and all other gear needed to set up the initial store systems.
The Cisco router brings geo-fenced Wi-Fi to each store. Guests can sign in and order food; if they opt to share their personal information, Dickey's can track what they order and how often they return.
Using Analytics to Save Money
Employees can carry iPads around Dickey's to inventory supplies, but the tablets spend most of the time in docks out of sight, capturing sales and sensor data and feeding it into Dickey's custom business intelligence software, Smoke Stack.
For example, at the Block, where Dickey's prepares meat in each location, a scale transmits the weight of each cut to the iPad. Using sensors built into the scale and the store's point-of-sale system, each franchise can compare the amount of meat it purchased with how much it sold; the difference should equal how much meat was left in the smoker at the end of the night, Dickey says.
By analyzing data, Dickey's can determine the optimal amount of waste meat, and possibly change its prep techniques to maximize revenue. "We are a protein-heavy business, and it's the most expensive cost of goods in the store," she says. "Every ounce of meat is a profit or a loss."
Eventually, Dickey says, the chain will replace existing POS systems with iPads.
"When we started this process we realized we were great at barbecue but knew nothing about Big Data," she says. "Now, we can react to data in close to real time and share it across every part of our organization."
David Zentz
More On