Nonprofits Use Technology to Empower People with Disabilities
Technology is often talked about as a disruptive force, but it can also be an invaluable assistant for those who need help the most.
When Stephanie Utzman's son Adler was born, he was diagnosed with cerebral palsy, which affects his ability to speak.
Four years ago, she equipped him with an Apple iPad device and a special app that lets him communicate. The software comes with preloaded vocabulary words that allow Adler to tap on symbols, such as food or toys, to explain what he wants, needs or feels – and the tablet reads the messages out loud.
"My son can speak a handful of words, but doesn't always use them in the correct context. But with his iPad, I know exactly what he is thinking," she says.
Inspired by her success, Utzman launched an organization named after her son, called Adler's Voice, to provide the technology tools and services parents need to help their nonverbal children express themselves.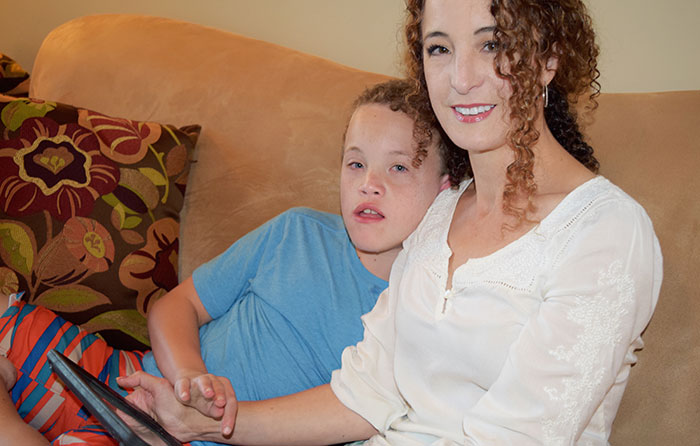 Adler's Voice is among an increasing number of nonprofits that are using technology to empower people with disabilities. Tech Kids Unlimited, for example, provides hands-on technology courses to New York City youth with special needs, so they can develop the tech skills they need for future careers, such as software programming and web design.
Meanwhile, Living Resources, a nonprofit in Albany, N.Y., has built a smart home with connected devices that allow people with disabilities to live more independently. And in nearby Harris, N.Y., a team from The Center for Discovery is on a quest to give those with disabilities more mobility, so they're creating a power add-on device that turns manual wheelchairs into power wheelchairs.
These nonprofits receive funding from a variety of sources, including foundations, technology companies, government agencies and private donations, to further their causes.
In April, for example, Google.org, the search giant's philanthropic arm, announced that it has donated $20 million to 29 nonprofit agencies that are using technology to improve the lives of people with disabilities. The Center for Discovery was one of the recipients, receiving $1.125 million to bring its open-source IndieGo wheelchair technology to market.
Partnerships also help nonprofits gain access to technology. Tech Kids Unlimited, for example, has partnered with New York University's Tandon School of Engineering in Brooklyn to get access to computers and a classroom.
Putting Smart Home Technology to Good Use
Living Resources – an 850-employee organization that provides services to 1,400 people with developmental or intellectual disabilities – built a smart home in 2015 to help six residents become more independent.
The $650,000, six-bedroom home, funded by a grant from the New York state legislature, features a Wi-Fi network that connects to the lighting system and other home automation technologies, says Living Resources CEO Fred Erlich.
Healthcare workers staff the home 24/7, but residents with iPad devices can remotely turn on the lights, open and close window blinds, turn on fans and control their TVs.
"The technology supports higher levels of independence," Erlich says. "An individual who is physically disabled can sit in a wheelchair or in bed with an iPad and turn on the lights or close the shades without having to ask the staff for help. They can do it themselves," he says.
The smart home also includes an induction stove with a surface that remains cool to the touch and will turn off automatically if it's accidentally left on. The house, which includes spacious bedrooms and easy-access counters and cabinets, is also equipped with solar panels, which powers the home and heats water.
Living Resources built the smart home as a pilot project. Erlich hopes it will lead to more funding for the organization to build more smart homes for its clientele in the future.
"We feel it's a living laboratory to show people what is possible," he says. "That it shows that it's possible for people to have more functional control over their lives as opposed to someone doing everything for them."
Teaching Tech Skills to Those with Special Needs
In New York City, NYU adjunct professor Beth Rosenberg never planned to start a nonprofit. But her son Jack has special needs. She knew he liked technology and wanted to learn tech skills, but she couldn't find a structured, supportive technology education program for children like him.
So in 2009, she started her own: Tech Kids Unlimited, which serves children who learn differently, such as those diagnosed with Autism Spectrum Disorders, Asperger Syndrome or have learning disabilities or emotional issues.
The nonprofit, which is funded by more than a dozen organizations, including the FAR Fund and Goldman Sachs Gives, provides technology workshops over the summer, weekends and holidays, where students can learn animation, video editing, software development, web design and podcasting.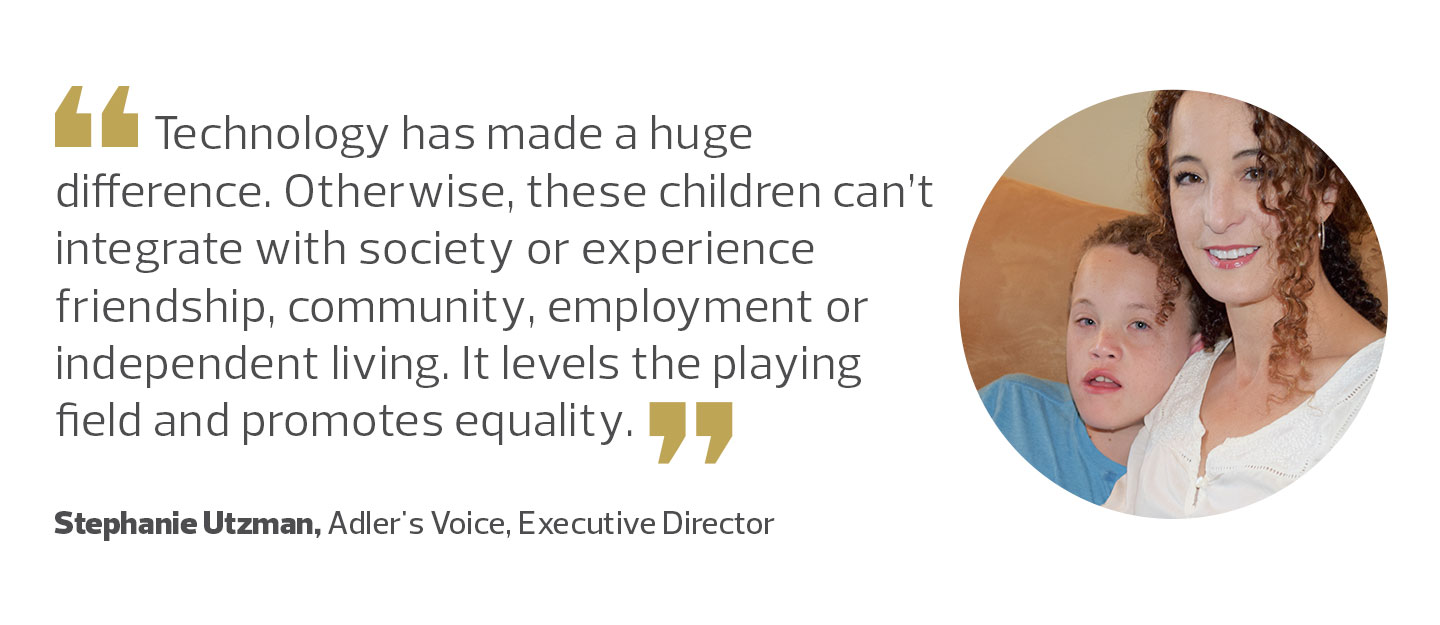 It's a nurturing, project-based educational environment that serves about 250 children a year, including her son 17-year-old son Jack, says Rosenberg, the organization's director. The students use Mac desktops and MacBooks and a variety of software that includes Adobe Creative Suite.
Rosenberg calls it an early workforce development program that gives students the tech skills they need for a career.
"Like many parents, we are worried and concerned what is going to happen to our children after they turn 18. Many of these kids won't go to college, but the idea is that technology levels the playing field," she says. "There are plenty of people who work at tech companies who are self-taught. We're putting technical skills on their resume, so they become interesting to employers and have the potential to get hired."
Giving Children a Voice
In Bend, Ore., Utzman launched Adler's Voice for many of the same reasons Rosenberg created her organization. In her case, Utzman knew there were other parents with children who have significant speech challenges – and she wanted to help.
She provides grants to families to fund therapy sessions, assistive technologies and educational resources that they otherwise couldn't afford. The five-year-old organization, funded by foundations, small community grants and private donations, has helped children throughout Oregon to communicate by equipping them with about 250 iPad devices.
She uses Cisco Meraki's mobile device management (MDM) software to manage the iPad devices. It allows her to remotely push new communications software to each device. And to make sure the tablet is used strictly for child communication, the MDM software allows her to lock it down to restrict video and music content.
Adler, now 13, has several hundred words in his vocabulary and uses the iPad to speak in complete sentences. The software is customizable, so she's currently working with him on sharing his emotions, such as feeling happy or sad.
Overall, the technology has made a huge difference in Adler's life and in the lives of the children that her organization has served, Utzman says.
"Communication is part of the human experience, so this technology is empowering for both parents and their children. They can finally have conversations, finally hear the child say, 'I love you,' and understand what the child feels and needs," she says. "Technology has made a huge difference. Otherwise, these children can't integrate with society or experience friendship, community, employment or independent living. It levels the playing field and promotes equality."