NFL Rolls Out First Super Bowl App Ahead of Game Day
Forget Candy Crush — this is the app that could have fans incessantly looking at their smartphones while they're at the 2015 Super Bowl.
The 49th Super Bowl, which is set to go down this Sunday, Feb. 1, is notable for a few reasons.
First, it's the third time that the Phoenix metropolitan area is hosing the big game. Second, it's the second Super Bowl appearance for the Seattle Seahawks, who pulled off quite the upset in last year's game. Third, it's the first Super Bowl with its very own app.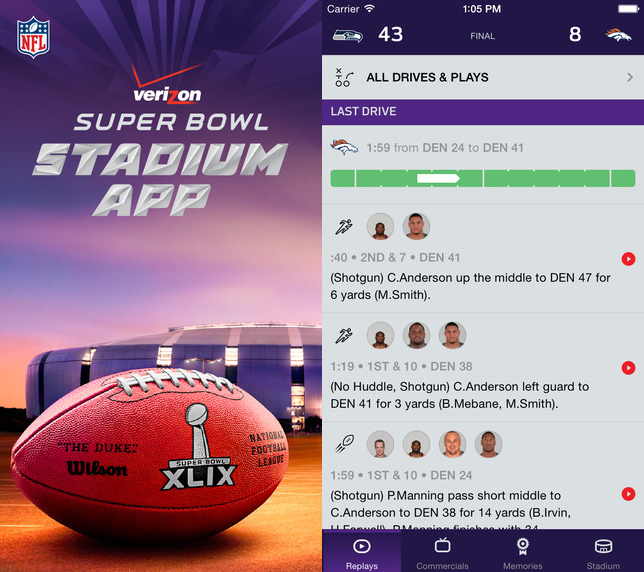 As part of the league's desire to integrate and embrace technology throughout all aspects of the game, the NFL has launched the Super Bowl Stadium app, according to a report from Mashable.
The app, which was developed with Verizon and works for in-stadium fans only, taps into the NFL's impressive instant-replay system, which will allow fans to view instant-replay footage from four camera angles. Additionally, fans can view maps of the University of Phoenix Stadium's seating and concession stands, consume social media updates from the teams and the league, and catch up on recaps from the 2014 season.
And for those who love Super Bowl commercials, there's good news: You don't have to miss out on the fun of the latest, zaniest in TV advertising, since those spots are included in the app, as well.
The league recently did a test run of its instant-replay system during the Pro Bowl, Mashable reports.
"We decided to test a few things at the Pro Bowl because it's very hard to re-create the experience of a stadium in a lab," said NFL CIO Michelle McKenna-Doyle. "We want to see what it is like with people and make sure it seamlessly works."
In addition, the stadium recently underwent major wireless networking upgrades to make it easy for fans to use the new app and connect to social networks during the game.
Ricky Ribeiro
More On