Review: D-Link DWC-1000 Wireless Controller Automates Efficiency
This network management device optimizes and secures wireless connections.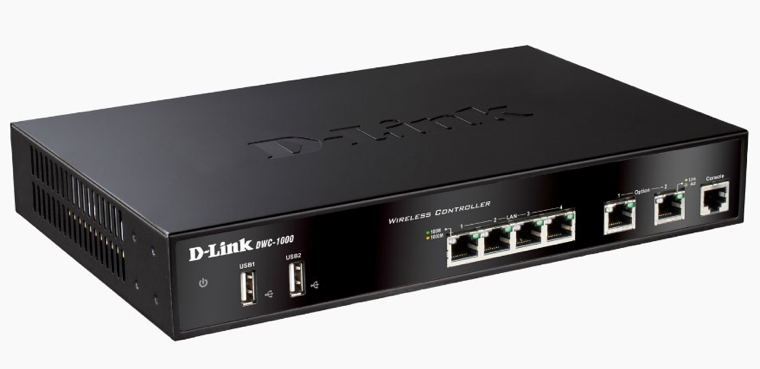 D-Link's DWC-1000 WLAN
Credit: D-Link
Many organizations put ample effort into optimizing their wired infrastructure, but devote little thought to making their wireless connectivity just as efficient. That can be a big mistake. The D-Link DWC-1000 WLAN management appliance can help maintain high levels of connectivity and speed while guarding against internal and external security threats.
Connecting the DWC-1000 to a wireless network is a relatively simple process. IT managers simply plug the device into a network switch, and then connect to the DWC-1000 using any of the Ethernet ports on the front of the box. The basic device supports up to six wireless access points, 24 with an upgrade or 96 with clustering; we tested it with three.
Once the network was established, it was relatively easy to use the D-Link device to enforce security policies on all three APs, such as requiring users to submit to normal network passwords as well as having their MAC addresses match an approved list. Any attempt to access the network by an unauthorized device met with an immediate denial and triggered an alert.
But perhaps the greatest feature of the DWC-1000 is its ability to add self-healing capabilities to any wireless network. The device examines the network as a whole and constantly scans to ensure that the entire area is blanketed with a good signal. If the management device finds a dead zone or if one suddenly crops up, different APs are automatically powered up to compensate.
The DWC-1000 also ensures that no signals overlap, by powering down APs and changing channels as needed until there's no interference. That balance between signal strength and interference can take hours to configure manually, and the settings can change with conditions. Administrators for large organizations will love the device's signal management capabilities.
When a new AP is put into an existing network, the DWC-1000 will automatically configure it to a channel that doesn't cross other APs in range, and will adjust the power for optimal coverage. The device automatically enforces security policies for the new AP while continuously scanning for intruders. If it detects a rogue AP within the scanned area, it immediately blocks it. In this way, the DWC-1000 automatically administers, troubleshoots and polices the network to keep the WLAN running smoothly.
D-Link