Windows Server 2012 Essentials Offers Simple, Reliable Onsite Server Support
Office 365 online services and an onsite server provide a hybrid cloud solution for small businesses.
Businesses that have their entire IT operations in the cloud are few and far between; many opt to either keep everything onsite or adopt a hybrid solution. Industry regulations or service-orientated considerations may also prevent companies from moving certain IT services to the cloud, while other companies simply aren't ready to take such a big step.
Microsoft has traditionally offered small and medium-sized businesses its Small Business Server (SBS) — packaged Windows Server with Exchange and optionally SQL Server. In theory, it was possible to install and manage this software without IT support. Now that SBS has been retired, Microsoft intends Windows Server Essentials (WSE) 2012 to replace both SBS and Windows Home Server. WSE 2012 supports up to 25 users and comes with most of the features of Windows Server 2012 standard edition, although it does not have Hyper-V virtualization, a shining benefit of Windows Server 2012.
The key difference between Microsoft's new product and SBS is that there are no additional server applications, such as Exchange, packaged with WSE 2012. Instead, Microsoft wants SMBs to use Office 365 email and collaboration services in the cloud, reserving the onsite server for user account management and local file storage.
Does Your Business Need an Onsite Server?
The decision to use an on-premises server depends on factors like availability and ease of management. Despite the push for everyone to move to the cloud, there are advantages to running an onsite server. Local file storage ensures better availability than hosting files in Office 365. Even though Word will cache files recently saved to Office 365, you won't be able to access all historical files stored in the cloud without an Internet connection.
The same applies to email. By default, Outlook 2013 caches only the past 12 months of data, and access to historical email requires a working connection to your cloud service provider. Outlook 2013's Sync Slider feature, however, can be set to cache all mail to a user's offline cache by using more local disk space and taking longer to perform an initial synchronization when starting Outlook for the first time. Additionally, a local server allows you to take full advantage of Windows 8 File History and make full local backups of all devices on your network (Windows 7 and 8).
SMBs supported by a Microsoft Partner may want to consider the superior management capabilities available from a local server. A local server provides the full suite of Active Directory management features, such as Group Policy, and the ability to use third-party applications that rely on Active Directory.
User and device management is also possible using Microsoft Intune in the cloud. And while Intune provides a limited subset of Active Directory's feature set, it provides easy software distribution and reporting. Intune also includes mobile device management, which would otherwise require System Center or a similar product.
Getting to Work with Windows Server Essentials 2012
Now that Exchange is no longer part of the package, Windows Server Essentials is a breeze to install. The install wizard asks a few simple questions to configure Active Directory, create server user accounts and turn on automatic updates. An extensible dashboard provides non-IT professionals with an easy way to manage and monitor Windows Server features most commonly used by SMBs, although all the traditional management consoles are still there for professionals who prefer them.
For the first time, Microsoft is allowing companies that outgrow the 25-user limit to perform an in-place upgrade to Windows Server standard edition, with licensing of features that are unique to WSE increased to a maximum of 75 users. WSE includes an improved version of SBS Remote Web Access (RWA), so users can connect remotely for file access, and simplified VPN configuration. Just like SBS, WSE requires software on all managed devices to support the server's unique feature set. There's also built-in online backup to Microsoft's cloud infrastructure.
Configuring Office 365 Integration
The best thing about WSE is that if you decide to integrate with Office 365, there's no need for the complex configuration and management of Active Directory Federation Services (ADFS), which is required for Office 365 integration when using other editions of Windows Server. WSE provides simple wizard-driven integration between Active Directory and Office 365 out of the box.
To configure Office 365 integration with Windows Server Essentials 2012:
Log on to WSE using an administrator account and open the WSE dashboard.
On the homepage of the WSE dashboard, select EMAIL.
In the right pane of the dashboard, select Integrate with Microsoft Office 365 and then click Set up Microsoft Office 365 Integration.
In the Microsoft Office 365 Integration wizard, check I already have a subscription for Office 365 and click Next.
Enter your Office 365 user ID and password. Click Next.
Agree that the wizard will set your password policy to strong and click Next.
Close the wizard, and the WSE dashboard will automatically restart.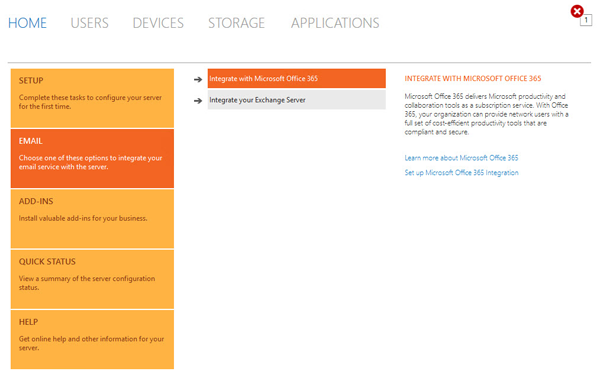 Figure 1 – Integrating Office 365 with Windows Server Essentials
You will now see an Office 365 tab in the dashboard where you can view general information about your subscription. Additional functions are now available: On the Users tab, you can add new Office 365 users, link existing WSE accounts to Office 365 users or import accounts from Office 365 without logging in to the Office 365 website.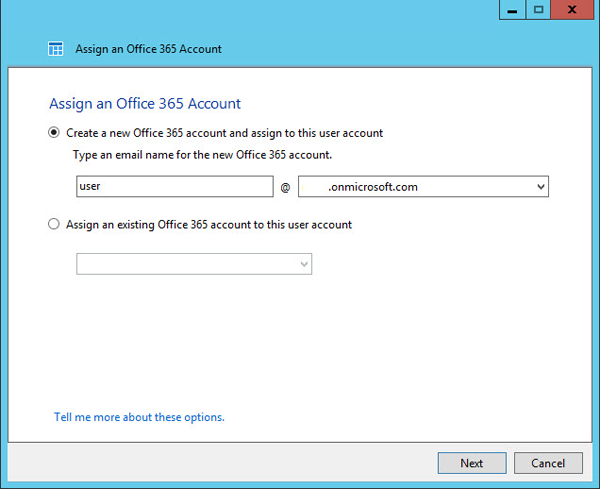 Figure 2 – Assigning an Office 365 account to a Windows Server Essentials user
The Takeaway for IT
Cloud integration with Windows Server Essentials 2012 is limited to Office 365 for now, although Microsoft has released an SDK for WSE, which allows third-party cloud providers to plug in to WSE's dashboard.
Maintaining an onsite server requires some administrative effort, but Microsoft has done its best to minimize the time required to install and manage WSE. If your business needs an onsite server and you can't rely on the cloud to provide all IT operations, WSE could offer your company a low-cost hybrid cloud solution.
iStockphoto/ThinkStockPhotos