VMTurbo Offers Real-Time Monitoring and Analytics for Virtual Environments
New management solution helps companies maintain virtual order and boost efficiency.
Maximizing the efficiency of a ­virtualized data center is important for any company that has one. But what may be more important is the ability to see in advance how potential changes to the virtual environment will affect a company's ­operations and finances, says Hemantha Wansekera, general manager of the IT division of Toshiba Machine America, in Elk Grove Village, Ill.
At Toshiba Machine, a virtualization monitoring and analytics tool called VMTurbo Operations Manager helps the company achieve both goals: maintaining high performance by managing workloads, and providing a view into the future.
"It's a large task to optimize the virtual machine environment," says Wansekera, whose company manufactures, markets and services industrial machinery equipment such as plastic injection molding machines, machine tools, die casting machines and industrial robots. "VMTurbo looks at the CPU, memory and capacity utilization and recommends actions that will improve operations. It gives you the option of seeing the recommendation and then making changes manually or setting up policies and automating the changes."
In general, companies with virtual infrastructures use performance-monitoring and capacity-analytics tools to manage virtualized and cloud-based workloads and migration activities, says Mary Johnston Turner, research vice president at IDC. Solutions such as VMTurbo, with its Economic Scheduling Engine, emphasize metrics related to cost and business goals, along with more standard technical performance data.
"Real-time performance and capacity analytics is becoming a top priority for IT organizations that are making widespread use of virtualization and planning for broad-based cloud architectures," says Turner. "In fact, in a recent IDC survey, capacity planning analytics was cited as the No. 1 emerging management software requirement for effective cloud operations."
Core virtualization platforms, such as VMware, focus on the provisioning and configuration control of virtual machines. As a result, companies often turn to separate products or modules for performance monitoring and analytics in their virtual environments. Such analytics tools evaluate the state of workloads and the topology of a virtual environment, as well as the availability and cost of infrastructure resources, to see if they're in line with ­business policies, Turner says.
The benefits of virtualization monitoring tools lie in cost savings, better utilization of resources and improved service levels, she adds.
Ease of Implementation
Toshiba Machine installed VMTurbo in June 2012 for a 60-day trial that segued into a full deployment in August. Since then, the company has been using VMTurbo to manage about 30 virtual machines on three physical servers, though it has plans to expand the virtualized data center across three more hosts, Wansekera says.
Implementing and learning to use VMTurbo in the virtual environment were easy, he says — important considerations for small and medium-sized businesses with lean IT staffs.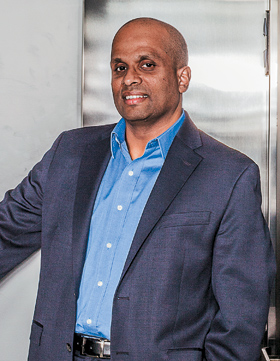 Photo: Bob Stefko
"We hired a new network administrator soon after we put VMTurbo in place, and he learned the technology in about a day," says Hemantha Wansekera, general manager of the IT division of Toshiba Machine America.
"The implementation took just a day or two to be up and running," Wansekera says. "We hired a new network administrator soon after we put VMTurbo in place, and he learned the technology in about a day."
Because VMTurbo resolves resource-contention issues in the virtualized infrastructure, Toshiba Machine uses the ­solution for load balancing and capacity planning. The software monitors, calculates and — in most cases — automates the most efficient distribution of processing power, memory and storage to virtual or cloud-based resources. VMTurbo's proprietary Economic Scheduling Engine adds a layer of software aimed at closely aligning infrastructure management with business priorities.
Because the technology also allows users to simulate scenarios and test the impact of changes to the virtual environment, VMTurbo has become a key planning tool for Toshiba Machine, says Wansekera. He has been using the tool extensively as he plans the expansion of the company's data center.
"I call it the 'what if?' feature," he says. "VMTurbo lets us know what will happen if we take some action, such as adding virtual machines, and gives us suggestions about how to optimize the new environment — perhaps adding new hosts or more memory. If we don't want to follow the original advice because of cost or some other factor, the software will provide other suggestions that work within our constraints."
Value and Flexibility
In Raleigh, N.C., 6fusion, which offers an IT management platform and metered IT resources, has plenty of tools to help manage its virtual environment. But the company uses VMTurbo virtualization monitoring to maintain high performance over time, says Chief Operating Officer Douglas Steele.
"There are lots of products out there trying to fill the monitoring space for virtualization and the cloud," Steele says. "We liked VMTurbo because it was a full suite that did planning, monitoring and reporting very well. It was the core tool that could do the most. It gave us a lot of capabilities for the cost."
Steele acknowledges that many companies with virtual data centers are reluctant to look beyond the tools offered by their core platform vendors. But 6fusion, which uses several virtualization platforms, wanted to avoid vendor lock-in, and VMTurbo supplies an application programming interface that facilitates its integration into a virtualized environment, he says.
VMTurbo was also able to meet ­6fusion's requirement for custom reporting.
"Because of the nature of our business, we need to look at a lot of specific angles on performance that aren't necessarily part of a standard package," Steele says. "They were able to provide those."
In fact, Steele says, VMTurbo has ­always been willing to make adjustments to the solution to accommodate 6fusion's needs.
"Like us, they're a young company with an aggressive product roadmap," he says. "They want to work with customers and learn from their customers."
Bob Stefko