IBM Connect: This Is Just the Beginning of Big Data
It might seem like we've reached the saturation point with big data, but there's plenty of uncovered ground.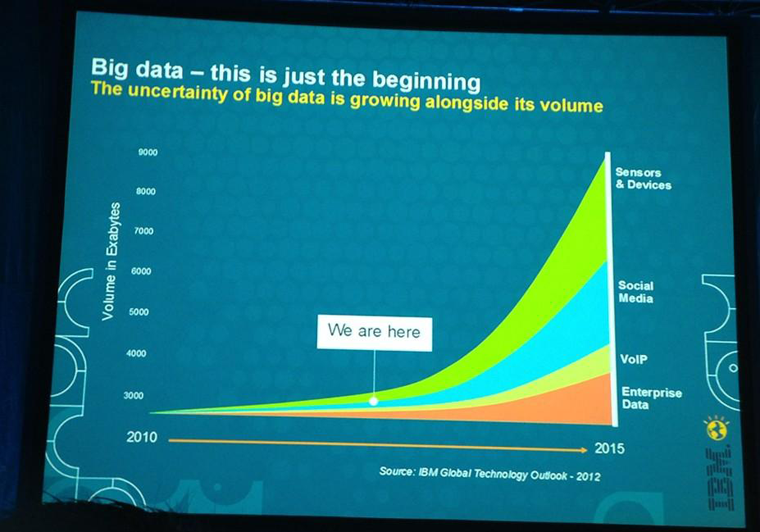 Credit: @daisyrood
According to IBM, 90 percent of the data in the world today has been created in the last two years alone. The 2.5 quintillion bytes of data created daily is not just any kind of data, it's big data. And, it's about time for enterprises to turn this big data into big business.
Big data was a hot topic at IBM Connect 2013 for presenters and attendees alike. Discussions focused on the need to harness the meaningful analytics from big data for social businesses.
The company's upgrade to its IBM Connections enterprise social networking platform will include new analytics features that allow administrators to monitor employee collaboration trends and engagement with customers on social media sites like Facebook and Twitter.
Big Blue's commitment to big data won't end there. According to Bob Picciano, IBM's General Manager of Information Management Software, "Data is the new oil."
Let the Gold Rush begin!
Big data - this is just the beginning #ibmconnect twitter.com/daisyrood/stat…

— Daisy Rood (@daisyrood) January 27, 2013
We used to think big data was about processing, now we realize it's analytics. Soon the network of things. @maribellopez #ibmconnect 1+

— Marcia Conner (@marciamarcia) January 29, 2013
Without a *big* caring culture, big data will have no value. The best ideas must win, not the best titles. #ibmconnect

— Vala Afshar (@ValaAfshar) January 28, 2013
#ibmconnect PG Note: to me the transformation of how we communicate is driving this new era. Big data is a result of that, not the driver

— Paul Greenberg (@pgreenbe) January 28, 2013
Challenge : we need to master the volume & get insights from big data coming from multichannels & #socmedia. #ibmconnect

— Lucile Leclercq (@LucileLeclercq) January 27, 2013
Bob Picciano - Big Data is the new Oil. And nice allegory with mining for gold a micron at a time. #ibmconnect

— Mike Anderson (@mikeanderson0) January 29, 2013
#Bigdata descriptive, attitudinal, transaction, interaction ow.ly/i/1reFM #ibmconnect

— Jake Wengroff (@JakeWengroff) January 29, 2013
Mike Rhodin:Customers are not interested in big data, they are interested in business outcomes. #ibmconnect

— Alan Hamilton (@alanghamilton) January 27, 2013
<a href="https://twitter.com/daisyrood/status/295527881977782272/photo/1">@daisyrood</a>