CES 2013: Panasonic's Eye-Popping 4K Tablet Wants to Handle Your Business
What would you do with a tablet that packs 9.83 million pixels into a 20-inch display? Get to work, of course.
If you thought the phablet was big, wait until you get a load of Panasonic's 20-inch, 4K-resolution tablet.
The company displayed the gorgeous tablet, which runs on Windows 8 and boasts an impressive 3840x2560 pixel IPS display, at the 2013 Consumer Electronics Show in Las Vegas.
Panasonic expects to commercialize the 4K tablet sometime later this year and plans to target business users.
"[It's for] high-end retail or architects and designers, or maybe consumers, somebody who's like a photographer, who really wants a nice, very high-end editing tool for the field," a Panasonic rep said in an interview with Pocketnow.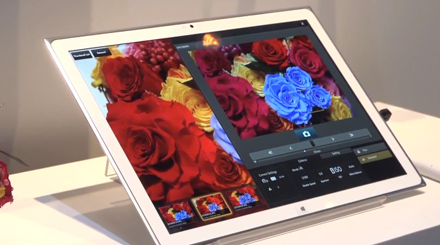 In the official press release touting the tablet, Panasonic outlined a use case for editorial businesses:
An editor comes into the room carrying a 4k tablet with him, lays it flat on the table and switches it on to show the catalog data for perusal by the editorial staff.

While they check each page of the print-ready catalog by tapping and swiping the touchscreen, the editor jots down instructions for color changes directly on the screen using the digital pen and transfers them to the printing company. The meeting wraps up after they make a final check of the revised data returned from the printer to ensure the changes have been made correctly.

As the above example shows, the 4k tablet offers intuitive operation and ultra-high resolution images with superb color reproduction and a wide viewing angle unique to IPS Alpha panels, bringing an "eco and smart" work style into various business scenes.
At CES, Richard Lee of Bluebeam Software demoed software his company built for Panasonic's tablet prototype, with particularly compelling implications for the architecture industry. The 20-inch screen, coupled with the device's compatibility with the Anoto Live Pen, make the tablet a real contender as a replacement for paper-based blueprints.
"When architects work with large-format drawings, they need to see the fidelity of the drawings. So a 4K [tablet] really lends itself for that," said Lee.
"If you make everything electronic, if you do it in PDF and you do electronic markups, you no longer have to print and ship," he added.
Watch the video of Lee's demo of the 4K tablet at CES 2013.
While these are just two use cases for Panasonic's tablet, the possibilities are truly endless. From digital signage to a self-service kiosk, there are many businesses that could take advantage of a big tablet like this.
What could your business use a tablet like Panasonic's prototype for?
Panasonic