The New and Improved Microsoft Deployment Toolkit
The latest enhancements to one of Microsoft's best free tools make it even more invaluable.
Microsoft Deployment Toolkit (MDT) is one of Microsoft's most popular free tools and has been used by organizations both large and small to deploy Windows to both client and server systems.
It is a jack-of-all-trades utility that can be used for end-system deployment and reference-image creation, run from a workstation or server and used either alone or as part of an integrated systems management solution with Microsoft Systems Center Configuration Manager (SCCM).
The 2012 version of MDT boasts a number of improvements that make Windows deployment easier than ever and help you troubleshoot any problems that may arise.
The following are some of the key new features and enhancements found in MDT 2012:
Monitoring Lite-Touch Deployments
One of the biggest customer requests concerning MDT came from those who wanted the ability to centrally monitor the progress and the success or failure of Lite-Touch deployments (deployments that didn't involve a systems management framework like SCCM).
By selecting the new Monitoring node in a deployment share running on MDT 2012, you can now observe the progress of Lite-Touch deployments, including the status of the deployment, the step currently being performed and the time elapsed since the start of the deployment (see Figure 1). Monitoring information is updated every 10 seconds, so you can watch your deployments happening in real time.

Figure 1: The new Monitoring node lets you observe the progress of your Lite-Touch deployments.
Booting into DaRT
MDT 2012 now lets you integrate version 7.0 of the Microsoft Diagnostics and Recovery Toolset (DaRT) into your Lite-Touch boot images. This provides you with some additional options when you boot a destination system using your Lite-Touch CD image (see Figure 2). By selecting the Run DaRT Tools option from the welcome screen of the Lite-Touch wizard, you have full access to DaRT tools, such as Locksmith, Crash Analyzer and Disk Commander.
You can even use this feature to remotely access a destination computer during the Windows PE phase of a deployment. You will, of course, need DaRT to take advantage of these capabilities. DaRT is part of the Microsoft Desktop Optimization Pack (MDOP) that comes with the Software Assurance (SA) benefits of being a Microsoft Volume Licensing customer.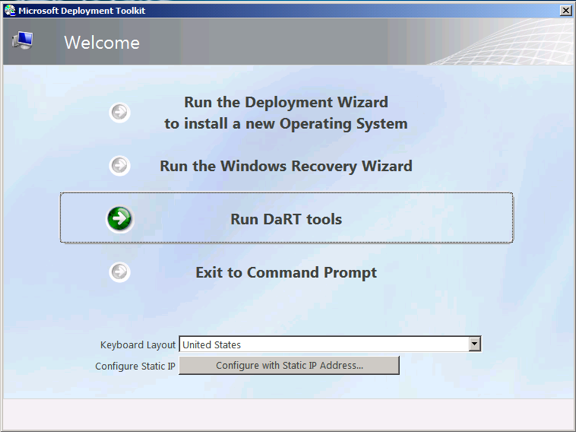 Figure 2: DaRT 7.0 can now be integrated into your Lite-Touch boot images.
Leverage SCM
MDT 2012 also integrates with Microsoft Security Compliance Manager (SCM), which provides ready-to-deploy policies based on the recommendations found in Microsoft Security Guide. SCM enables you to create and manage Group Policy baselines so that you can adhere to security best practices for Windows operating systems and Microsoft applications.
Deploy to VHD
Another new feature of MDT 2012 is that you can now use it to deploy Windows images (WIM files) to virtual hard disk (VHD) files on destination computers. This allows you to deploy destination computers that can boot into Windows 7, Windows Server 2008 R2 or later, running from a virtual hard disk located in the VHD directory on the system partition.Deploy to VHD enables some interesting new deployment scenarios for your organization.
For example, you can now deploy a virtual hard disk to an existing computer in your environment without overwriting the existing Windows installation on the computer. To do this, you might start by using the Standard Client Task Sequence to deploy Windows to a virtual machine running on a Hyper-V host.
Next, you could create a snapshot of your virtual machine and then a custom task sequence to deploy the VHD to a destination system and configure the boot loader on the system to enable dual booting. MDT 2012 is available as a free download from the Solutions Accelerators page of the TechNet Library.
In the near future, an update for MDT 2012 will be released to support deployment of the final version of both Windows 8 and Windows Server 2012.
textfield
More On