Big Data, Big Teamwork: MarkLogic Makes Sense of Video Conferencing
To link its far-flung employees and customers, a global technology company creates a robust high-definition video conferencing ecosystem.
When your company powers one of the hottest technologies being used by the world's largest enterprises, it can drive some major travel and collaboration needs.
That's the case for big data market leader MarkLogic. The Silicon Valley company provides massive operational NoSQL databases that manage all types of data, at scale and in real time. As such, MarkLogic is used by a veritable who's who of global companies.
From its inception in 2001, MarkLogic has grown to include field offices in Austin, Texas; New York; Washington, D.C.; Frankfurt, Germany; London; and Tokyo — plus another dozen satellite locations scattered worldwide. With so many physical offices and numerous telecommuters, the 275-employee company needed a more effective and efficient way to collaborate than e-mail, telephone and, of course, in person via long-distance airplane travel.
"Despite our company's ongoing efficiency efforts, travel continued to be an enormous expense," says Senior Director of IT Jeff Thomas. "We wanted to knock down both real costs and resource expenses related to employee time. Each was a drain on business-critical functions."
For a technology company like MarkLogic, the answer seemed somewhat obvious: Tap into leading-edge technology. It turned to high-definition (HD) video conferencing to bridge the geographic divide separating employees from more regular face-to-face encounters.
Thinking Tech
Based on a long-term association with CDW, MarkLogic sought out its technology partner's expertise to help select and build the right system, says Justin Hester, a unified communications solutions architect for CDW.
"We discussed the business needs as expressed by MarkLogic," Hester says. "We also uncovered a few needs that were previously unidentified."
In short, MarkLogic not only intended to bring employees together; it also wanted to improve customer access to subject-matter experts within the company.
"For example, if a prospective customer had a question, our sales team could bring a customer into a field office, like New York," Thomas says. "Then, we could link them up with an engineer at our headquarters here in San Carlos to get an answer that might make the sale."
MarkLogic also wanted the capability to download conferencing software to notebook and desktop systems, so that employees could join a conferencing session from wherever they were. This instant access would permit ad hoc collaboration anywhere, anytime. Plus, the company's executives wanted to provide similar guest access to customers and partners.
After evaluating several options, MarkLogic decided to install an HD Polycom video conferencing environment. It included fixed-room systems at MarkLogic headquarters, as well as at its Austin; London; New York; and McLean, Virginia, locations. Additionally, MarkLogic invested in a desktop/notebook client application and a guest-access module.
For the conferencing rooms at its headquarters, New York and McLean locations, MarkLogic selected Polycom's HDX 8000 Executive Collection conferencing system, outfitted with dual 50-inch monitors. The headquarters deployment also included a setup in a 110-person capacity training room. For that setup, the HDX 8000 utilizes the room's existing ceiling-mount projectors for display.
$25,000 
MarkLogic's savings on travel-related costs from holding a single cross-country marketing and field operations meeting via its video conferencing system
In the Austin and London offices, MarkLogic chose a Polycom HDX 4500 system, paired with a 24-inch display.
Regardless of location, the company outfitted the fixed-room systems with a Polycom Touch Control touchpad for easy, user-friendly access by conferencing participants.
For the desktop and notebook client, MarkLogic deployed the Polycom CMA Desktop application, which can be used with both Microsoft Windows and Apple OS X operating systems. And, for tablets, it adopted the Polycom RealPresence Mobile module.
Behind the Scenes
On the back end, MarkLogic implemented several Polycom technologies to maximize the new video conferencing capabilities. These include an RMX 2000 video/audio multipoint bridge, a VBP 5300 Video Border Proxy, an RSS 4000 recording and streaming server and a CMA 4000 Converged Management Application.
"The bridge permits multiple endpoint conferences for up to a couple dozen participants," Thomas says.
Similarly, the VBP 5300 border proxy handles guest access. "This allows for external video endpoints, such as a customer or partner, to call into our video systems across the Internet," he says. "And the RSS 4000 allows us to record a conference and later publish it as an electronic media file." The RSS 4000 also allows MarkLogic to live stream a conference or meeting to many dozens of viewers.
Controlling the entire system from an intuitive interface is the CMA 4000 management application. "It provides management functionality for all of the other Polycom components," Thomas says, "and it integrates the desktop and notebook clients to allow individuals to use their notebook or workstation as a video endpoint."
The comprehensive solution demonstrates a commitment to providing world-class capabilities that will ultimately drive down total cost of ownership while simultaneously boosting value to the company, Hester says.
"Many customers understand the foundational importance of simple point-to-point video conferencing," he says. "But MarkLogic took that to the next step by deploying both endpoint and infrastructure technologies from Polycom, which provides them with a far deeper and more enhanced multipoint video conferencing experience."
Savings from the Start
The Polycom tools will allow MarkLogic employees to reduce travel and increase collaboration for years to come.
Indeed, benefits are already evident. In IT, it starts with minimizing complexity for a lean team. "Efficiency is huge for us," Thomas says. "From the beginning of our company, we've always built systems to be efficient."
Operationally, the video conferencing system is meeting the intended goals, say users, such as MarkLogic's Keith Carlson, executive vice president of professional services and alliances. "Every moment we spend travelling, we're away from our customers," he says. "Keeping people doing their jobs is highly valuable to us and to our customers, from a customer service and satisfaction standpoint."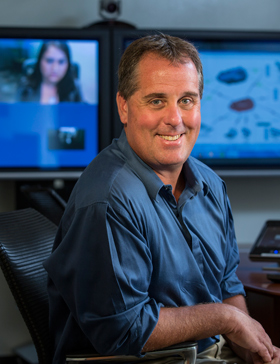 Photo: Robert Houser
"Because we expect mobility, everyone uses a notebook as a workstation. The Polycom notebook and tablet clients are really slick for point-to-point and multipoint conferences," says Jeff Thomas, Senior Director of IT at MarkLogic.
Carlson sites the quarterly internal meetings he holds. "My team is geographically dispersed all over the world," he says. "Normally, we come together for a day and a half of meetings. Rather than spend $10,000 on hotels and airlines, we've met via video conference, which saved on cost and the time it takes to fly halfway around the world."
Tony Agresta, MarkLogic's vice president of worldwide field operations, agrees. He used the system for two and a half days of marketing meetings that involved several globally dispersed employees. "In travel time, alone, we saved 12 person-days," Agresta says. "This time savings was applied to planning before the meeting and execution afterward. We found that we were able to achieve more while saving tens of thousands in travel costs."
Carlson also values the human benefits of the system. "We've used the system for meeting with customers," he says. "Where we'd have used audio conferencing in the past, with video conferencing we can see our customers' expressions, read them and interact with them in ways you just can't do with an audio conference."
Both Agresta and Carlson note the quality and ease of use of the Polycom tools.
"Corporate Marketing, Field Marketing and Field Operations leaders all presented planning decks, after which all action items were compiled and discussed as a team. The interactivity and collaboration was really good," Agresta says. "It was very easy, efficient and effective. Plus, it was more fun."
Video Conferencing's Untapped Potential
Naturally, these uses mark only the beginning for MarkLogic in exploring the system. "I intend to continue using video conferencing for the quarterly meetings and leveraging it for weekly meetings," Carlson says. "And, as our customers become even more geographically dispersed, my team will use the system even more because it makes sales and servicing experiences more interactive and successful."
Moving forward, Thomas anticipates continued growth in video conferencing use as employees continue to download the end-user client to their systems and tablets.
"Because we expect mobility, everyone uses a notebook as a workstation," Thomas says. "The Polycom notebook and tablet clients are really slick for point-to-point and multipoint conferences."
Additionally, MarkLogic users appreciate the breadth of guest access the system offers. "One reason for selecting Polycom was its nonproprietary, standards-based architecture," Thomas says. "We've already used it with other systems a few times."
No matter how employees use the system, Thomas anticipates video conferencing will become the norm rather than the exception for a simple reason: "You always feel better about an interaction when you can look the other person in the eye."
Robert Houser
More On