Seen and Heard at the 2012 Mobile World Congress
Mobile-computing companies and experts put on a dazzling display of technology in Barcelona.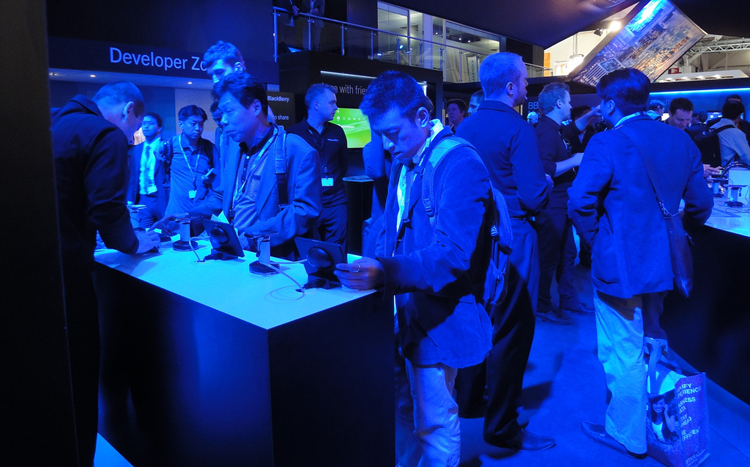 Conference attendees get a look at BlackBerry smartphones and tablets at the 2012 Mobile World Congress.
Photo: Official BlackBerry/Flickr
The Mobile World Congress, put on annually by the GSM Association, is mobile computing's big night out. Mobile device hardware and software makers, no doubt fresh from the 2012 CES, met in Barcelona, Spain, as they do every year in February, to discuss and debate the latest and greatest in mobile technology.
On the software side of mobility, with Apple absent from the show in any official capacity, Google (with its Android mobile operating system) and Microsoft (with its Windows Phone platform) both shined brightly. Google's executive chairman, Eric Schmidt, gave a rousing speech about the power that mobile computing will unleash upon the world in the future, and the responsibility that that will entail.
"The smartphone revolution will be universal," Schmidt says. "The web is more than a network of machines. It's a network of minds that are evolving into a global consciousness."
Among mobile-hardware makers, Samsung had a lot to show off, including its new stylus-wielding "phablet," the Samsung Galaxy Note; as well as an intriguing new twist on the smartphone, the Samsung Galaxy Beam, which includes an integrated pico projector.
Here are a few highlights we snagged from the Twitterverse from people attending the 2012 Mobile World Congress.
Smartphone Chatter
AT&T announces global coverage via a single SIM at MWC, makes dual-wielding a thing of the past engt.co/yr7l3l via @engadget

— Seyi (@sheyite) February 27, 2012
been banging on about it for ages and finally one's here, mobiles with built in projectors, the Samsung Galaxy Beam #MWC #headupnotheaddown

— Chris Lewis-Jones (@chrisl_j) February 27, 2012
the asus padfone should get more attention at #MWC its not as impressive specwise as the HTCone but atleast its something a bit different

— Alex Barron (@Barron240) February 27, 2012
At #MWC. Quote of the day: From a Telefonica RF tech exec: Small cells need to come down from $2-$5K euros to less than $1,000 euros.

— Rick Merritt (@rickbmerritt) February 27, 2012
Can a phone survive the next 12 months without NFC? #MWC

— Hem (@HemRaheja) February 27, 2012
Nokia did the unthinkable.. In the race of 8,12,16 comes the king 41.. #MWC #41Mp

— Mayank Rawal (@mayank_rawal) February 27, 2012
So every Android 4.0 smartphone at MWC that I have seen has capacitive buttons instead of on-screen virtual ones.

— Dan Seifert (@dcseifert) February 27, 2012
WOW @WhatsApp just announce that their carrying 2 billion messages per day!! #mwc

— Pedro Custódio (@pedrocustodio) February 27, 2012
Emerging markets key for #WindowsPhone says Microsoft's Terry Myerson bloom.bg/AayREF#MWC news

— Lukas Velush (@luvelush) February 27, 2012
More news from #MWC #Isis #NFC #Mobilewallet signs up some more banks. Resistance is futile :) bit.ly/yQnupN

— Joel Espelien (@espelienjb) February 27, 2012
Is anyone else excited about all the quad-core phones coming out this year?I know I am!#mwc

— James Lewis (@Lewjam05) February 27, 2012
73% consumers use their smartphone when shopping; 2% claimed use of mobile wallet/NFC. Shopping apps as fastest growing apps category #MWC12

— Nielsen (@NielsenWire) February 28, 2012
#Nokia announces the world's least expensive #WindowsPhone, the #Lumia 610, in 4 colors: bit.ly/lumia610 #MWC #FTW

— Marc Kleinmaier (@gadgetman) February 27, 2012
Skype brings voice and video calling to Windows Phone users around the globe #MWC - ow.ly/9kakp

— Jay Oatway (@JayOatway) February 27, 2012
Retail outlets upgrading their pay points to accommodate payment by tapping your phone on a hotspot. bit.ly/x6TiXY #MWC #innovation

— Angela Baker (@bakerac1) February 27, 2012
I'm a little disappointed that no one announced a smartphone that docks in a tablet that docks in a laptop that docks in a submarine.

— Zach Epstein (@zacharye) February 27, 2012
Tablet Mania
#Adobe brings #Photoshop Touch to #iPad for tablet-based artistry (TabTimes). bit.ly/AEkfWe #'MWC

— TabTimes (@TabTimes) February 27, 2012
Mind-Blowing #BlackBerry #PlayBook Document and File Sharing Concept App bit.ly/xyWRWE #mwc via @BlackBerryFeeds

— Patrick Spence (@Patrick_Spence) February 27, 2012
The pen on Samsung's new tablet has l more friction than the Note, but handwriting recognition still needs work. #MWC twitter.com/SimonSage/stat…

— Simon Sage (@SimonSage) February 27, 2012
Fun. Just as Eric Schmidt is taking the stage at MWC word leaks that Apple's iPad 3 will be announced next week.

— Damir Tomicic (@Damir) February 28, 2012
I liked a @YouTube video youtu.be/7ojg1c57LOs?a MWC: Asus Transformer Pad Infinity 700 Hands-On

— Daniel Steve Decu (@theapplenerdy) February 28, 2012
Google/Android Keynote
The queue for the Eric Schmidt keynote at the #MWC12 is enormous. The guy sure seems to be popular. :P

— Matjaz Ropret (@mropret) February 28, 2012
Madonna? No! Eric Schmidt! #mwc12 twitpic.com/8puan8

— Miguel Sánchez (@miguemito) February 28, 2012
At Eric Schmidt MWC conference! Amazing! twitter.com/fzhidalgo/stat…

— Fernando Fernández (@fzhidalgo) February 28, 2012
The future, most easily, belongs to "ultra connected people" who can embrace the future of technology...Eric Schmidt, Google

— jeffjessen (@JeffJessen) February 28, 2012
Conference Thoughts
Barcelona, Then and Now: A visual history guide to the home of Mobile World Congress: If you are attending Mobil... tnw.co/xrWLiu

— Subhasis Chakraborty (@subhasisishere) February 27, 2012
Mobile art #mwc #instagrambarcelona #igersbcn@ GSMA Mobile World Congress instagr.am/p/HhJxYTid9Y/

— Sergi Cardona (@txetxi) February 27, 2012
Bill Ford envisions the future of transport as a single, connected network. Very interesting. bit.ly/wUr09b

— Josef Conning (@josefc) February 28, 2012
Geeking out over all the new gear coming out of #MWC in Barcelona. Good to see all the manufacturers finally addressing battery life.

— DJ Hanik (@DjHanik) February 27, 2012
Mobile transforming into a powerful commercial tool:In the US, more than half of mobile users are repeat visitors to daily deal sites #mwc12

— Nielsen (@NielsenWire) February 28, 2012
From providing better coverage thru small cells & wifi to solutions for managing the data tsunami – Innovation is hot at #MWC

— John Jacobs (@TIAjohnjacobs) February 27, 2012
Great first day at #mwc : connected house pretty interesting, small cell forum presentations good and cool m2m devices on korean pavillon !

— mp_odini (@mp_odini) February 27, 2012
Visiting the #MWC Barcelona, too many things to see :-) twitter.com/AntonRoman/sta…

— Antón Román (@AntonRoman) February 27, 2012
Samsung's device naming has reached new heights. Forget commas and ™s, its new tablet names actually include parentheses.

— Zach Epstein (@zacharye) February 26, 2012
In Barcelona #mwc at #ibmmwc. Wow, so many smartphones/tablets in one place!!! Interesting network challenges for local opcos, they need NAA

— Simon Field (@Fieldy6961) February 27, 2012
More good news coming from #mwc.Visa and Intel Form Strategic Alliance to Advance Mobile Commerce newsroom.intel.com/community/inte… #intel

— karentruitt (@karentruitt) February 27, 2012
Not too shabby: 144 mobile global operators committed to phones in the HTC One brand starting in April. #MWC #MWC12

— Jessica Dolcourt (@jdolcourt) February 26, 2012
The amount of tweets about how awesome it is to have ethernet at Mobile World Congress shows me how far wireless technology needs to go.

— Stefan Constantine (@WhatTheBit) February 27, 2012
textfield
More On