How a Tablet Upgrade Made a Home Healthcare Agency One Happy Patient
KidsCare Therapy identifies tablets as way to streamline clinical documentation while enhancing patient care.
Mobile technology is revolutionizing the delivery of healthcare. Along with smartphones, a growing number of smart-media tablet PCs are finding their way into the hands of caregivers who are interested in delivering better patient care and improving patient outcomes.
Case in point: KidsCare Therapy. The Dallas-based pediatric home healthcare agency prides itself on the quality and positive impact of the in-home speech, physical and occupational therapy services it provides to children with disabilities.
The firm believes that therapy is most effective when conducted one on one, in a familiar environment. Therefore, any technology that can enhance the point-of-care service it delivers will have significant impact on the thousands of patients it serves, its approximately 100 therapists and the business overall.
Recently, KidsCare Therapy equipped each of its therapists with a Samsung Galaxy Tab tablet PC on which to call up patient data, capture therapy notes and otherwise improve the quality of patient care. The tablet PCs communicate over a broadband mobile network to the company's core business systems delivering clinical, billing and other information.
Thus far, the firm is reporting success in a number of areas. The tablet PCs have made it easier for therapists to access, input and safely transmit patient information. Telecom service discounts allow for significant savings on annual network charges. And the state-of-the-art solution serves as a recruitment tool for prospective employees — especially therapists.
Legacy System Drawbacks
KidsCare Therapy was founded in 2003 with a philosophy that the best service is that which is delivered in the homes of its patients. The company promotes a strong sense of compassion for the patients it serves. "We also want to nurture our own employees so they can achieve professional growth and satisfaction," explains Erik Baker, the company's assistant executive director.
Against the backdrop of these lofty goals, the company's first-generation mobile infrastructure didn't really measure up. KidsCare Therapy uses what amounts to a hosted enterprise resource planning (ERP) system — called Homecare Homebase (HCHB) — to run core business applications such as appointment scheduling, clinical information, billing and human resources.
Therapists and other employees access Homecare Homebase through an application called PointCare, which previously ran on Windows Mobile phones. That configuration was fraught with difficulties and limitations. While the phones had connectivity into corporate systems, their form factor, reliability and other limitations made them more of a hindrance to the delivery and documentation of patient care.
A therapist might try to use the phone to input patient visit notes, but the 4-inch screen and poor usability made this a difficult proposition at best. "You can imagine what it's like to be on a small smartphone trying to capture notes," Baker says.
The PointCare application could be automatically synchronized with Homecare Homebase. However, usability of the smartphone forced most therapists to go home or to an office and enter their notes into a computer. They would then upload those notes from their computer to their smartphone.
At that point, the notes could be synced from the smartphone to Homecare Homebase through the PointCare application. The multistep process was inefficient, but it was the technology that was available at the time, and the company used it for nearly five years.
The system also required significant reliability and management trade-offs, Baker explains. "There were constantly new patches for the [PointCare] application, and therapists couldn't upload their visits until patches were complete," he adds. "The IT staff had to regularly remind therapists to run the latest patches and updates for PointCare on their phones."
Time for a Technology Upgrade
However, the dated technology and kludgy connections were about to change. Earlier this year, KidsCare Therapy officials attended a Homecare Homebase conference supported by T-Mobile. There, they got a view into a major upgrade to PointCare that enabled it to run on Android-based tablets, including the Samsung Galaxy Tab.
Based on product demos and the potential of a larger screen to facilitate therapists' ability to capture and input data efficiently, it became clear that the tablet-based version of PointCare was the way to go. Company officials strongly believed the tablet version would bring greater reliability and, with greater ease of use, more extensive use by therapists.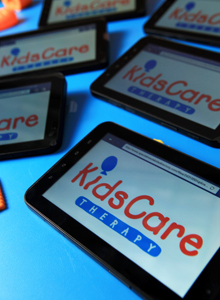 The company decided to purchase the Samsung Galaxy Tabs and quickly developed a multitiered training strategy to maximize the chances for success once it began to roll out the devices. Therapists participated in training delivered by T-Mobile employees that was focused on basic tablet functionality, settings and network connectivity.
KidsCare clinical managers then gave a class detailing functional and user-oriented differences between PointCare on Windows Mobile versus Android. The main focus was getting therapists comfortable with using the new technology and avoiding major hiccups along the way.
"Using the tablet is so much easier," Baker says. "It's considerably more efficient than what we were doing."
The Samsung Galaxy Tabs are a night-and-day improvement over the previous generation of mobile smartphones used by KidsCare therapists. The first tablets were deployed in early August, and now every therapist has his or her own tablet to use.
"They've been very well received," Baker says. "I've had no one complain that they want their old phone back, by any means."
KidsCare Therapy selected the 7-inch Samsung Galaxy Tab model because of its portability. It can easily slip into the pocket of a therapist's scrubs or fit cleanly into a purse or carrying case. It also offers superior battery life when compared with other Android tablets on the market, Baker says.
Tablet Technology: The Smart Spend
KidsCare Therapy made a significant capital investment to purchase almost 150 tablet computers. At the same time, the firm purchased approximately 20 Samsung Galaxy smartphones and more than 100 Samsung t259 cell phones — allowing each clinician to have a tablet PC to run PointCare as well as a cell phone.
The total price came to approximately $30,000. But with bundled telecom service and negotiated pricing, secured through T-Mobile, the company is actually saving almost $100,000 annually in network charges.
"These discounts were negotiated by Homecare Homebase for their clients and other home healthcare companies in the area they serve," Baker explains." There wasn't really any negotiating on our part."
With those kinds of savings, compared with the capital outlay involved, the company essentially achieved instant ROI on the tablet investment.
Being able to purchase an integrated package that includes cellular service with the tablet also makes a big difference when it comes to a smooth, successful rollout, says Dan Welsh, the CDW account manager who works with KidsCare Therapy. "T-Mobile's service and compatibility with Homecare Homebase is second to none. They made it a very easy transition for KidsCare."
KidsCare Therapy chose CDW to manage its mobility project and request for proposal (RFP) process for reviewing wireless carriers, mobile devices and configuration services. Baker credits CDW for its work in facilitating the acquisition of equipment and services, and helping to make the rollout trouble-free.
As a partner and agent of the major wireless carriers (including AT&T, Sprint, T-Mobile and Verizon), CDW was able to secure additional credits for KidsCare Therapy. This helped to reduce the firm's overall investment in the technology.
In addition, CDW provided custom configuration, imaging, carrier activation and asset tagging on all 150 tablets before they shipped to KidsCare Therapy. PointCare and master data management software were preloaded on the devices along with the custom configuration of e-mail.
"CDW made it very hands-free," Baker says. "I really didn't have to spend a whole lot of time dealing with it. They did most of the legwork. I simply coordinated the pieces and put everything together."
While Baker downplays his own vision in executing the tablet plan, his company's willingness to take the leap into tablet computing places it in the vanguard of healthcare organizations — leveraging mobility to let staffers access core systems in the most efficient way possible.
Paul S. Howell