Companies Scrap Legacy Phones for Cloud, On-Premises VoIP
PBX systems are expensive and difficult to manage. For many businesses, modernization offers a solution.
When Carlos Cong joined Paychex five years ago, one of his first tasks was to update the company's communications platform. The old system was too difficult and expensive to manage and didn't fully support the company's evolving business strategy.
Paychex, which provides payroll, human resources and other benefit services to businesses, historically split its 100-plus offices across the country into 12 regions — and each region had its own version of a legacy phone system.
The system was the same companywide but had been installed at different times and in ­different locations over an eight-year period, resulting in a scramble of software versions and phone features throughout the country.
The situation was workable, if not ideal, while Paychex employees provided customer service exclusively to clients within their own regions. But when the Rochester, N.Y.-based company centralized customer service, it also needed a way to consolidate communications platforms.
"We had 12 different systems that didn't talk to each other, and 12 different versions of code. It was challenging to administer," says Cong, Paychex's senior manager of enterprise technology services. "We took an enterprise view, centralized our communications ­platform and made sure we gave everyone a consistent set of features."
Paychex Taps the Benefits of VoIP
Paychex achieved all of that with Cisco Business Edition 4000 for IP phone services and Cisco Unified Contact Center Enterprise for managing the company's call center. Paychex also deployed Cisco 8800 and 8900 Series IP phones with a screen for HD video calls, along with a number of IP-based collaboration technologies that integrate with the new phones.
"The benefits have been tremendous," Cong says. "They allowed us to evolve our ­service model and give our customers choice."

Companies replacing outdated phone ­systems or startup businesses looking to deploy brand-new phone services increasingly choose Voice over IP. The internet protocol systems are easier to manage and more ­feature-rich and than standard PBX systems. They're also less expensive.
Companies have many VoIP options to choose from: They can install an IP-based phone system on-premises or subscribe to a cloud-based phone service. Or, they can deploy a mix of on-premises and cloud-based tools.
"There's a lot of legacy technology out there, but on-premises and hosted VoIP are gaining traction," says Ray Boggs, IDC ­program vice president for small and medium business research. 
VoIP Offers Businesses Hassle-Free Management
Insurance broker Senior Security Benefits, whose independent and in-house agents sell health and life insurance, conducts nearly all of its business over the phone. Last year, the company decided it was time to replace its aging phone system because it was a hassle to manage, and finding parts for it was an even greater challenge.
The Fort Worth, Texas-based company has grown rapidly in recent years and now employs 40. Whenever executives hired new employees, Julie Jones, vice president of brokerage sales, had to buy additional phones for the new hires' desks, and finding phones for a 25-year-old PBX was not easy. When she did, each cost as much as $500.
"We would usually go to eBay or Craigslist and try to buy them in bulk," says Jones, who oversees technology for Senior Security Benefits.
Plus, every time the company needed to add or move an extension, Jones had to schedule a contractor to come out to do the work.
To avoid the hassles, Senior Security Benefits switched to the Cisco Business Edition 4000, an in-house VoIP system. Jones loves that she can manage the new system and add extensions herself through Cisco's cloud-based management software.
"It's wonderful. I can do everything myself online," she says. "And when ­people move desks, they can literally take their phone and plug it in where they move to, and the extension moves with them."
Paychex Unifies Communications Applications to Save Time, Money
Cong chose Cisco tools for Paychex because the company supports OpenStack, an open-source environment that allows Paychex to customize Cisco's Unified Communication System. The IT staff integrated Salesforce, which lets the company's customer serv­ice and sales teams access customer data while interacting with customers. IT also integrated third-party email, text messaging, online chat and fax software on top of the Cisco system, providing customers different ways to reach out and communicate with the company.
Cong and his team began deploying the Cisco phone system two years ago, and the implementation is now largely complete. The new collaboration system runs in two in-house data centers for redundancy.
Cong chose to use Cisco's in-house management tool instead of cloud-based software because it gives the IT staff more control over which software version the company uses and it allows for custom configuration, which is necessary for Paychex's business model, he says.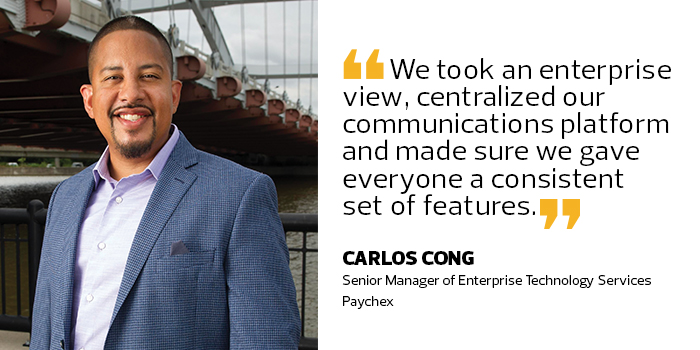 Paychex has reaped many benefits since switching phone systems, Cong says. The company saves money on internal communications because it can route all phone calls on the internal network and no longer needs to subscribe to a traditional phone service.
The technology also makes it easier for staff to telecommute and has ­bolstered business continuity now that customer service agents are centralized. If a natural disaster prevents employees from working, staff in a different region can take over and serve the company's clients, he says.
Most important, the collaboration system has enhanced customer service beyond voice calls. Customers and employees can now communicate via email, online chat or text messaging. 
Businesses Cut the Cord and Phone Bills
On-premises phone equipment makes sense for companies like Paychex that require a high degree of customization. But there is definitely a trend, particularly among smaller businesses, to adopt cloud-based VoIP, analysts say.
"There's a real cost benefit to getting rid of equipment," says GlobalData Principal Analyst Cindy Whelan.
For example, executives at Foot Levelers, which makes custom orthotics, recently replaced its old-school PBX with an all-cloud system from 8x8, a provider of cloud-based communications and customer engagement services.
Foot Levelers' 10-year-old system lacked modern features and was difficult to manage, says Mike Chittum, information security director for the Roanoke, Va.-based company.
"It made sense for us to not worry about management and the high expense of replacing it, and just move to a hosted system," Chittum says.
Foot Levelers started the 8x8 ­migration in September 2017 and was done by early October. Chittum purchased Polycom VVX 400 Series IP phones. He also upgraded internet speeds and configured the firewalls to prioritize voice traffic.
Since moving to 8x8, Foot Levelers has reduced its phone bill by $1,500 a month. It also saved up to $120,000 by not having to purchase a new in-house phone system.
Foot Levelers' employees take advantage of collaboration tools, including fax, calendar and conference call features. Through apps, users have the flexibility to make work calls on their computers or mobile phones. Overall, cloud-hosted VoIP is extremely stable, Chittum says.
"It's easier to manage, it costs less and it's more reliable," he says. 
Photography by Kate Melton
More On