Review: The HP ZBook x2 G4 Detachable Workstation Sports Performance and Durability
Power, mobility and elegance: This detachable tablet is ready for any business or creative task.
Processor and memory-intensive business programs such as Adobe Photoshop and Illustrator can drag many ­computers down to a crawl, or even crash them outright. Until now, there hasn't been much to do about it, other than buy a huge workstation and anchor it in a back-office cubical for general use.
The HP ZBook x2 G4 Detachable Workstation changes all that, turning a slate tablet into a workstation-class computer with portability benefits.
In its desktop configuration, the ZBook looks like a normal laptop. It has a brilliant, 14-inch 4K IPS touch screen capable of displaying more than 1 billion colors. It features an anti-glare coating, so it works well in both darkened and daylight environments. The detachable keyboard uses Bluetooth for instant connectivity and features 18 quick keys specifically designed to work with Adobe applications — a good indication of the kind of software HP had in mind for its beefy hardware.
SIGN UP: Get more news from the BizTech newsletter in your inbox every two weeks!
HP ZBook Delivers Consistent Performance and Solid Security
During my test, performance on the device never faltered, even with a punishing CAD program like Autodesk. The ZBook uses integrated Intel HD graphics for baseline applications and a dedicated NVIDIA chipset for 3D renderings. As such, it easily scores as high with benchmarking software as many large, tower format work- ­stations. A special dual-fan active-­cooling system compensates for the extra graphics hardware, keeping the system cool while holding the weight under ­4­ pounds when detached from the keyboard.
Beyond its obvious advantages as a presentation creation tool, the ZBook is also a full-fledged desktop running Microsoft Windows 10 Pro for Workstations as its operating system. That gives it access to built-in security features such as Windows Hello as a secondary login method and a dedicated security subsystem. HP has also added some of its own security features.
An 8-megapixel camera and powerful Bang & Olufsen dual stereo speakers round out a nice package of features that make the HP ZBook x2 a great tool for showing off presentations, as well as creating them.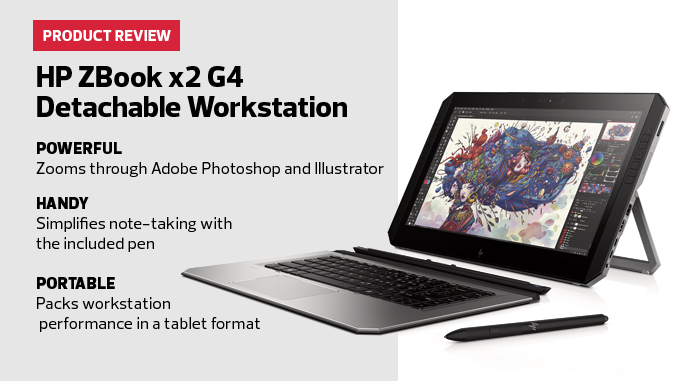 Rugged HP ZBook Conquers Harsh Environments and Tough Treatment
Not many businesspeople are likely planning to take their new HP ZBook x2 tablet into a war zone, but some of the environments their gear often visits — think airports, trains and trunks of cars — can be just as punishing.
The new HP ZBook x2 is designed to survive almost anywhere, even when tested against the most grueling standards. MIL-STD-810G, a battery of tests that the military uses to determine if electronic gear can be deployed to troops, examines everything from data loss due to shock (from dropping the unit, for instance) to how well the device handles exposure to sand, dust or blowing, wet wind. Many companies claim to have "durable" or "hardened" systems, but without 810G testing, those are just words.
The HP ZBook x2 is designed with a fully machined aluminum and die-cast magnesium body, which adds armor while keeping the weight low, at just 3.6 pounds. That's an important consideration, especially for shock testing, because more weight equals a heavier impact when dropped.
HP does not certify that its ZBook x2 will pass every MIL-SPEC test, but it hits all of the important ones a business traveler will likely encounter; namely, vibration when used in a vehicle, and shock if it takes a tumble down an unforgiving staircase or onto a concrete floor.
I dropped the ZBook x2 on all sides, onto 2 inches of plywood sitting over concrete, as dictated by the 810G specifications. It survived a drop of up to 3 feet with no notable damage and no data loss, through a sequence of 36 drops.
For vibration testing, I used a shaker table, leaving the ZBook operating while it vibrated within specification tolerances for two hours. At no time did the video file it was playing ever skip, and no data was found to be corrupted on the solid-state drive at the end of the test.
The HP ZBook x2 G4 Detachable Workstation is an amazing tool for mobile workers, but it's a larger investment in resources than many businesses are used to making. Given its cost, it's comforting to know that the ZBook is built to survive in adverse conditions, with military-grade testing to back up its durability claims. It could certainly survive where other, lesser devices fear to tread.
HP ZBook x2 G4 Detachable Workstation
Processor: Intel Core i7-7500U/2.7GHz
Hard Drive: 512GB SSD
Graphics: NVIDIA Quadro M620 2G GDDR5
Screen: 14-inch 4K IPS ­anti-glare touch screen
Memory: 16GB DDR4-2133 SDRAM
Weight: 3.6 pounds (4.8 pounds with keyboard)
HP