Manufacturing Companies Reinvent Themselves with Advanced Technology
An old-line legacy industry may seem an unlikely places for digital transformation, but they're embracing change.
When the networking infrastructure at Daimler Trucks North America's Western Star facility in Portland, Ore., was reaching its end of life a few years ago, the company's leadership decided it was time to make big changes.
"We wanted to invest in an infrastructure that would support modern connectivity solutions, including the Internet of Things, flexible work and automated production technologies that enhanced the capabilities of the existing workforce," says Susan Moote, DTNA's director of IT infrastructure.
The company deployed a suite of networking components, including Cisco Aironet access points and Cisco Unified Computing System servers, which include compute, switching fabric and management software. Now, employees can access human resources functionality at work, as well as key metrics and engineering collaboration tools.
The new infrastructure provides a base network that enables wireless and nonwireless solutions, more wireless LAN and LAN capacity to move data, and more security, Moote says. "Additionally, the design allows the introduction of software-defined networks and other automated deployment technologies that leverage a programmable infrastructure. With the expansion of the wireless capabilities, the plant has enabled the use of radio frequency identification for a number of logistics and plant production applications."
SIGN UP: Get more news from the BizTech newsletter in your inbox every two weeks!
Plus, the technology's modular design allows for expansion and reconfiguration as the company grows, and the enhanced connectivity lets employees use mobile devices, tablets and other wireless equipment on the factory floor.
Many companies are embracing digital transformation that, like DTNA's, allows employees to work remotely. In "The Modern Workplace Insight Report," Preston Harris, a CDW mobile field solution architect, writes: "Organizations are beginning to understand that workers expect the same type of connectivity at work that they enjoy in their personal lives. If employees are empowered with the freedom to work anywhere, anytime — and they're effective at it — that can't help but create a modern workplace that's better for everyone."
And for manufacturers, focusing on back-office technology to change daily processes is a key trend, according to Deloitte's Tech Trends 2018: "Though savvy organizations are approaching the digital mandate from a number of angles, one issue remains consistently ­important: the interconnectedness of front- and back-office systems."
DTNA is not alone among manufacturing companies that are transforming operations with advanced technology. IDC estimates that global spending on digital transformation will hit $1.7 trillion this year — a 42 percent increase from 2017.
By the end of next year, IDC predicts, three-fourths of large manufacturers worldwide will deploy IoT and analytics-based situational awareness; and by the end of 2020, half will start seeing business value from the integration of supply chain, plant operations, and product and service ­lifecycle management.
Benjamin Moses, technical director at the Association for Manufacturing Technology, says those goals are common in the manufacturing world, where everyone is looking to automate and collect data from machines: "Companies may start out small, but once they see the value of data, they can use it as a multiplier so they can add new projects."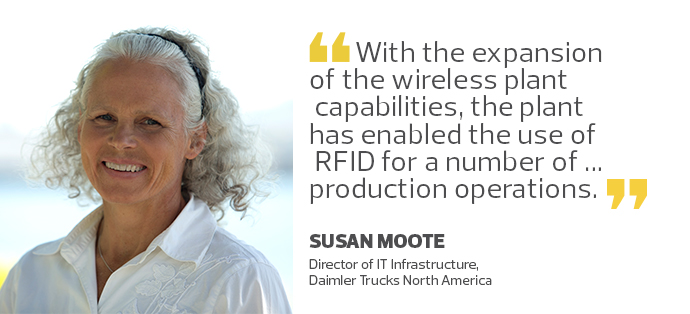 A Complete Digital Transformation Overhaul
John Peterson's first days on the job at automotive parts manufacturer AW North Carolina weren't easy. As general manager of IT, Peterson knew he was charged with implementing AWNC's new systems — he just didn't realize how much work lay ahead.
"Literally on my first day here, the phone system stopped working," says Peterson, who started his position in January 2016. "Within two months, about 15 percent of our servers failed or were in the process of failing. It became clear to me very quickly that there would be no way to put in enterprise-class systems that could support a $1 billion ­factory and the volume we do here."
Based in Durham, N.C., AWNC manufactures more than 650,000 automatic transmissions each year, yet until a few years ago it used Excel to track crucial information. Its digital transformation plans included new enterprise resource planning, manufacturing execution and inventory management systems, among other upgrades.
During the project, the AWNC team and a contractor installed a new Cisco ­network infrastructure with wireless access points, switches and controllers that cover more than 1 million square feet of factory floor.
At the time, AWNC tapped the cloud for its ERP and other applications. Those resources were moved back on-­premises during the first quarter of this year.
"We're finally able to get more timely information out of our equipment so maintenance and production can work more efficiently," Peterson says. "We're also reducing overtime. Everything improves when you have access to data because parts show up when they need to, and that keeps the line flowing."
Hard cost savings for the upgrades exceeded $1 million: $655,000 in cost avoidance and $400,000 in cost reductions, he says.

Revamped Call Center Saves Money, Frees Up Staff
Bob Barker Company, a ­manufacturer and supplier of products to correctional facilities, is a good example of the start-small approach. The company recently was able to leverage a small pilot into a big-bang project for the company: a digital transformation designed to bolster its call center, which processes more than 60 percent of its orders, and the internal phone and communication systems for its back-office and management teams.
The company looked at several options but decided on a hybrid cloud strategy. Today, it runs about 30 ­servers in a private cloud configuration and uses Skype for Business via Microsoft Surface tablets.
Its call ­center application, native to Skype for Business, adds performance insight for managers and flexibility for workers, says IT Director Dan Callari.
"We have much better visibility into the performance of the call center," Callari says, noting that the company now receives real-time reporting. "And working from home is a much easier process now. It used to be manual, but now you can work from anywhere, with no additional effort. Our old solution required a hard phone versus a soft phone configuration that had to be manually switched over."
Perhaps the greatest win has been the savings realized in moving away from the company's old private branch exchange system. The new infrastructure helped the company save $200,000 per year and also freed staff to perform other tasks. An employee who used to spend more than 20 hours maintaining the communication system is now dedicated to cybersecurity.
"Especially in manufacturing, where there is low margin and IT is looked at as a cost center, we were able to get high value and cost savings," Callari says. Such careful planning and forward thinking helps companies in all industries succeed, according to Deloitte: "Creating a new technology core is neither a marathon nor a sprint — rather, it's a series of sprints toward an overall destination."
Courtesy of Daimler Trucks North America