Review: Firebox T15-W Offers Enterprise Security at a Friendly Price Point
The Firebox comes packed with security protections usually found only in high-end appliances used in large companies.
Phishing emails, malicious attachments, websites with hidden payloads and unauthorized users attempting to bypass security are a few of the many vectors that spread viruses, malware and ransomware. WatchGuard designed its Firebox T15-W security appliance specifically to block such infection routes.
Combining the functionality of a ­firewall with wireless routing capabilities, the affordable Firebox includes a 400-megabit-per-­second firewall, ­anti-virus and anti-malware scanning, intrusion protection, unified threat management (UTM) and 120Mbps VPN capability — the same technology WatchGuard makes available in its larger, enterprise appliances.
While the price range is in line with basic 802.11 wireless routers that include some firewall capabilities, rather than being based on the Linux operating system and open-source firewalls, the Firebox uses WatchGuard's proprietary, hardened OS. The result? It offers the same levels of security and updates as the company's M670 firewall, which can support hundreds of users.
SIGN UP: Get more news from the BizTech newsletter in your inbox every two weeks!
Block Malware and Malicious Web and Email Traffic 
The Firebox also features stateful packet inspection, which explores the contents of each packet and can find malware even when hidden in otherwise benign traffic. UTM combines the ability to stop downloads of viruses, rootkits, Trojans and other malware with web filtering (to block questionable websites) and email filtering (to spot phishing attempts, malware in attachments, and outgoing email that might contain malware or confidential company data).
Having all these features in one control panel makes it easier for the IT team to ensure that security settings are up to date and configured correctly.
The VPN software supports several standards, ensuring virtually any device connected to the internet from outside the company network will be able to securely access corporate data without being intercepted.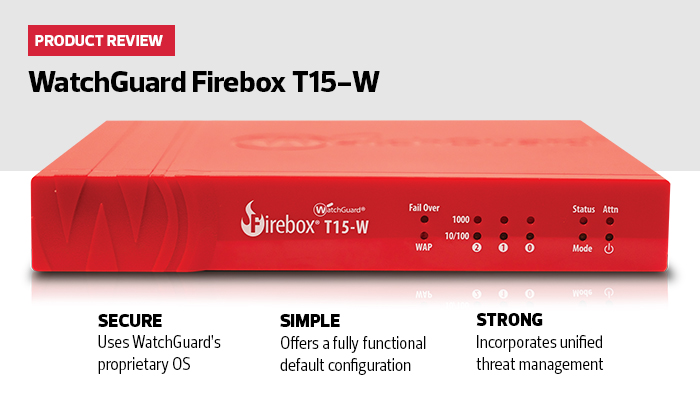 IT Teams Have a Simple Setup
Unlike some enterprise-class firewalls, the Firebox is easy to set up, and the default configuration can be used without the need to review and set each filter. Yet the appliance's software also offers the flexibility to connect to sophisticated corporate VPNs, block a disparate range of inappropriate content and meet other, more complex security needs.
WatchGuard offers management and configuration tools that let a central office order and preconfigure Firebox appliances for remote or home offices, allowing everyone in an organization to have enterprise-class security without the additional support that might otherwise be required.
The Firebox's UTM Advantage
Most basic firewalls will keep intruders outside a network from reaching the system's inner core. But the need for users to communicate with websites, Voice over IP, videoconferencing systems, email providers and other outside services complicates how businesses deploy and use firewalls. Each type of communication, after all, has the potential to carry malicious payloads into a network.
The WatchGuard Firebox T15-W security appliance not only blocks outside users from entering a network, but also applies unified threat management to monitor network traffic and block malicious email attachments, phishing attempts, counterfeit services that appear legitimate and other questionable content.
The security system is more complete than most comparably priced wireless routers, and also more flexible. A company can block websites based on content, as well as control incoming and outgoing email attachments.
UTM also eases security management by allowing IT teams to centralize configuration; Firebox appliances at remote locations can then automatically update their UTM settings via the cloud.
WatchGuard Firebox T15-W
Wi-Fi Bands: 2.4GHz, 5GHz
Connectivity: 802.11a/b/g/n/ac
Encryption: 128- and 256-bit AES, DES
Key Management: IKE, RSAD
Ports: 2Gb Ethernet LAN, 1Gb Ethernet WAN
Dimensions: 7.2x2x12.6 inches
Weight: 3.1 pounds
Watchguard