NRF: Samsung Puts a New Spin on Retail with Pop-Up Store
The connected store can be configured in different ways and rented by the week.
The physical retail store isn't dead. It's just being reimagined.
The retail store is changing, as brands outfit their physical spaces with Internet of Things sensors to collect data that can be analyzed and acted upon. That was a key theme of this week's NRF 2018: Retail's Big Show in New York City. And Samsung is getting in on the action with a new pop-up, connected and modular retail store concept.
Earlier this week Samsung announced an all-in-one pop-up store solution that gives brick-and-mortar retailers a flexible platform outfitted with sensors.
The stores can be set up in different configurations and rented for a weekly fee. They are outfitted not just with Samsung displays and tablets for point of sale, but also cameras and sensors that track customer activity and can alert sales associates. For small and medium-sized retailers that want to set up a store for a seasonal retail opportunity or product launch, the store can serve as a cost-effective means to do so.
SIGN UP: Get more news from the BizTech newsletter in your inbox every two weeks!
A Modular, Connected Retail Experience
The stores are run under a "Retail as a Service" approach, which allows retailers to rent the pop-up stores by the week. The stores can be built in small, medium or large configurations.
The pop-up stores have several modular pieces, including a large, touchscreen display that is set into a countertop, as well as displays that can be set up vertically next to products. Customers can use a vertical touchscreen display to get product information and make selections, which can then send alerts to sales representatives to bring out products to customers that may not be on display.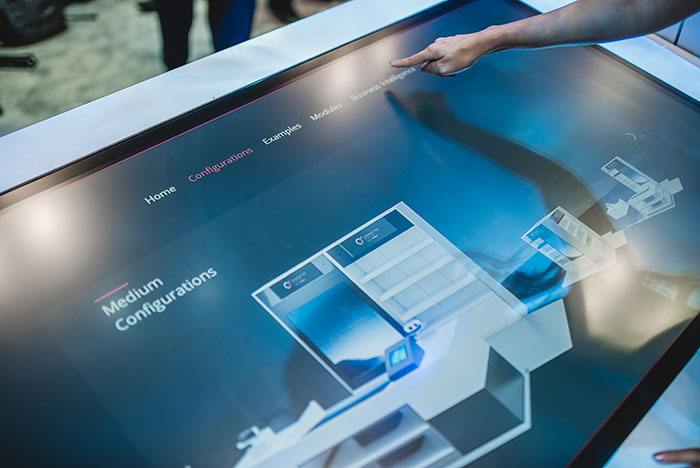 Retailers can choose different pop-up store configurations and rent the stores for a flat fee per week. Photo courtesy of Samsung. 
The stores provide retailers with data and insight on customer behavior — including customer foot traffic, dwell time and demographics (age and gender) — that can be measured for specific times and areas in a store, including via tiny cameras mounted into the retail displays.
This data allows retailers to better understand the customer journey from the time they enter the store to when they make a purchase, Samsung says. They can then use the data to inform their pop-up store layout, product placement, staff scheduling and inventory management, the company says.
The pop-up store solution uses Samsung Nexshop software, which is the company's cloud-based digital store platform with real-time behavioral sensing. Additionally, it makes use of internet cameras and Samsung tablets.
"Bringing digital best practices to in-store environments enables retailers to shed light on data darkness and create a model for smarter business decisions," Ian Son, senior vice president of the mobile B2B division at Samsung Electronics America, says in a statement.
Samsung is partnering with shopper conversion specialist Barrows on the concept. Retailers can provide their own videos and content to be displayed on the screens or Barrows can help them build such content, says Steffen Schenk, the company's business unit director.
Barrows also can help retailers with location scouting, logistics and fulfillment. So far, the companies do not have any confirmed, public customers, but Schenk says there is strong interest from malls, which could install pop-up stores and then rotate in different retailers.
For our full array of articles and videos from the conference, check out BizTech's coverage of NRF 2018 conference here.
Courtesy of Samsung