Review: The Toshiba Portégé X20W Notebook Is a Versatile Travel Companion
Among its many benefits, the Portégé's dual-factor authentication, in the form of a fingerprint reader and facial recognition technology, makes it ideal for the security-minded road warrior.
The Toshiba Portégé X20W notebook offers business travelers the power to perform tasks on the road without adding heft to their carry-ons. That benefit would be enough for most business travelers, but the X20W offers a lot more.
One key differentiator is the sturdy 360-degee, dual-action hinge. By pushing the display backward, the screen can be locked down on the back of the keyboard, creating a slate-type tablet.
Besides these laptop and tablet modes, the Portégé comes preconfigured to operate in tabletop and presentation mode, or to flip its display upside down, so that someone on the opposite side can view the screen's content.
Toshiba also enhanced the Portégé's display, a 12.5-inch multitouch LED configured in a 16:9 widescreen format. With 2 million pixels and Full HD 1920x1080 native resolution, everything on screen looks sharp. Product testing revealed highly accurate colors that were within 2 percent of true, their accuracy unaffected by the Corning Gorilla Glass 4 composite that protects the clear part of the display.
Formidable Security via Multifactor Authentication 
Toshiba has packed a lot of security into this notebook. Out of the box, the Portégé offers both a fingerprint reader and facial recognition technology — dual-factor authentication that can easily prevent unauthorized access. But when coupled with traditional password protection, it supports true multifactor authentication that is quick to set up and easy to maintain. The X20W's Trusted Platform Module chip also ensures that each time the system boots, no internal components have been compromised.
My review model had an Intel Core i5 processor, but some models offer i7 chips. Backed by 8 gigabytes of speedy LP DDR3 SDRAM, there is not much in the way of programs or apps that the Portégé notebook can't handle.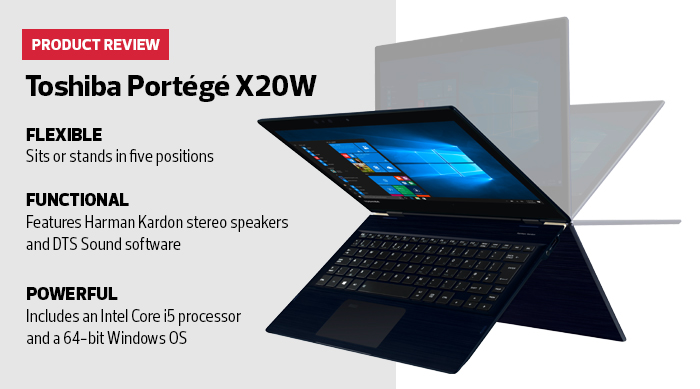 Additional performance is gained through the inclusion of a solid-state drive, keeping disk read-and-write delays to a minimum. Even the Portégé's ports are fast, with a brand-new, USB-C ready to drive a second screen, charge devices or handle Thunderbolt 3 peripheral connections.
Instead of lugging a fleet of portable notebooks and devices for different functions, business travelers could instead save their strength, money and time by choosing a single Toshiba Portégé X20W, configuring it as needed for the task at hand — even for tasks that are continuously changing.
Toshiba Makes Writing on Screen Feel Natural 
Although most tablets let users write notes on their touch screens, mimicking the feel and nuance of a pencil on paper has, to date, been less than perfect. Toshiba looks to change that with its Portégé X20W multiconfigurable notebook. Each X20W comes with an exclusive TruPen peripheral that uses new digital ink technologies by Wacom.
The Toshiba TruPen looks like a typical fountain pen. The tip feels like a felt-tipped pen to the touch, though of course there is no ink. A tiny AAAA battery, inserted by unscrewing the pen cap, powers the pen. And no, that is not a typo, it's a quadruple-A battery. Thankfully, a single battery is included, which is good because they aren't easily found in stores.
When the pen is in use, a feature called Toshiba Digital Ink Assist will disable the keyboard so a writer doesn't accidentally type characters; the keyboard can be left active if desired.
Amazingly, the combination of the realistic pen and the Wacom Feel technology makes writing or drawing on the screen feel natural. The pen can recognize 2,048 levels of pressure and renders line thickness accordingly. When taking notes, emphasis can be added to certain areas, just as on paper.
This function opens the Portégé X20W for design work and artistic endeavors. I found sketching out storyboards for a hypothetical marketing campaign surprisingly easy, as was taking notes above a diagram of a car part. Once complete, notes or graphics created with the pen can be saved electronically, or printed and shared.
The Toshiba Portégé X20W's innovative pen and ink technology adds yet another dimension to this jack-of-all-trades notebook. Not everyone will want to use their X20W to take notes or draw, but for those who do, they will be hard-pressed to find a worthier challenger to the standard pen and paper.
Toshiba Portégé X20W
Processor: 2.5GHz Intel Core i5 7200U
Memory: 8GB LPDDR3
Hard Drive: 256GB solid-state drive
Connectivity: IEEE 802.11a/b/g/n/ac, Bluetooth
Ports: HDMI, USB 3.0, USB-C
Dimensions: 8.6x11.8x0.6 inches
Weight: 2.43 pounds
Toshiba