Utility Company Future-Proofs Its Infrastructure for Growth
With data amassing at a breakneck pace, Hydromax USA rebuilds its core storage environment.
There's Big Data, and then there's really Big Data. It was the latter that prompted Hydromax USA to scrap its elderly, maxed-out data center and replace it with two data centers capable of handling the company's aggressive growth.
Based in Chandler, Ind., Hydromax USA is a professional services firm that helps utility companies and contractors locate and assess the condition of underground water, sewer and natural gas infrastructure.
For example, using satellite technologies originally developed to find water on other planets, Hydromax USA can scour thousands of square kilometers for leaks and then pinpoint the location of each within an area the size of a tennis court. The company also uses sonar and remote cameras to assess the condition of sewer systems.
That level of scrutiny generates a lot of data. In fact, that's the takeaway of this story: Companies in other verticals that store and analyze tens of terabytes of video, images and other media (whether X-rays or archived videoconferences) can learn from the way Hydromax USA stocked its new data centers.
Upgrade Tech to Meet Capacity Needs 
Between the time Hydromax USA was founded in 2003 and 2014, it relied on a single Dell server: initially, a PowerEdge 1900, later swapped for a 2950.
When Nick Schapker was hired as system administrator in October 2014, the company had replaced the 2950 with an R510 and implemented a 25TB Dell PowerVault MD1000 storage array.
"Hydromax was very near 100 percent capacity," Schapker says. "They were unable to pursue additional projects or customers due to lack of storage space."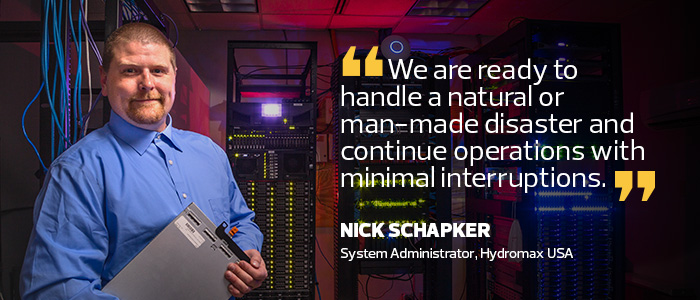 The company bought some time with a few secondhand servers and storage devices purchased via eBay.
"We attempted to build very cheap commodity storage using technology that was already phased out of use in most environments," he says. "It became clear to ownership that the cost to get and maintain this older technology, with its modest performance gains, was just not sustainable."
Hydromax USA had spent little on the core infrastructure, Schapker says. "In 2015, we invested the most the company had ever spent on storage and compute resources, about $10,000, to prove to ownership that this was sorely needed."
Yet even the expansion — from 25TB of capacity to 60TB — couldn't match the need, he says. "The capacity expansion gave the company a huge growth potential, which was utilized in the same year, resulting in the biggest year to date for the company."
During that time, the company's IT burden wasn't the only part of the business that was growing. Gross revenue doubled, illustrating the relationship between the company's bottom line and its data center capabilities. It also highlights why Hydromax USA needed major upgrades ASAP.
Easily Manage Data Pools
To be able to centrally manage its data pool, Hydromax USA decided to implement the EMC Isilon network-attached storage for video storage and the EMC VNXe storage area network to support the virtual machine workload.
"Scale-out NAS is a good fit for large amounts of video. It makes it easy to manage if it can be one pool," says Dan Lah, a data center solution architect at CDW, which helped Hydromax USA plan and implement the upgrade.
Unlike a traditional SAN, technicians don't need to manage a redundant array of independent disks or logical unit numbers, Lah explains. Plus, future refreshes are fairly easy.
"As you add nodes to the cluster, and some other nodes get 3 to 5 years old and ready to retire, you just push a ­button," he says. "The data evacuates automatically from the old node, and you can just pull them out. So you have a constant, rolling refresh cycle, so to speak, and avoid future data migrations."
Set Up New Data Center Infrastructure 
The day the new EMC gear showed up at the Louisville, Ky., data center — along with APC racks and UPSs, and Dell ­servers and switches — "was like Christmas morning," Schapker says.

"You have these racks and boxes that you really want to get into and put to work."
After seeding the data, Schapker and his IT team spent the next four months working with CDW architects to test the equipment. They then divided out one rack's worth of data for shipment to the company's second, new data center. The team spent a weekend breaking the clusters apart and moving them.
"Moving the rack to a new location involved setting up a completely new infrastructure in that office," he recalls. "These were completely new compute, storage, networking and Active Directory environments."
Through the course of the project, Hydromax USA migrated about 82TB of data. The company now has the scalability to maintain continued aggressive growth.
"By adding these storage and compute resources, we are able to support the growing needs of the company," Schapker says. "It also allowed the company itself to pursue larger customers and contracts — and to really expand in our market space."
Patrick Cavan Brown