Review: Epson's 1460Ui Is a Multitasking Projector That's Ideal for Small Business
The latest BrightLink Pro combines innovative collaboration, projection, conferencing and sharing tools.
Many conference rooms have either a projector or large monitor for presentations and a whiteboard for scribbling notes. But rarely are these boardroom staples combined to create the ultimate in meeting support.
The Epson BrightLink Pro 1460Ui projector does that, plus a lot more, transforming even small conference rooms into cutting-edge workspaces for collaboration and presentations.
The large, 20-pound unit is designed to be mounted on the wall just above a presentation area. Its short-throw technology means that it can sit over a whiteboard, screen or any flat surface like a standard white wall, onto which it then can project stunning images. The user can adjust the viewable area as needed. For this review, I created a massive 100-inch screen (the maximum size) along an 8-foot stretch of bare wall.
Not only can the BrightLink project a big image from multiple sources, like a standard projector, it also can turn the presentation surface into a touch screen.
Drawing Makes Presentations More Interactive 
The unit comes with two stylus pens for drawing on the screen. The projector adds lines in whatever color you choose as you draw on the projected image or blank screen. From a distance, you almost can't tell that the entire presentation isn't really being drawn on the wall. (As a bonus, the projector's motion capture lenses let you can toss the pens if you prefer to draw with your fingers.)
Once finished, created images can be saved and emailed or sent to a printer at the touch of a button.
Epson uses 3LCD technology to drive the BrightLink Pro: Light is first split into red, green and blue, then passes through a single-color filter for purifying and finally recombines in a dichroic prism to build a pure image. On visual benchmark testing, every image displayed within 1 percent of its true color.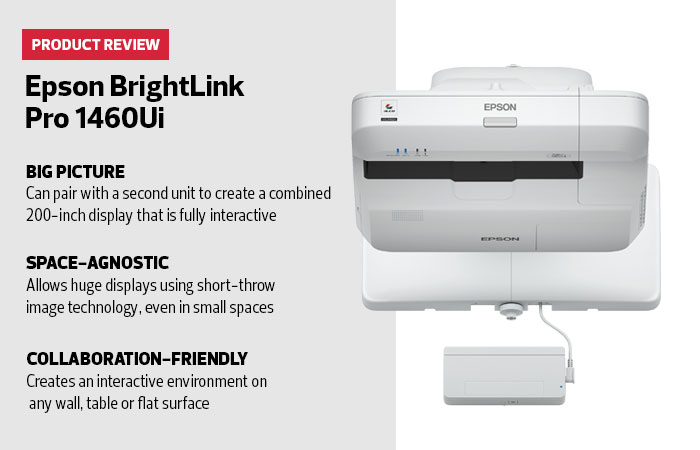 With projectors, a larger display size generally equates to reduced brightness, but the BrightLink Pro's short-throw image technology avoids this common pitfall. I recorded maximum lumens of more than 4,000 for both blank white screens and those splashed with color. That means the BrightLink Pro works well in conference rooms without having to dim the lights, even at large screen sizes.
The projector's useful tools and accurate, large display sizes should earn it a seat as an impressive centerpiece in any modern boardroom.
Epson's BrightLink Pro 1460Ui Connects to Smartphones with Ease 
Used as an interactive whiteboard, the Epson BrightLink Pro 1460Ui projector is a perfect tool for presentations and collaboration. Used as a projector with a 100-inch display, it makes any presentation really pop. But the BrightLink is designed to do even more, seamlessly interacting with many other office tools.
Smartphones are ubiquitous in business today, especially given the popularity of BYOD programs. Because of this, Epson designed the BrightLink Pro to interface with any iOS or Android device. It's easy to do: Just install the iProjection app, which can be found at epson.com/iprojection or in the Apple and Google app stores.
I installed iProjection on an Android phone in a few seconds. From there, I simply selected my test projector unit and began sharing content from the phone.
The app supports wireless streaming directly from the phone and beautifully enlarges video and presentations to about 50 times their size. I also could draw on the projected image by annotating presentations from the phone without having to walk up to the screen.
As with local presentations, those run through the projector from a phone can be saved, sent to a printer or shared using email once complete.
Epson Enables Presentations from Multiple Sources 
Connecting a laptop is even easier, as Epson includes a USB port, plus several other connection options, on the remote control pad. I even plugged a flash drive into the included port and made a presentation right from that, drawing on stored images during a meeting and resaving them — including collaborative edits — once finished.
Finally, the BrightLink Pro 1460Ui projector let me split the screen with the touch of a button. I could then designate different inputs for the two halves. Pointing one to a videoconferencing setup, while the other displayed images from a laptop, turned my wall into a collaborative workspace that could be shared with others around the world.
The 1460Ui not only acts as a cutting-edge presentation tool and large-display projector, it also has a lot of built-in flexibility that should enable it to tackle multiple conference room roles as needed or replace other aging equipment that performs similar functions.
Epson BrightLink Pro 1460Ui
Projector Type: LCD with 3LCD chip technology
Maximum Lumens: 4,400
Native Resolution: 1920x1200 (WUXGA)
Aspect Ratio: 16:10
Contrast Ratio: 16,000:1
Dimensions: 18.7x17.6x6.3 inches
Weight: 20.1 pounds
Epson
More On