What Is Hyperconvergence: Adopting A New Infrastructure in Small Business
SMBs can do more with less using converged infrastructure.
When IT leaders at small and medium-sized businesses hear the term converged infrastructure, they might initially think the technology is suitable for companies with big data centers. But even small IT shops can enjoy the large benefits of hyperconvergence.
What is Hyperconvergence?
The word hyperconvergence comes from a combination of hypervisor and convergence. Hyperconvergence tightly integrates compute, storage, networking and virtualization into a single box managed through a common interface. These flexible building blocks replace the legacy infrastructure stacks of servers, storage arrays and storage networks.
Hyperconverged infrastructure (HCI) can deliver reduced complexity and cost, improved operational efficiency, increased agility, faster deployment, greater scalability and streamlined disaster recovery. Given those benefits, hyperconvergence can serve a very real role in an SMB because it lets even a one-person IT department invest in the whole stack, one bite at a time.
Hyperconvergence Gives Small Businesses an Operational Edge
With several vendors providing hyper­converged systems, obtaining a modern enterprise-grade infrastructure at an affordable cost is a great idea for companies of all sizes. With an entry-level HCI available for about $25,000, the technology is now accessible to SMBs.
While SMBs operate on a smaller scale than large corporations — and some may have equipment closets rather than data centers — they share many of the same IT needs. Chief among them is a desire to reduce the cost of purchasing, installing and maintaining infrastructure.
SMBs also face unique challenges such as complexity, lack of specialized IT skills and tight budgets. Deploying an HCI can address these problems. Easing IT administration frees up staff to focus on activities that add business value.
Reducing vendors eases procurement management and oversight. And streamlining equipment reduces total cost of ownership and conserves power, cooling and physical space — benefits that can impact companies with tight margins.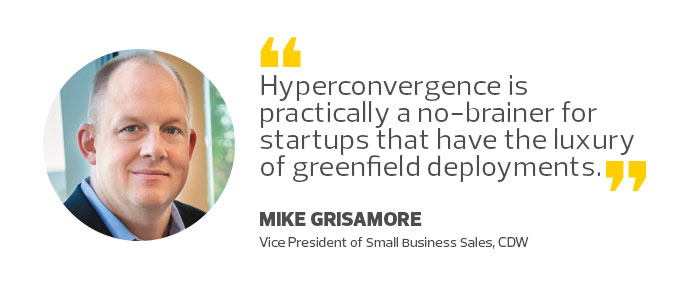 About now, you might be thinking, maybe the cloud is a better choice. And it could be. But again a business needs to look at its specific demands.
Both approaches ease the burden on the IT staff and both are nearly transparent to users.
In an industry where a business deals with heavy compliance requirements, an HCI gives it complete control of all necessary data at a moment's notice, which might not be the case (or could be pricier) with a cloud provider.
On the flip side, if a business has peak usage periods but also valleys when systems sit idle, cloud might be preferred as the company can pay only for what it needs when it needs it with cloud.
Still another consideration is staffing: HCI is less complex than running a traditional data center but requires trained staff. The cloud lets a business hand some (even the bulk of) day-to-day IT support to a cloud provider.
The Factors to Consider When Adopting a Hyperconverged Infrastructure (HCI)
Experts say the gauge isn't so much the number of virtual machines running in an organization, but a matter of apps, workflow and goals.
Some users have a handful of VMs in their environments but seek high availability for mission-critical systems that run the business.
Techaisle recommends hyperconvergence for two types of SMBs: those launching specialized projects that require virtualization and companies that require a hardware refresh.
Of course, hyperconvergence is practically a no-brainer for startups that have the luxury of greenfield deployments. It also makes sense for remote and branch offices.
Companies seeking a high degree of ease of use should consider an HCI, as should those that expect to quickly grow because they can add hyperconverged blocks as needed.
With a few hyperconvergence vendors now focused on SMBs, solutions are available for nearly every budget. Businesses that don't think they can afford to make the capital investment in the technology might want to ask about leasing and financing options.
IT chiefs at smaller companies owe it to themselves to at least explore hyperconvergence as a possible path that will allow growth without overburdening the IT team.
diego_cervo/Thinkstock