Real-World Benefits of Hyperconverged Infrastructure
Moving to converged infrastructure allowed three businesses to ease management, kick up performance and set the stage for expansion.
The storage area network just wasn't cutting it for Agropur, US Operations.
"Cost and performance were big concerns," says IT Supervisor Caleb Holmstrom, recalling conversations the IT team for the dairy processor had two years ago when it began rethinking its storage environment. "We wanted to get away from the SAN we were using because it was a single system chunk that you had to carve out LUNs. The technology wasn't keeping pace with our needs. We needed something more cost-efficient and that had better redundancy."
At the time, Agropur had a SAN with two direct-attached storage arrays using serial and iSCSI connections. Simply adding more arrays wasn't a long-term fix.
"We temporarily added more arrays before looking for a long-term solution," says Holmstrom, who works at the cooperative's facility in La Crosse, Wis. (The North American dairy processor Agropur Cooperative, headquartered in Canada, began its expansion into the United States about eight years ago.)
He started evaluating vendors and technology, looking at hyperconverged infrastructure options. "We looked at appliances, but we realized pretty quickly that the prices we were getting didn't include connectivity to the virtual infrastructure."
In addition, an appliance "would still be one piece of equipment that could fail," Holmstrom says. "Yes, you have two power supplies and two controllers, but it's still one piece of equipment."
After careful consideration, the Agropur team decided a hyperconverged infrastructure based on software-defined shared storage was the best approach. The system Holmstrom installed takes advantage of VMware's vSAN technology and Supermicro 4U single processor servers. After ­implementation in early 2015, the company immediately saw benefits, he says.
"We have three servers with all the resources clustered together. This allows for better redundancy, and it was just cheaper — now and in the future," Holmstrom says. "If we run out of space, if it gets too big, all we have to do is buy another server or some hard drives."
The use of hyperconverged infrastructure is growing quickly. In fact, according to Gartner, deployments are expected to skyrocket by 79 percent this year, based on nearly $2 billion in sales. The technology joins other centralized storage offerings (such as software-defined storage, or SDS, and network-attached storage) as the preferred paths to improving data management, allowing access by multiple users and servers, and ­bolstering both security and availability.
These benefits led Nelson Carreira, director of servers and desktops at St. John's Riverside Hospital in Yonkers, N.Y., to consider centralized storage.
Earlier this year, Carreira realized he needed to do something with the organization's storage infrastructure because it often ran low on resources. This significantly affected the end-user experience for the hospital's employees and contractors, he says. In addition, nightly backups were taking far too long and eating up too many resources, he says.
"We had close to 200 virtual machines running, and we were really stretched. We couldn't take on another VM because our performance was really bad," Carreira says. "We were running into situations where Citrix was overextended and our end-user experience was not where it should have been."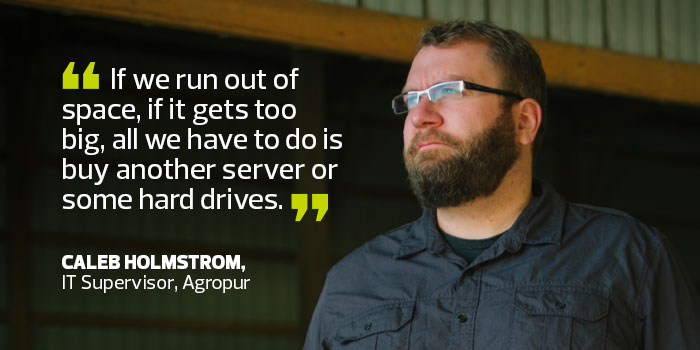 For instance, if nurses needed to access patient medical records or order lab work, they might have to wait a few moments for the applications to load. Even something as simple as new hospital registrations were slow.
"You can't have someone come into the hospital and have to sit there and wait. Frustrations were through the roof," Carreira says.
Improve Performance and Reduce Servers
Carreira and his team of 15 started looking at possible options. They knew they wanted a new environment with a growth factor of at least 40 percent, and they needed a new backup solution too.
About two years ago, St. John's Riverside implemented five SimpliVity OmniCube CN-3000 appliances running VMware vCenter. Then this fall, the hospital added two more CN-3000s as well as two CN-3400 OmniCubes. Two of the CN-3000s support disaster recovery.
The SDS migration has allowed Carreira's team to take the data center from five racks to two, improving performance, making backups easier and faster, and increasing the number of VMs to 250 without a single issue.
"It immediately gave us much more flexibility, and the manageability is huge," Carreira says. "It's really just me and one other person managing our storage. Now, we don't have to do SAN management anymore. Every­thing is done in vCenter, so it's seamless on one pane of glass."
While hyperconverged and SDS storage vendors tout the very real benefits of the technologies, next-generation storage may not be for everyone. There are other offerings that could work just as well or better, depending on the needs of the business. The best thing to do is ask questions to make sure that any changes will help the organization move into the future, says Scott Sinclair, senior analyst for the Enterprise Strategy Group.
For instance, network speed is crucial for any organization that chooses a next-generation storage offering. That's because high-speed interconnects are required to keep latency between the hyperconnected storage nodes down. The more nodes added, the more interconnects the infrastructure will require.
Managing a New Environment
The IT team will also have to think about management, Sinclair adds. How easy is it to run the new environment?
That's one of the things that Jim Shuler, IT director for Class LTD in Columbus, Kan., worried about when he was looking at new storage options.
Shuler manages several databases, including a "fairly large one" that houses client information for the nonprofit, which provides services to people with intellectural and developmental disabilities. He needed an approach that would increase uptime without adding much complexity or additional management for his two-person IT team. For instance, if the system did go down, Shuler wanted to be able to restore it immediately and without any hassle.
"In the past, we had services offline for as long as two days," he explains. "While we didn't go down often, when you're providing critical services to those with developmental disabilities, even an hour or two is too much."
Last year, the organization brought in a Nutanix NX-3000 hyperconverged appliance, which has transformed the way Class can serve its clients — more than 400 children and adults.
"One major benefit has definitely been an increase in efficiency," Shuler says. "If we want to put in new software or do upgrades, it's a lot easier than having to purchase a new server or move things around to make space. Now, we can make changes in a matter of minutes, rather than hours, and do it in a virtual environment."
Once a business makes the decision to move to a next-generation storage implementation, it can seem daunting. After all, there are 19 vendors on this year's Gartner Magic Quadrant for Integrated Systems, and there are plenty of smaller vendors to choose from as well.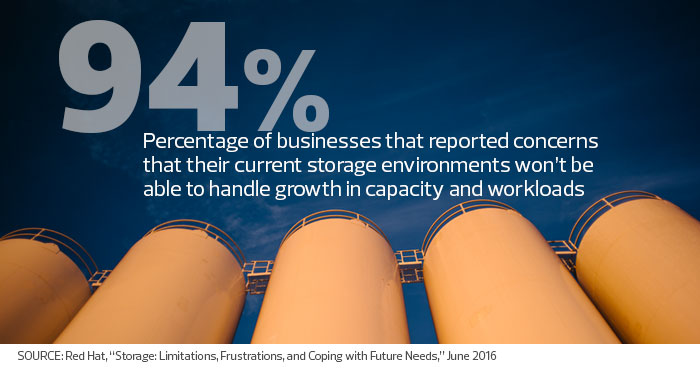 How should an organization choose which product to install, and which one will be the easiest to implement and manage? It's a complex question, and not something to take lightly.
Riverside Hospital's Carreira says his team evaluated four vendors before choosing SimpliVity. Meanwhile, Mike Martell of The Dingley Press learned the hard way that even if a business makes a decision it likes, it may be forced to make another one.
His Lisbon, Maine, company, which prints and mails more than 15 million catalogs every week, was happy with the 6-terabyte SSD-based hybrid array it installed a few years ago. Unfortunately, the vendor went out of business.
"We were left with a wonderful storage system that was very fast, but was an orphan," Martell says.
There's a lesson here. The storage solution chosen should have less to do with the latest and greatest offering available and more to do with how confident the IT team is that its vendor or integrator will be around for the long haul.
Storage with Staying Power
The final important elements: The organization's long-term goals, and how it views and uses IT, says ESG's Sinclair.
"This goes back to: How do you choose what's right? Part of that is figuring out who you are as an IT organization. When we have conversations about hyperconverged, some people love it. They say they don't have to manage storage anymore. A box comes in, they deploy and forget it," Sinclair says. "Some don't like it because they say, 'We know what we are doing. We just want SDS. We'll find the cheapest and most efficient hardware architecture.' They are both solving the exact same problem, but they choose different paths based on the dynamics of their organization."
Darren Hauck