For the Houston Astros and Small Businesses Alike, Power Management Is Critical
When lightning strikes, tornadoes hit or a flood takes out the power grid, uninterruptible power supplies keep your IT safe.
When the Houston Astros take the field, they've got a lot more than a strong bench and a solid bullpen behind them. The organization employs more than 450 full-time workers, plus another 1,500 part-timers when the season is in full swing.
Like any other small to medium-sized business, it runs on technology. In fact, the Astros have three data centers at Minute Maid Park: one to operate the ballpark's big screen, another to run the stadium's surveillance system, and a third for day-to-day operations — some 200 servers in all. There are also another 550 Wi-Fi access points spread throughout the stands.
If the power suddenly drops, it's lights out — ­literally. And with electricity supplied directly from the public grid, this is something the front-office staff is all too familiar with.
"Outages happen more frequently than I like to think about," Astros CIO Chris Hanz says. "But anything more than zero is too often."
When record floods swamped southeast Texas in April 2016, power was cut across Houston, including at the stadium. Fortunately, the Astros had a trio of strong-armed relievers to save the day — uninterruptible power supplies from APC, Eaton and Tripp Lite, which provided emergency backup power until the team's generators kicked in.
"That was the only unplanned outage we've had in the year I've been with the Astros," Hanz says. "Hurricanes are usually our cup of tea in Houston. We saw lots of data center issues around Ike and Katrina."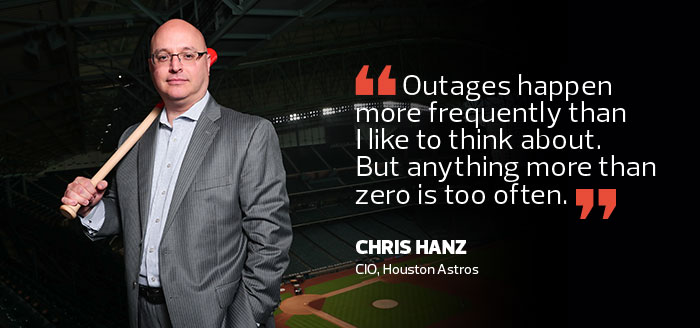 Without battery backup, he adds, the damage from a sudden loss of power could be catastrophic.
"Obviously, expensive computer electronics do not like to lose power ungracefully," Hanz says. "It can shorten the life of the equipment and, in the event of a significant power issue, can cost hundreds of thousands of dollars to replace or repair, not to mention the business productivity loss."
The ability to avoid damaged hardware, corrupted data or lost revenues more than offsets the initial cost of UPSs for small organizations, says Lucas Beran, research analyst at IHS Markit.
"Just like large data centers, small businesses host critical applications on PCs and servers," he says. "While a UPS can be a large upfront investment, the return can be realized in as few as two or three instances of unreliable power."
Keep Data Centers Running Amid Stormy Weather 
The U.S. Signal Service knew what it was doing when it put a weather observation platform at Mount Washington, N.H., 147 years ago. At 6,288 feet above sea level, the highest summit in the northeastern United States enjoys some of the most extreme weather to be found anywhere.
Whether caused by wind, blizzards or lightning strikes, power outages happen several times each week. But the weather doesn't take days off, so neither can the observatory. That's why, in addition to two backup generators, the nonprofit Mount Washington Observatory employs a UPS from Eaton to keep the juice flowing to its data center, IT Manager Peter Gagne says.
"When lightning strikes, it sounds like a plane hit the building," Gagne says. "The observatory is built to withstand anything you can throw at it, but that's still a lot closer than you want to be to lightning."
There's always some lag between the power going out and the generators coming online, which is where the Eaton 9355 UPS comes in. It can keep the observatory's sole physical server operating for up to 90 minutes, though it rarely has to run longer than five minutes before the generators kick in.
And if the batteries didn't work? "It would be a catastrophe," Gagne says. "Windows servers do not like to be shut down cold. We have data coming in constantly from a multitude of instruments — a dozen or so on the summit, plus another 19 remote stations. The database can get corrupted if the server is suddenly shut off, and we'd lose data forever if the server isn't running."
Manage Servers Running Different Operating Systems 
Eastern Missouri also gets ice storms, thunderstorms and tornadoes that wreak havoc with the power grid.
"We lose power a few times every spring and every winter," says Jeff Wilmes, senior network administrator for Weekends Only, a furniture chain based in St. Louis that opens its doors to consumers Friday through Sunday.
The worst incident occurred in June 2015, when a twister came close enough to the chain's data center to kill the power for four hours. It's times like these when Wilmes is glad he chose an Eaton 9PX, which kept the center's VMware, Windows and IBM AIX servers running for 15 minutes before the gas-powered generators kicked in.

A major reason the store chose the 9PX was its ability to automatically shut down servers running different operating environments and to perform staggered shutdowns, giving priority to more business-critical systems.
"We were nervous," Wilmes acknow­ledges. "If the power had failed, someone would have had to drive to the corporate office to turn everything back on. That's about an hour or more of downtime. If it had happened when the stores were open, that could have ended up costing us tens of thousands of dollars in lost sales."
Invest in High-Quality UPS Solutions
Automotive Parts Headquarters has also seen its share of extreme weather and flaky power. Until last summer, the St. Cloud, Minn., chain relied on an "ancient" UPS to provide backup power for the data center's 30 servers, IT Manager Greg Jendro says.
"We suffered both short 'flicker' brownouts and longer term power outages," says Jendro. "Our old unit kept things running, but it heated up our server room so quickly we had to shut down the servers until the AC and power were restored. It doesn't do any good to keep your servers running on a UPS if you're going to fry them."
With the data center shut down, APH was unable to process orders or distribute parts to its 150 retail stores. When APH upgraded to a Liebert eXM UPS last summer, Jendro says downtime virtually disappeared overnight.
For small businesses where every penny counts, there's a temptation to cut corners by buying a less expensive or underpowered UPS. That's a losing proposition, cautions the Astros' Hanz.
"Critical infrastructure like a UPS is not the place to find the lowest cost operator," he says. "You want to find the highest quality, most durable solution because it is your backup in case of catastrophic failure."
Alex Bierens de Haan/Houston Astros